Hawks claim forward Gustavo Ayon off waivers
After being waived by the Milwaukee Bucks, the Hawks have claimed forward Gustavo Ayon.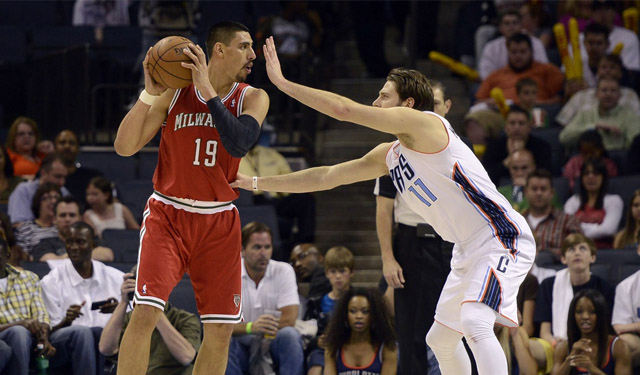 The Bucks waived forward Gustavo Ayon after trading for him and then picking up his player option. 
But he's already found a new home as the Atlanta Hawks have picked him up off the waiver wire. 
"Gustavo has a high basketball IQ and is a hard-nosed player," Hawks GM Danny Ferry said in a release. "He gives us quality depth at the power forward and center positions."
Ayon, a minimum-salary 6-foot-10 big man, has value as an energy forward, a player that can rebound and score a little inside the paint. The Hawks just watched center Zaza Pachulia sign with the Bucks, so they needed a little extra frontcourt depth behind Paul Millsap and Al Horford. There's also first-round pick Lucas Noguiera -- who still needs have his Spanish contract bought out -- but he's a raw rookie and having Ayon as insurance will help. 
"I am very excited to join the Atlanta Hawks," Ayon said in a release. "I had a great conversation with Coach Budenholzer and can't wait to get to the city, meet my teammates and get to work. Vamos Hawks!"
The Hawks also recently signed Elton Brand, so they've been able to piece together a decent frontcourt despite losing Josh Smith in free agency. 
Ayon, the third Mexican-born player ever in the NBA, averaged 3.7 points and 4.9 rebounds in 55 games with the Bucks and Magic last season. 
The Celtics square off against the Bucks in the 2 vs. 7 matchup in the Eastern Conference

We've got some battles on our hands after Friday's Game 3s

The Cavs look fragile and vulnerable after three playoff games. Remember when they were supposed...
Watch the top-seeded Raptors square up against the No. 8 Wizards in the Eastern Conference

Winslow had a great game, but this was definitely his most memorable moment

The Pacers took a 2-1 lead in the series with a big home win