Hawks free agent Devin Harris open to return to Mavericks
Devin Harris is open to a return to Dallas in free agency.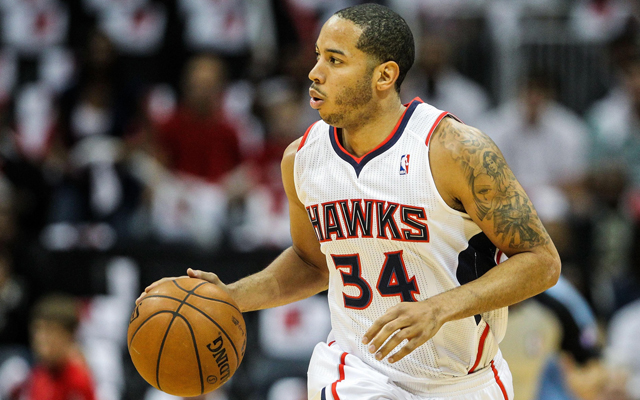 Atlanta Hawks free agent guard Devin Harris said Friday that he's open to a return to the team that kickstarted his career, the Dallas Mavericks, when he hits free agency next week. From the Dallas Morning News: 
On Friday, a former Maverick sounded like he's ready to volunteer for the starting job.

Devin Harris, who has gone from the Mavericks to the Nets to the Jazz and then the Hawks, is a free agent this summer. He said at a practice session for Dirk Nowitzki's Heroes Celebrity Baseball Game that he's fully aware the Mavericks are in the market for a starting point guard this summer.

Asked if he has thought of a reunion with Dirk Nowitzki, Harris said: "It's always crossed my mind. It's crossed my mind since I left. Obviously, I think it would be cool to come back. But I also like it in Atlanta. It comes down to what best fits me."

Harris was the starting point guard for the Mavericks in 2006's playoff run to the NBA Finals. He was traded to New Jersey in 2008 in the Jason Kidd deal, then to Utah in the Deron Williams deal. He went to Atlanta last summer for Marvin Williams.

So will Dallas get consideration if Harris doesn't get a huge financial offer somewhere else?

"Always," he said. "Dallas has always been home. I'd give them some consideration and see what happens. But I'm just playing my options and see what's open. I'll make a decision when it's time."
via As Dallas picks up 'next Barea' in Shane Larkin, ex-Mavs PG Devin Harris says he'd consider return to former club | Dallas Mavericks Blog.
The Hawks just drafted German phenom point guard Dennis Schroeder and have Jeff Teague as a restricted free agent, so that backcourt's going to get a little crowded if they re-sign Harris. However, Harris and Teague were +9.1 per 48 minutes together last season according to NBA.com.
The Mavericks are in desperate need of a long-term solution to point guard, and just drafted Miami speedster Shane Larkin. Will they bring back Harris to lock in their future? It depends on if they have room. The Mavs are big-name hunting with Dwight Howard the first (and only) name on their list. But if they don't land the big guy, they're going to have a lot of money with roster spots to fill. 
But will Rick Carlisle destroy Harris' confidence like he has other point guards before him? Big questions for the Mavs and Hawks headed into free agency.
The Warriors used a huge third quarter to come back from a 23-point deficit to get the win

Three takeaways from Golden State's 24-point rally past the Sixers

Okafor has played only 25 minutes this season
Capela's shoe slipped off, and was sitting near the free throw line

The Magic will instead play in the Las Vegas Summer League

Ball walked away from an altercation between the Lakers and Suns on Friday night