Hawks lose center Pachulia (Achilles) for rest of season
Center Zaza Pachulia will not be mixing it up for the Hawks anymore this year. He'll have surgery to repair his Achilles.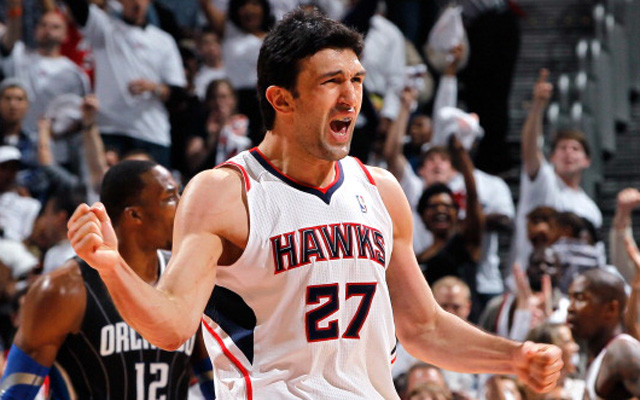 The Atlanta Journal-Constitution reports Atlanta Hawks center Zaza Pachulia will have season ending surgery on his injured Achilles:  
[Zaza] Pachulia, plagued by a sore right Achilles for two months, will undergo a surgical procedure and miss the remainder of the year.

"After thoroughly reviewing the possible options with Zaza, we all felt this was the best decision to ensure Zaza's complete recovery so that he can be at 100 percent going forward," Hawks President of Basketball Operations and General Manager Danny Ferry said. "Zaza is a professional with a strong work ethic. The Hawks will continue to be completely supportive as he tackles the return to play process."
via Breaking news: Pachulia to have surgery, out for season | www.ajc.com.
This is a bummer all around. For one, the Hawks needed Pachulia's defense in the playoffs, where they'll most likely be going against either Tyson Chandler, Roy Hibbert or Joakim Noah, and Pachulia gave them a definitive toughness inside. 
Second, Pachulia's set to be an unrestricted free agent as the Hawks pursued maximum space for a reload/rebuild this summer. He's 29, so he still has several years of good play left in him. But coming off Achilles sugery, that's going to hurt his value. 
Pachulia averaged 5.9 points and 6.5 rebounds in 52 games this season for the Hawks. 
Lorenzen Wright's ex-wife has been charged with his 2010 murder

Hayward, free of his walking boot as of Wednesday, says his mind is open to a return before...

The former Knicks star returns to New York for the first time since joining the Thunder
Former longtime Knick Carmelo Anthony makes his return to New York

Mirotic and Portis combined for 49 points as the Bulls won their fifth straight game, beating...

Gobert, who missed 11 games earlier this season with a knee injury, will have an MRI