Hawks' Lou Williams not yet cleared for training camp
The Hawks' Lou Williams has not been cleared to resume practicing as he recovers from a torn ACL.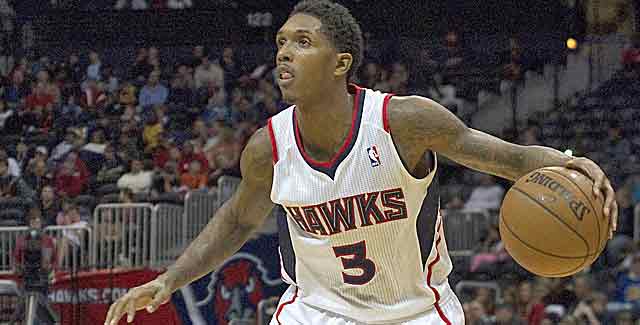 As the Hawks open training camp in the next couple weeks, they'll still be missing their dynamic scoring two-guard. 
Lou Williams, who suffered a torn ACL in January, has not yet been cleared to return, according to the Atlanta Journal-Constitution:
"Hawks training camp begins in 11 days -- on Oct. 1 -- and the team has no timeline on the return of Lou Williams from a torn ACL. According to team officials, Williams is progressing well with his right knee injury. However, he has not yet been given medical clearance by doctors to participate in training camp."
Without Williams, the Hawks are thin at shooting guard and will likely rely heavily on second-year guard John Jenkins to fill minutes. Behind him, there's Jared Cunningham, who appeared in only eight games with the Mavericks last season. 
Jenkins showed solid promise, averaging 15.2 points in the Hawks' final five games of the year (h/t, PBT on that stat), shooting almost 40 percent from 3. It'll be a big opportunity for him to earn minutes as Williams works his way back. Once he returns, the Hawks will likely ease Williams in, playing him off the bench, but if things go according to plan and Jenkins performs, the Hawks could find themselves a little extra backcourt depth. 
Prior to his injury, Williams, 26, was averaging 14.1 points and 3.6 assists in 39 appearances for the Hawks. 
The Cavaliers won the much-anticipated matchup, 121-112

Two of the league's most interesting teams will meet on national TV on Friday night

A mic on the court evidently picked up what the Cavs superstar had to say to the Lakers ro...
The idea was to bring Bell along slowly, but he's making it harder and harder to keep him on...

Donovan Mitchell kept the top spot in the rankings, but there was plenty of shuffling below...

Stephen Oh is 23-7 picking Rockets and Spurs games and just locked in a play for Friday