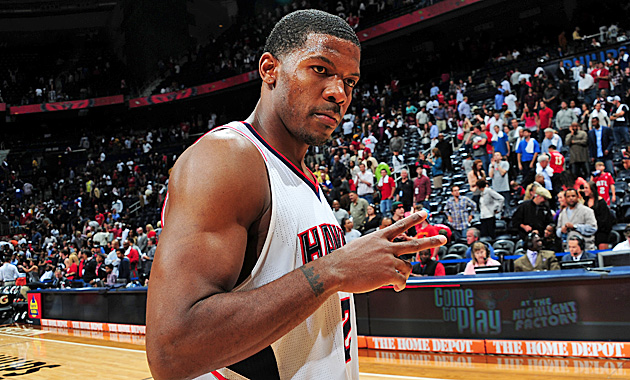 The Nets landing Johnson all but eliminates them from the Dwight Howard sweepstakes. (Getty Images)
Looks like the Nets will have their Big 3, even if it's not quite as big as they might have liked. 
Ken Berger of CBSSports.com reports: Framework of deal sending Joe Johnson from Atlanta to Brooklyn has been agreed to, two people familiar with details tell @CBSSports.
Berger reports that the deal includes sending a veritable bargain-price appetizer platter in return to Atlanta, with Jordan Farmar, Anthony Morrow, Jordan Williams, Johan Petro (yes, Johan Petro), and a sign-and-trade of DeShawn Stevenson to Atlanta along with the Nets' 2013 lottery-protected pick via Houston. The pick is lottery-protected until 2017, at which point it becomes a second-round pick and cash. So if Houston manages to not make he playoffs until then, the Hawks could walk away with only a second-rounder and some cash. But that's not why they did this deal, obviously.
In short, the Hawks took on almost nothing just to be rid of Johnson and the nearly $90 million remaining on his contract over the next four seasons. It puts the Nets into an impossible position for acquiring Dwight Howard after the 4-year, $40 million deal they agreed to with Gerald Wallace over the weekend.
Ken Berger of CBSSports.com reported Sunday that the Nets were unwilling to wait for the Dwight Howard situation to resolve itself and were determined to move forward to ensure not losing Deron Williams. Berger reports that one person close to the deal says there are "no contingencies" with regards to the trade going through dependent on Williams re-signing with the Nets. 
Nets Daily first reported that terms had been agreed to.