Hawks-Pacers Game 3 Preview: Don't forget your best player
Previewing Game 3 of the Pacers-Hawks first round series.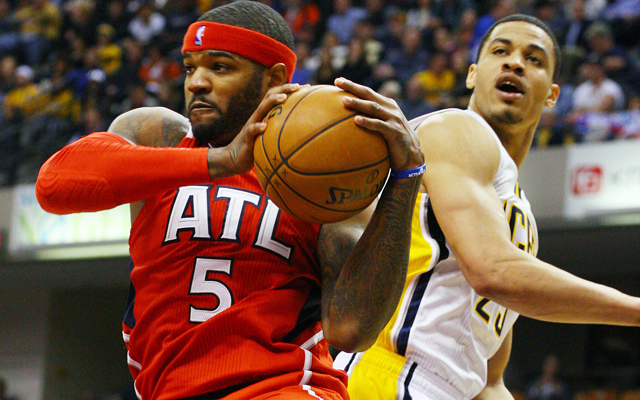 Previewing Game 3 of the Pacers-Hawks first-round series.
1. Where We Are: Pacers are up 2-0. It's easy to look at the 16-point margin of victory in the first two games for the Pacers and think this series is being dominated by one team. However, it's really not something that Indiana has completely controlled. Jeff Teague has been really good against the Pacers' incredible defense, and the 3-point shooting of the Hawks has been more than satisfactory against the best 3-point defense in the league. What the Pacers have been able to do throughout this series is out-execute Atlanta and weather whatever storm comes their way. They're able to extend leads late and not allow the Hawks to make one more run at the victories. The result is a wide margin of victory that should actually read as a lot smaller. But that's the type of team that Indiana wants to be, right?
2. The Big Number: 24. No, this isn't Paul George's number. Well, it is Paul George's number, but that's not why I have 24 here. The Pacers have committed just 24 turnovers through the first two games, only 10 in the Game 2 victory. The Hawks simply aren't able to force Indiana into coughing the ball up in this matchup. George Hill has been too careful with the ball, they aren't able to force it out of Roy Hibbert's hands when the double comes, and Paul George is able to attack this defense without losing control. The Hawks need Josh Smith to set the tone defensively and force Indiana into mistakes. If you can't get them to turn the ball over, then you just have to pray you magically get transition buckets off a lot of long rebounds.
3. Key Adjustment: Remember that you have Al Horford on your team. I'm not sure whom Larry Drew thinks his best player is, but I can tell you from this angle it looks like it's Al Horford. And yet it seems like Horford is an afterthought in the Hawks' attack for long stretches. The beauty of having someone like Horford on your team is he's really good at attacking in a multitude of ways. He can post up and beat David West with his quickness. He can run the pick-and-pop with Teague or Devin Harris. He's really good at moving into the lane from the weak side for a quick catch-and-score. But the Hawks just ignore him for long stretches. Use him more.
4. The Big Story: The evolution of Paul George and Roy Hibbert. Watching two young players like George and Hibbert develop into budding stars has been pretty fun. For George, he has been a utility belt of sorts. He's scoring by attacking from the perimeter off the dribble, he's pulling up for jumpers, and he's spotting up for jumpers. He even went to the free-throw line a lot in Game 1. Hibbert has become a great leader on this team and led by example on the boards and in the paint. His hook shot looks great now, and his rim protection is still top notch. 
5. The Facts: 7 p.m. ET start time. Danny Granger, Zaza Pachulia and Lou Williams still out for the rest of the season.
Trail Blazers guards Damian Lillard and C.J. McCollum have been pushing for Anthony to join...

Anthony reportedly gave the Knicks an expanded list of teams he'd waive his no-trade clause...

The Suns will also receive a second-round pick in the deal
Kerr noted Warriors are deeper than the NBA championship team of last season

The Dubs will make a decision as a team on visiting the White House, but Steph would vote...

Wolves are an up-and-coming NBA squad, but this region knows heartache too well