Hawks' Paul Millsap to miss at least the next two games
Atlanta Hawks' power forward Paul Millsap will miss at least the next two games with a bruised right knee.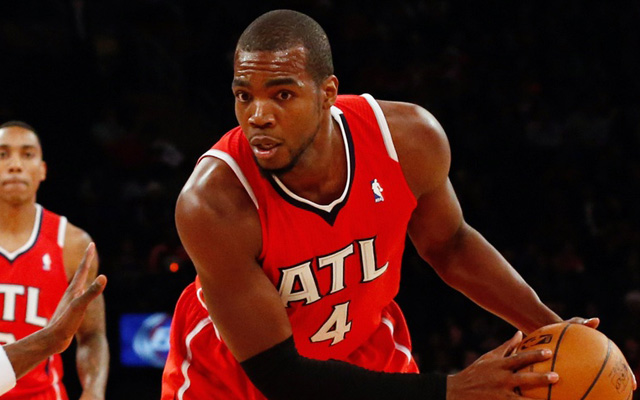 The Atlanta Hawks have been holding onto playoff hopes all season long as they battle a slew of injuries. With Al Horford out for the season and the Hawks missing Pero Antic, Gustavo Ayon, and John Jenkins, they really can't afford to lose another key player. But that's exactly what Atlanta will have to deal with for at least the next two games. 
Hawks coach Mike Budenholzer told the media on Monday that power forward Paul Millsap will miss at least the next two games with a bruised right knee he suffered Friday against the Detroit Pistons. From the Atlanta Journal-Constitution: 
Paul Millsap will not play against the Bulls Tuesday or the Celtics Wednesday, Hawks coach Mike Budenholzer said.

Millsap suffered a right knee contusion in Friday's loss to the Pistons. The injury forced the power forward to miss Saturday's win over the Knicks. Now, the Hawks will be without their All-Star for at least two more games.

Millsap was injured after bumping knees with a Pistons player. He returned to the game but his knee swelled during the flight home. An MRI exam was negative.
The Hawks are hanging onto the 8-seed in the East, despite all of their key injuries this season. They're 26-29 on the season, having just snapped an eight-game losing streak on Sunday in a blowout win over the Knicks. Millsap missing a couple of games this week could be dangerous for their playoff lives. They're currently 3.5 games ahead of the Pistons.
Millsap is in the first year of a two-year, $19 million deal he signed this past summer. He's averaging 17.6 points, 8.3 rebounds, and 3.0 assists on the season. He's shooting 45.9 percent from the field and 37.0 percent from the 3-point line.
Is this rock bottom for the Cavaliers because it sure feels like it is

Wade, as he's done so many times in his career, threw it up to LeBron for the thunderous f...

The Warriors coach added there should be no shame in being picked last since everyone's an...
We've got all the scores, highlights and news from all of Saturday's games

The two teams have reportedly not had any substantial discussions to this point

Oladipo may be getting most of the shine, but this second-year big man has been phenomenal...