TORONTO — DeMar DeRozan had something to say. The Toronto Raptors lost in Chicago, and he wasn't pleased. Dropping from third to fourth in the Eastern Conference wasn't catastrophic, but the sixth-year swingman couldn't pretend everything was OK. 
The Raptors had to be better, DeRozan told his teammates in the locker room, but it was more than that. He wanted them to understand just how far they had come. Their 24-7 start had given them a nice cushion, but DeRozan knew better than anybody that the opportunity in front of them wasn't guaranteed. This franchise has won one playoff series in 20 years, and he was just over a year removed from answering irritating questions about tanking. 
"Now that we have this great situation on our hands, we can't let it go to spoil, we can't let it go to waste, we can't take anything for granted," Toronto forward Patrick Patterson said, recalling DeRozan's message. "We've all been in situations where we weren't happy, and now that we're finally happy, we have to play like it. We have to come together, be together, protect one another, look out for one another and just have fun. And that's what he preaches every single day."
Raptors assistant coach Jama Mahlalela had a moment of reflection at the United Center. Mahlalela got his start on the team's community relations staff in 2006 before eventually moving to the bench. He's seen DeRozan since the beginning. "Man, I remember the old DeMar," he thought to himself. "He's really grown. This is awesome." When he first met DeRozan, such a display of leadership was impossible to imagine.
"We went up to a basketball camp up north," Mahlalela remembered. "It was about a three-hour drive there, a three-hour drive back, a two-hour appearance. I think he was maybe at 20 words the entire time."
Now, as Patterson explained, DeRozan is the guy who makes sure his teammates are happy and on the same page. He is always leading by example, and when he speaks, everyone listens. An All-Star, gold medalist and go-to guy, he's earned that respect because he's nowhere near satisfied yet. 
DeRozan is averaging 24.3 points, 5.3 rebounds and 4.2 assists per game since the beginning of March, making 45 percent of his field goals, 42 percent of his 3s and 88 percent of his free throws. He's acknowledged that he's never felt more comfortable on the court, but said he wouldn't enjoy scoring 100 points, grabbing 100 rebounds and dishing 100 assists without winning.
Toronto has a chance to win 50 games. It will be either the third or fourth seed in the East when DeRozan gets his second taste of the postseason. After last year's heartbreaking, one-point Game 7 defeat at home to Brooklyn, another first-round exit won't be enough for anyone. DeRozan still loses sleep after losses, but he has perspective. 
The Raptors have never had more victories than this. If they take care of business, he is sure that people will forget about the uneven regular season.
"I've been through worse here," DeRozan said. "Not having the opportunity to go into the playoffs, or even winning the division title again. So it's really not that bad. We know we can play better basketball and we know we can beat anybody we play against."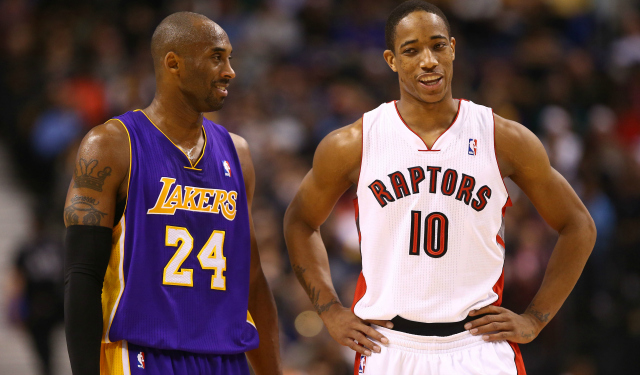 As you'd expect of a native of Compton. Calif., the Los Angeles Lakers were DeRozan's favorite team growing up, Kobe Bryant his favorite player. At 16 years old, he and childhood friend James Harden played against their idol at one of Bryant's camps. Almost a decade later, DeRozan's never stopped picking Bryant's brain. "From there on out," he said, "it's just whenever I see Kob', that's my man."
Bryant sees DeRozan as a learner, someone who is constantly searching for ways to improve. When you hear about the hours he puts in, it's easy to draw a straight line to Bryant's influence. It's equally apparent in how he calmly approaches each possession. 
"Me personally, I watch so much basketball," DeRozan said. "If we're not playing, if I'm not in the gym, I watch every single game. I watch college. I try to always figure out places and movements and understand rotations from every position on the court, when you have the ball, how somebody would guard you. It's really like studying. I think I kind of got that from Kob', so to speak.
"Kobe, he just told me what he did when he was young in his career," DeRozan continued. "He watched so much film to understand every rotation, where he could pick and choose to get his shots off or pick and choose to get somebody an open shot. Little stuff like that, I really try to figure out by visually watching somebody else or watching your favorite player. Then once I'm in that position, I feel like I've been in that position before because I've been seeing it. I've watched it. That's why I be so calm and relaxed a lot of times when I'm out on the floor."
Toronto center Chuck Hayes thought DeRozan was lackadaisical before playing with him, but now understands he's just taking his time, reading the defense. "I don't think his shoes are tied up every game," former Raptor and current Utah Jazz forward Steve Novak said, adding that DeRozan gets wherever he wants by playing at his own pace. 
You can find DeRozan looking at film on a laptop with assistant coach Jesse Mermuys before every game. If he's at home watching Harden, he will try to steal moves from him. He peppered his peers with questions when he was with Team USA, and it just so happens that he's gone up against a lot of them — Paul George, Klay Thompson and Harden, to name a few — since they were teenagers in LA. He appreciates the fact that there are kids in California and Canada who want to be him now, the same way he wanted to be Bryant.
"It's amazing because I remember growing up, it was always a group of guys like, for example, D-Wade, Chris Bosh, LeBron," DeRozan said. "You had that class of guys who came up together and played against each other in high school and they played years in the NBA. It's like, us next."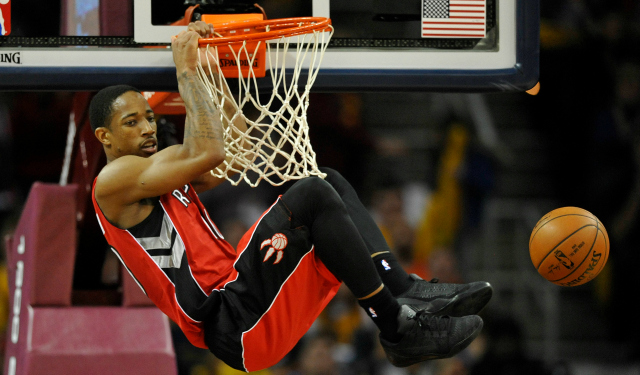 Oakland native Chris Farr reverentially describes DeRozan as Compton tough. The former Denver Nuggets assistant coach has helped DeRozan round out his game offseason after offseason, ever since preparing him for the 2009 draft. Years ago, he had him chasing speedy point guard Patty Mills around and learning lessons about professionalism and foul-drawing from Corey Maggette. DeRozan's father, Frank, instructed him to hold his son accountable. DeRozan was always willing to listen. 
In 2012, Farr paired DeRozan with a particularly determined draftee and watched a duel he said was better than an NBA game. The gym was silent aside from swishes and squeaky shoes. The two bonded, with Farr realizing he'd finally found someone whose desire equaled DeRozan's. His name was Damian Lillard.
Thanks to those summer sessions, DeRozan was stronger and smarter each time he came back to Toronto for training camp. Gradually, he developed his footwork, his post game, his vision, his handles. Raptors head coach Dwane Casey is proud of his awareness on defense. After seeing last season's results, there was no way DeRozan was going to slow down.
"When I felt things were shifting, like he had got all these accolades, I was trying to keep him humble," Farr said. "I told him we gotta click our heels like Dorothy in The Wizard of Oz and we gotta go home. So we went back to Oakland and we worked out in my domain. And we did that for a week. And I said, 'DeMar, guess what, now we gotta go to your home. You've been working out in all the pretty, plush gyms. You know how everything gets? It gets Nordstroms-like. We gotta go back to K-Mart.'"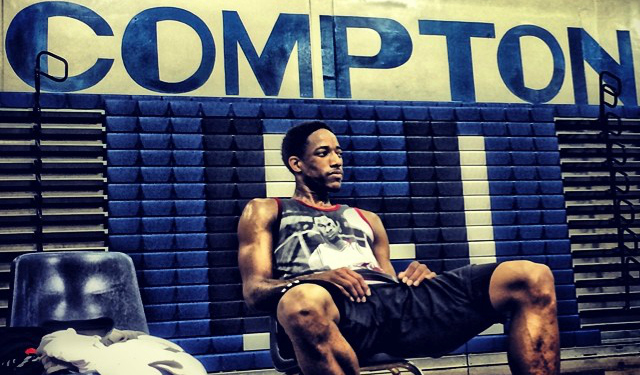 The two of them entered the gym at Compton High School, more than 2,500 miles from Toronto and right across the street from where DeRozan grew up. They did drills with DeRozan's high school coach, Tony Thomas. They watched a football game. Kids got to interact with the hometown hero, and he got to reconnect with his roots. There was no glitz or glamour. 
"While we were working out, it was crazy, madness happening, gunshots and everything else, people running through the back and the outside of the gym," Farr said. "And I said, 'DeMar, this is what we come from, this is what we escaped, this is what it was.' And he went to work. When he worked, he was so happy, he smelled the air in the gym. He felt it again. That's what we did to keep him in that space."
DeRozan brought Farr with him to Spain for the FIBA World Cup. He wanted to keep pushing himself, to stay sharp regardless of the number of minutes he played. Before games and after practices, he went with Farr and his cousin Shaun to hot, sweaty gyms. They took a bus, and police on motorcycles provided security. Farr put him through a vicious regimen. 
This dedication is why DeRozan can put pressure on himself to take the Raptors where they've never been. It's why he tweeted, "Don't worry, I got us…" in late June after his rookie season, just before Bosh left for Miami. 
"I'm passionate about this game of basketball," DeRozan said. "A lot of people might not know how hard I work when the camera's not on or when there's nobody in the gym. When you really have a sickening work ethic, when you want to strive to be good or great at something, you automatically are going to have that confidence."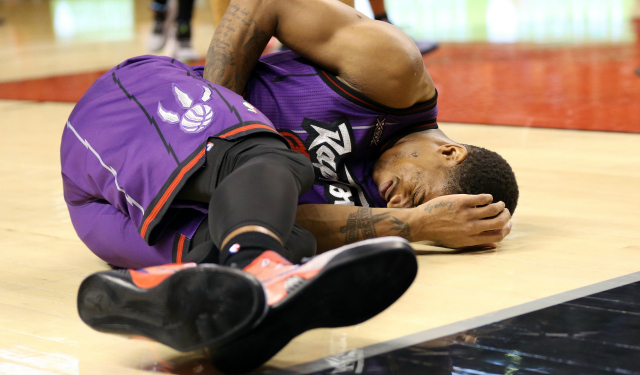 Five seconds passed as DeRozan mulled the question of what word he'd use to describe the 2014-2015 season. "Challenging," he eventually said.
"It's the first season where you're really faced with expectations," DeRozan continued. "Injuries. Up and down. People riding with you when everything is good. You see who's really against you when things go bad."
Early on, it was all good. Toronto swingman Terrence Ross, who had spent much of the summer training with DeRozan, raved about how much he'd helped and and how his game was looking. 
"DeMar's doing a lot of things that you can't teach now," Ross said in the preseason. "The game comes so easy to him. He really has no limitations on his game, so whatever he does on the court, his confidence is at an all-time high. He feels that he can do anything."
The Raptors were 13-2 on Nov. 28, at the top of the Eastern Conference standings. The only team more efficient on offense was their opponent that night, the Dallas Mavericks. DeRozan led the team in scoring, and was near the top of the league in free throw rate. Toronto was building on what was established before, with offseason additions Lou Williams and James Johnson fitting in beautifully. It seemed like nothing could go wrong. 
DeRozan missed his first eight shots against Dallas. As soon as his off-night became noticeable, it became an afterthought. In the third quarter, he drove toward the right baseline, grimaced and slid to the floor, where he winced in pain. He felt something he never had before. The arena went silent. 
He had to leave the game, and he wouldn't be back for six and a half weeks because of a torn left adductor longus tendon. This was DeRozan's first serious injury, and he called it one of the lowest points of his career.
"I always used basketball as a therapeutic release of whatever was going on," DeRozan said. "I always find enjoyment in playing basketball, and when I got hurt, not being able to be around my teammates, not being able to do what I love, it really, really, really bothered me for a while. It was like there was nothing I could do."
DeRozan spoke with Bryant about the mentality necessary to rehabilitate properly. He took "an aggressive approach" to his recovery, he said, but sometimes he couldn't help but beat himself up mentally. Farr told him the same thing he'd told Lillard when he broke his foot in college: a setback is a setup for a comeback. 
Casey believes DeRozan would've been an All-Star again if not for the injury, but appreciated how he studied even more film than usual and spent extra time with the coaching staff. For DeRozan, who rarely has his confidence shaken, the whole thing was a mental battle. He told Sportsnet.ca that it would have been a lot harder if it had happened in prior seasons, before he had his two-year-old daughter, Diar, to keep him sane.
"No matter how hard I tried, I had to heal first and be patient with it," DeRozan said. "That was one of the toughest times where I get to thinking, 'Am I going to have enough time to get back to how I was? Am I going to feel the same?'"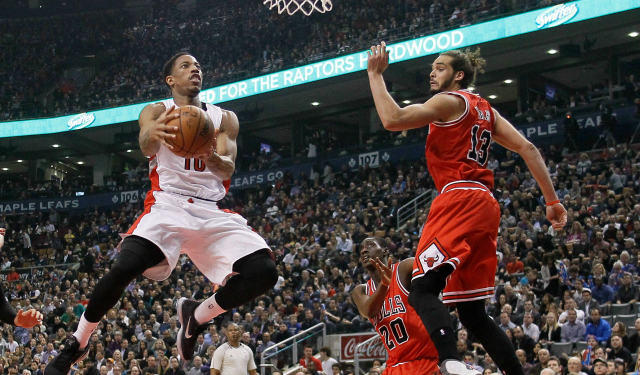 DeRozan returned on Jan. 14 against the Philadelphia 76ers. Toronto had lost five of six games but was still the NBA's second best offensive team. Its defensive efficiency was 28th in the league during the stretch he was out. Point guard Kyle Lowry ascended to All-Star-starter status while shouldering the brunt of the scoring load, but cracks were starting to show. DeRozan looked solid in his first few games, but went 0-for-9 from the field and missed his only free throw attempt in Milwaukee on Jan. 19.
"It was tough for the first couple of weeks after I came back," he said. "It was very challenging for me because the thought in your mind of your injury or not feeling like you did before you got hurt, not having the legs, everything plays a part in that. And unconsciously you're going to think, 'Damn, is this injury still going to linger on?'"
The Raptors have been inconsistent ever since. A six-game winning streak at the end of January, nine losses in 10 games starting in late February. They've blown out the Hawks and lost to the Knicks. DeRozan shot just 34 percent from the field in February, but his recent play is reason for postseason optimism.
In late March, with Lowry nursing a back injury, DeRozan found himself in a duel with Harden. He'd missed a couple of late free throws, but had a chance to redeem himself. With Toronto leading by one, DeRozan sized up the MVP candidate. He dribbled between his legs behind the 3-point line, setting up a strong right-to-left crossover into an elbow jumper. Harden had a hand in his face, but the ball fell through the net. DeRozan pounded his chest. 
That dagger clinched the game and gave DeRozan a career-high 42 points to go with his 11 rebounds. Farr, knowing DeRozan isn't the type to need his ego stroked, told him that his five missed free throws were unacceptable. He later admitted he loved his attacking mentality.  
"A healthy DeMar DeRozan is a cold-blooded killer," Farr said. "When we worked out, I used to bring to the workouts — have you ever seen a crime scene, how they bring out the yellow tape? — I would bring yellow tape to the workouts. And he only got yellow tape when he murdered it. I'd tell him, 'You a cold-blooded killer. You were a cold-blooded killer today, man. You left no clues, no evidence, you just slayed.' I would cut a piece off and I'd give it to him. And I'd lay some of it on the floor, I'd say, 'You murdered this one today.' He didn't get it every day, this ain't something that you just hand out. That's when I know he went all the way in. He gave his whole self. 
"I'm watching him when he gets going. It's a beautiful thing."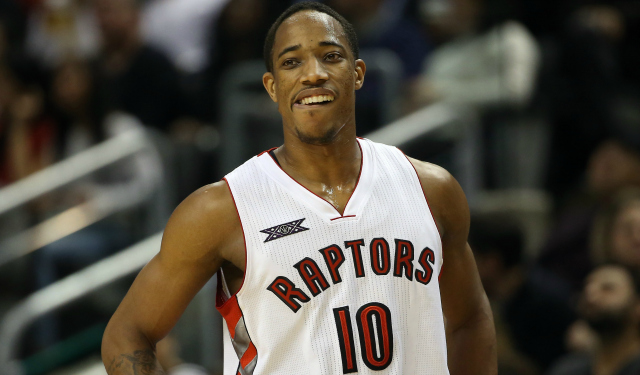 This wasn't a surefire success story. At media day at the end of September, DeRozan said the positive energy felt different. He was accustomed to uncertainty at that time of year. That was the first time he was coming off a playoff appearance, the first time his game wasn't being nitpicked. On Oct. 31, 2012, DeRozan signed a four-year extension worth more than $38 million in the tunnel before taking the court for Toronto's season opener. The Raptors were roundly ridiculed. 
DeRozan read the criticisms of his jump shot, his ballhandling and his defense. He knew people thought of him as a one-dimensional scorer, not a playmaker. It has taken time to quell those concerns. 
"It's a humbling experience, to be honest," said Memphis Grizzlies guard Mike Conley, who received much of the same criticism. "When people doubt you and they yell at you, they have all these words for you that are negative regarding the way you play or how much you get paid, all those things kind of fuel you. They make you want to be better, they make you want to prove people wrong.
"I think that's something DeMar and I probably have in common," he continued. "We had to go through that, and it's made us better. It's made us more hungry and want to be better than ever."
DeRozan's mind boggles when he sees clips of his younger self on TV. He was a 19-year-old project too skinny to go anywhere near the post. "It seems like it never happened," he said. "It seems so surreal." Now, only Bosh and Vince Carter have scored more points in a Raptors uniform. 
All along, as Toronto won 22 games, then 23, 34 and 48, DeRozan sung the praises of the city and wanted to see things through. While he'll always be connected to his home, he represents the Raptors more than anybody. To his coach, what's special about him is how much he cares about the franchise.
"It's not about DeMar, it's about us winning," Casey said. "It's from his heart. A lot of guys say that, but it's not genuine. Whereas DeMar has been here when we were playing for lottery balls."
DeRozan has no desire to even think about the lottery again. The dog days are done, and it's time to push forward. Like he told his team in Chicago, he must make the most of this moment.   
"It means a lot to me because I always took pride in everything I did here," DeRozan said. "Working, continuing to get better year in and year out, not just for myself but just for this organization and this city to be in the position that we are in now. To come from where I came from, through the tough times, and to have two division titles, making the playoffs, breaking so many team records, that means a lot to me. And I just want, I want more to come with that. That's why I'm so passionate."