Headed to the Finals, Chris Bosh has the Heat at their best
Miami big man Chris Bosh ended the conference finals phenomenally, and the Heat are headed to the NBA Finals in a great place.
• 2 min read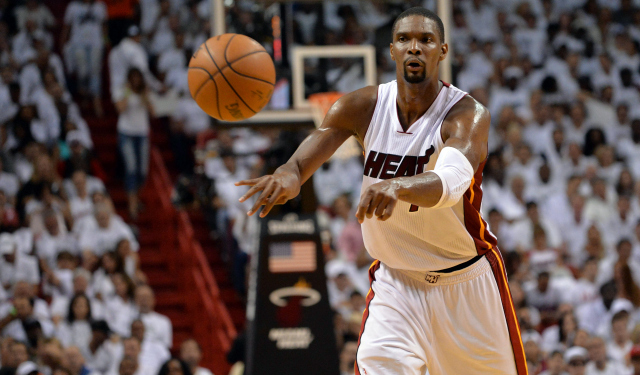 More postseason coverage: Playoff schedule, results | Latest news, notes
Chris Bosh was struggling as recently as last week. Through the first three games of the Eastern Conference finals against the Indiana Pacers, the Miami Heat big men had a total of 27 points on 12-for-33 shooting. Dating back to last year's series, he'd gone seven straight games against Indiana without scoring in double figures. This became a storyline, and he said over and over that he wasn't worried about it, his mechanics were fine, his shots would fall. Bosh was right, as he made the Pacers pay for letting him shoot on the outside in Game 4, scoring 25 points. He has been rolling since, matching that total on Friday in the 117-92 Game 6 victory that sent the Heat to their fourth straight NBA Finals.
It was the best performance of the playoffs for him and his team. Bosh shot 10-for-14 from the field, including 5-for-6 in the second quarter that broke the game open. He had eight rebounds, two blocks and a steal, playing heady defense at the rim and out toward the perimeter. He has embraced the role of being a stretch-five, creating space for LeBron James and Dwyane Wade, but this time he scored mostly in the paint.
"I know early on in the series that he was under a lot of criticism for how he was playing and stepping up, but he has to do so much for us," Miami head coach Erik Spoelstra said. "Battling at that position took away some of the other things. The things that we ask Chris to do also will take away from what other people think he should be doing, but it's necessary for us to be successful. And as the series went on, we all understood and felt that he needed to be more aggressive, and everybody worked together to find him opportunities to be aggressive."
Spoelstra often refers to Bosh as the most important player on the team, and this series demonstrated why. When he's wearing out opposing defenses that are keyed in on James and Wade, the Heat are almost impossible to stop. In Miami's defensive schemes, he is responsible for holding things together. The way he covers ground, uses his length and closes driving and passing lanes, it's hard to believe he was viewed as a poor defender at any point in his career. 
"CB does so many winning things," Spoelstra said, "and the overwhelming majority of them, the average fan doesn't see how they help you win the way that they do."
The Heat don't know who they'll be facing next Thursday, but they are heading into their fourth straight NBA Finals with some momentum. Bosh is as big a reason for that as any.
Trump rescinded Curry's invitation to the White House after Curry said he wasn't interested...

Silver said he was hoping Warriors would get chance to share their views directly with the...

Along with the Thunder, those were the three teams most involved in the Anthony trade talk...
LeBron said he was frustrated by the President's recent actions

A look at the various actors and elements in the latest sensational blockbuster trade in the...

Blockbuster deal doesn't change the Thunder's projected finish in the West