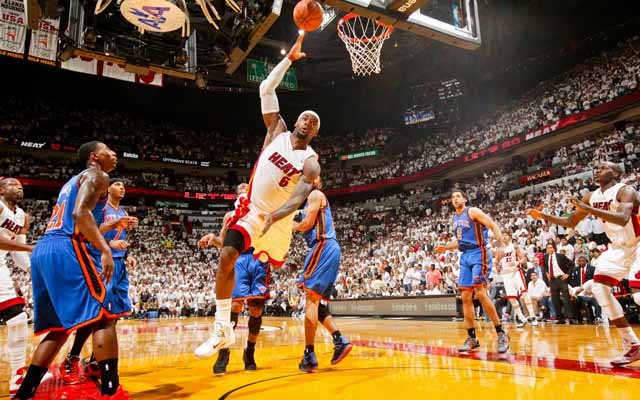 LeBron vini, LeBron vidi, LeBron vici.
(Getty Images)
LeBron James
arrived. LeBron James flopped. LeBron James conquered.
Heat 100 Knicks 67
In a game filled with flops (
VIDEO: LeBron takes hard shot from Tyson Chandler, flops to garner flagrant foul
), James played an incredible game, shooting 10-14 from the field for 32 points, with 4 rebounds, 3 assists, and 4 steals in just 31 minutes. It was completely over by the third quarter, with the
Heat
opening up a massive lead in the second quarter, outscoring the
Knicks
30-13. That made the fact that Miami outscored the Knicks 27-16 in the third seem not that bad. Which says something.
Beyond James taking over after the hit from Chandler (the hit was legit, even if the reaction wasn't), scoring nine straight to finish the second quarter with an array of and-one jumpers and layups off steals, the biggest story for the Heat offensively was the Heat's bench. The Knicks outscored the Heat 37-26, but for the Heat reserves to contribute that much offense, you're just not going to beat them, because of their star power. It was reflective of the balance they had.
But way more dominant than the offense? The defense held the Knicks to a 77 offensive efficiency. If you're not big on numbers, the standard for that is around 101 points (per 100 possessions). So that was, oh, what's the phrase... incredibly "cover your eyes from the blood and gore" horrible. James guarded
Carmelo Anthony
for much of the game and held him to 3-15 shooting and eleven points. The Heat got under the Knicks skin and repeatedly picked up technicals for things (and Knicks fans are going to have an argument for the disparity between the two teams), generally causing them to unravel. The Heat closed out, shutdown, and swiped the Knicks. Especially swiped.
The Heat forced 27 turnovers, creating 38 points off of them. The Knicks did a decent job getting back in transition, holding their fast break points to just 13. Think about how much worse it could have been. (Shudder now, Knicks fans.)
It's one game, an opener. The Bulls blew out the Heat in the Eastern Conference Finals last year in Game 1 before the Heat turned on the after-burners. Carmelo Anthony won't play that badly again, most likely. But the overall picture of the Knicks looks bleak, and that's before
Iman Shumpert
's injury (VIDEO:
Shumpert goes down with injury
). The Knicks are going to need a new plan to make this series competitive. Unless LeBron James plays like that every game.
Then they're going to need a summer vacation plan.