Heat add Dexter Pittman, Shane Battier to starting lineup for Game 3 vs. Pacers
The Miami Heat moved center Dexter Pittman into the starting lineup for Game 3 against the Indiana Pacers.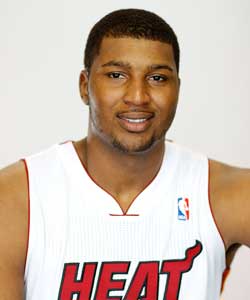 Dexter Pittman started for the Miami Heat in Game 3.
(Getty Images)
Dexter who?
Miami
Heat
coach Erik Spoelstra moved second-year center
Dexter Pittman
 and forward
Shane Battier
into the starting lineup for Game 3 against the Indiana
Pacers
on Thursday night.
Pittman, 24, started six games for Miami this season with five of those coming during the last week of the season, when the Heat gave some added rest to their star players. Pittman averaged 30.0 points and 2.0 rebounds in 8.6 minutes per game in 35 appearances this season. He played a total of just 301 minutes on the season.
Battier, 33, started just 10 games for the Heat this season, posting averages of 4.8 points, 2.4 rebounds and 1.3 assists per game.
Joining Pittman and Battier in the new-look starting lineup were All-Stars
LeBron James
and
Dwyane Wade
 and guard
Mario Chalmers
.
Thursday's quintet marks the third different starting lineup employed by the Heat during the series.
In Game 1, the Heat started James, Wade, Chalmers and forwards
Udonis Haslem
and
Chris Bosh
. After Bosh was lost to an abdominal injury in Game 1, Spoelstra started James, Wade, Chalmers, Haslem and center
Ronny Turiaf
. Turiaf played just 13 minutes in Game 2, scoring three points and grabbing two rebounds.
Among the questionable decisions by Jackson was signing Noah to a long-term, lucrative dea...

This Akron store doesn't want their hometown hero to leave again

Milwaukee's star did not get cleared to play for his national team due to a painful knee i...
Ball, the second overall pick in the NBA Draft, is receiving even more hype

Rap mogul supports the vision the outspoken father has for his brand and sons

Deciding who to watch on League Pass can be difficult, but these rankings promise to help