Heat are in the same spot as 2011 Finals, but carrying a different attitude
The Heat have been up 2-1 in The Finals before and let it all slip away.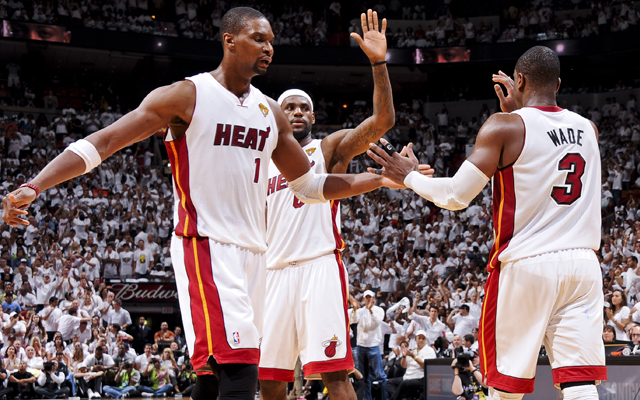 For the second year in a row, the Heat have a 2-1 lead in the Finals.
(Getty Images)
MIAMI -- After three games of the 2011 NBA Finals, the Heat seemed to have the Dallas Mavericks right where they wanted them. A 2-1 series lead, homecourt advantage recaptured and a chance to take complete control in Game 4.
But it all unraveled. The Heat lost three of the final four games and watched the Mavs raise a trophy on their home floor in Game 6.
So with a 2-1 lead over the Thunder a year later, you can be sure they've considered the similar circumstance.
"Of course it stuck with us, all the way to this day," said LeBron James on Monday. "But we're a totally different team than we was last year when we was up 2-1. We're a totally different team. We understand what it takes to win, and we've used that motivation, and we will continue to use that motivation."
In terms of personnel, the Heat are essentially the same. It's still LeBron, Dwyane Wade and Chris Bosh with a supporting cast of Mario Chalmers, Udonis Haslem and Mike Miller. The biggest addition has been Shane Battier, who has hit some big shots, but obviously isn't a completely game-changing player.
The difference is the mental toughness the Heat have found. They've become an incredibly resilient team, one that almost seems to like playing with their backs to the wall.
The Heat have responded in every series where they had to. Down 2-1 to the Pacers, they won a must-win Game 4. Down 3-2 to the Celtics and on the road in Boston, they won an elimination Game 6. Down 1-0 to the Thunder in OKC, they gutted out a much-needed Game 2.
They haven't had much opportunity to play from ahead in these playoffs though, so this will be something new. Other than the opening-round series against the Knicks that was largely a laugher, the last time the Heat played from ahead was the 2011 Finals.
"I thought we let that get to us a little bit, being a new group, a new unit in that situation for the first time," Wade said of last season's Finals. "We tried to do what we thought was right, but a lot of it was forced. You know, now just having more confidence, not saying it's all going to go smooth as you see. Yesterday we shot 37 percent. We had a lot of turnovers in the fourth quarter. But we kept believing in each other. We kept making enough plays to put us in a position to win the ballgame, which I didn't feel that we probably was able to do last year.
"It comes with experience," he said.
I don't think many necessarily could see the collapse coming in last year's Finals, and it would be somewhat surprising if the series turned over these next two. The Thunder are now the desperate team, the group that can't afford to fall behind 3-1. The Heat have an opportunity to deal a fatal blow but have to take advantage. Consider: Teams that fall behind 3-1 in the NBA Finals are 0-30 for the series.
Both LeBron and Wade have spoken in detail about the pain they dealt with in losing last year's Finals. That hurt has lived with them all this season and served as motivation to prevent it from happening again. Knowing that kind of anguish is an incredible push for the Heat.
"Last year is last year, and we're not going into a Game 4 on someone else's floor," LeBron said. "We're going into a Game 4 on our floor with a lot of experience in this type of situation. We'll be ready. We love the challenge.
A big reason to make sure to keep moving forward and not let the dangerous, explosive Thunder back in the series. The Spurs made that mistake up 2-0 on Oklahoma City and didn't finish the deed. The Heat have the advantage of being on their home floor against a somewhat rattled young squad.
The veteran Mavs obviously sensed that pressure and the Heat didn't have enough to put a foot on their throats. The Heat claim to be different, claim to have grown, claim to have built a new toughness. Game 4 is a chance to prove it.
We've got all the scores, highlights and news from an NBA Monday

Leonard was recently shut down again to rehab the nagging quad injury

Durant, who joined the Warriors, says that Capela, the league's most efficient player, has...
Jason Kidd's firing gets the celebratory balloon treatment on Milwaukee's Twitter page

Milwaukee has parted ways with its coach in the middle of his fourth season

Larry Hartstein has his finger on the pulse of the Clippers and locked in a play for Monday's...