Heat-Bucks: Both teams have business to handle in different ways
With an 88-77 victory in Game 4 against the Milwaukee Bucks, the Miami Heat finish off the series and complete the sweep.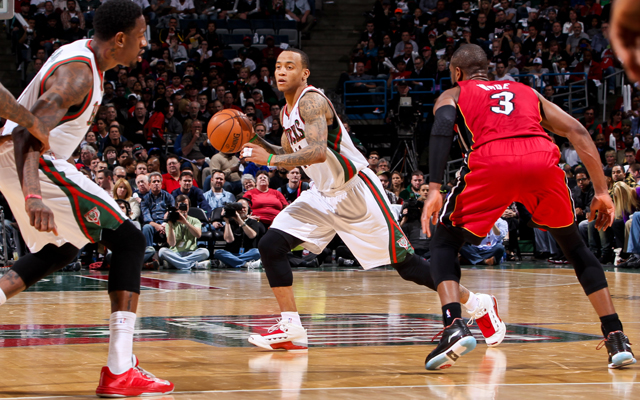 The Miami Heat are in the series-winning business, and business is booming.
For the first time since LeBron James and Chris Bosh packed up and moved to South Beach, the Heat were able to sweep a playoff opponent, something that many of us thought would be the norm rather than the exception for this team. In their first playoff series since winning the 2012 NBA title, Miami seemed cold-hearted and matter of fact when it came to the business of handling an inferior opponent. 
There wasn't a letup. There wasn't a hiccup. There were no feelings of "well, we'll just get them in Game 5 back in Miami." That's what we saw during the Big Three's first playoff series back in 2011, when they dropped Game 4 in Philadelphia in an effort to sweep. We saw the same thing in the opening playoff series last season against the New York Knicks when, up 3-0, the Heat lost Game 4 in New York.
This Miami team took everything that Milwaukee had for them in stride. In Game 1, the Bucks tried to weather every storm of the Heat's attack but couldn't withstand the second-half push that led to a blowout. In Game 2, the Bucks fought hard to be the pest that we've seen them be against the Heat over the last three seasons. Yet, a 12-0 run to begin the fourth quarter established Miami's dominance and ended any doubt about the Bucks stealing a victory.
In Game 3, the Bucks showed confidence and execution when they were up eight and in possession of the ball with less than a minute left in the first half. Then the Miami Heat closed it to two points in the blink of an eye before the half ended and blew them out of the water in the second half. Without Dwyane Wade in Game 4, the Heat had every reason to drop another chance at a sweep in the first round and take care of business at home. Instead, they kept plugging away throughout the game and distanced themselves in the fourth quarter behind James' 30 points, eight rebounds and seven assists.
And, with that, the Heat have moved on to the second round while the Bucks move on to a very difficult offseason.
Milwaukee has to figure out the saga of their backcourt. Is the backcourt of Monta Ellis-Brandon Jennings a good idea? Ellis has a player option for $11 million, and Jennings will be a restricted free agent who is allegedly looking to move to a much bigger market. J.J. Redick is also a free agent for them, after they traded promising forward Tobias Harris to acquire him at the trade deadline.
The Bucks don't have a direction. A little over a year ago, when they traded Andrew Bogut for Ellis, it was the signaling of a new era in Milwaukee. No longer were they building around the former No. 1 pick in the middle. They had an incredibly quick duo with an affinity for calling their own number on any given play. They were supposed to be fast and smothering with their offense. But more often than not, all they did was suffocate the Bucks' 21st-ranked offense.
If Ellis ends up opting out for a longer deal, is there any sense to keeping him around? He's played the worst basketball of his career. If Jennings doesn't want to stick around, do you risk fostering a situation like Eric Gordon has in New Orleans, in which every questionable moment becomes fodder for media wondering if the two sides should even be together? And at what price is retaining Jennings far too much for a rebuilding franchise?
That's how the Bucks should view themselves, too -- as a rebuilding franchise. They made the playoffs this season because Andrew Bynum has bad knees. They went 38-44. Their biggest discovery was Larry Sanders breaking out and playing as one of the most impressive defensive big men in the league. You don't build around him, but you build with him. He's a supporting piece, just like you assume John Henson will be a supporting piece. 
But you still have to find the franchise cornerstone. Jennings isn't it. Ellis isn't it. Finding such a player could prove to be quite difficult. 
This has become business as usual for two teams heading in very different directions. 
Russell was awarded the Presidential Medal of Freedom in 2011 by Barack Obama

T.J. Warren gets paid big money by the Suns in a four-year deal

Melo didn't hold back on his feelings about President Donald Trump and urges for help in Puerto...
The Wizards star says the NFL won't change until important players like Brady and Rodgers speak...

Popovich spoke at length about sports, race, culture, and politics during Spurs media day on...

Carmelo Anthony finds the idea of coming off the bench very funny