Heat-Bucks Game 1: LeBron announces his playoff intentions
LeBron James has a spectacular Game 1 with 27 points, 10 rebounds and eight assists.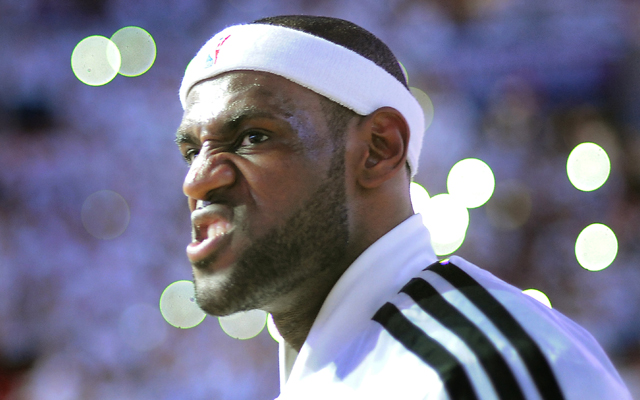 There's no longer any hesitation. He doesn't have to figure anything out. He's not waiting to find his role or how to attack. He simply moves on the floor and watches the game curl around his fist like a gauntlet of smoke.
This is LeBron James in his prime, and he is ready to claim his throne again.
More on Bucks-Heat
Related links
How James plays in this first round is meaningless, he could sit and the Heat would still be heavily favored vs. the Bucks. Their role players are superior to most of the Bucks' roster in both talent and experience, and that's before you add Dwyane Wade and Chris Bosh.
But James did play, and made a statement. 27 points on just 11 shots, with 10 rebounds and eight assists in just 34 minutes. We'll forgive the five turnovers since he shot 9-11 from the field. He found shooters, cutters, lobs with his passes. He dunked, pulled up, got inside relentlessly and controlled the game however he wanted. James didn't have to seek out holes in Milwaukee, he exerted what he wanted.
LeBron set the tone for what the Heat are trying to do. They are not a sleeping giant waiting to flip the switch. They flipped the switch in January and haven't looked back. Through a 27-game winning streak all the way to the No.1 seed and homecourt throughout. The Heat beat every team in the NBA this season at least once and have declared themselves the eminent power. Any conversation about the title starts and ends with them. 
This series against Milwaukee isn't so much about whether the Heat will win, but what they will look like in victory. Can Milwaukee recover, steal Game 2, take two home games and shock the world? Yes. But the probability is so low given the evidence we have, you can't consider it a real possibility. To ignore the fact that the Heat will advance would be like avoiding going outside because of the odds of being struck by lightning. 
The Heat wanted to provide an example and they did. It wasn't even the most dominant performance they could have provided, but that only added to it. The message Sunday was "Even when we don't play nearly as well as we can, we'll win comfortably. We run this game.
"We run this game." 
What was perhaps most evident in Game 1 was that if you took away James, the Bucks are likely very much in that game or at least within range of making it interesting. But whenever the Bucks would make a surge, James responded with control and dominance. LeBron was playing master-level speed chess. Everyone else was playing dress-up. That's the kind of level he's on.  
It will not be this easy throughout the playoffs, and to be sure, the Heat will face adversity. But they will face it with a LeBron James they have never had for an entire postseason. He started to learn this identity in Game 4 vs. the Pacers last year. He embraced it in Game 6 vs. the Celtics. And he continued it through the Finals and Olympics.
This was LeBron James' finest season as a professional basketball player, and yet the playoffs demand more, so he gave more in Game 1. The shots may not fall next time. He may not be as efficient. But as long as James plays the way he did against Milwaukee, in his decision-making and intensity, one thing is for certain.
You're going to need a greater army than anyone's brought so far to hold him back.
OKC fans welcomed the 10-time All-Star at the airport with chants of 'Melo!'

Jordan joined LeBron James to show support of those who wish to exercise their freedom of...

Wade opted in to his $24 million player option earlier this summer
Barkley spoke to the NFL Today crew about the response the president received in his home...

The restricted free agent has a deal in place that will keep him with the Bulls after a st...

James' support continues his trend of social activism on social media