Heat-Bulls Game 1: Chicago drags Miami into its game
Chicago made the game ugly in Game 1 and walked out with a W.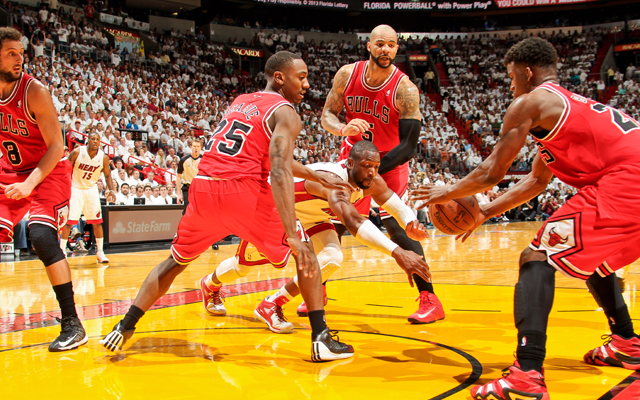 The talent differential was massive. The Chicago Bulls were never going to win a track meet. They don't have the horses, even when healthy.
And the Bulls are not healthy. 
They were without Derrick Rose, Kirk Hinrich, and Luol Deng on Monday night vs. Miami. They were never going to win an up-and-down game, which is usually how you manage an offfense against a superior opponent. No, instead, the Bulls needed to drag Miami's high-powered style into an alley and make it a grab-and-claw affair. It wasn't just about tough defense and preventing transition buckets. 
It's about limiting possessions. The Heat averaged 93 possessions per game in the regular season, and just 91 on Monday night. Those two possessions don't sound like a lot, but when you factor in the variance in games, it makes for the recipe. The Bulls ground out a game and made for the situation they wanted. 
Under two minutes with a limited number of possessions. That's where the Bulls want it. They can then rely on two things: 1) Nate Robinson doing NateRob things, and 2) offensive rebounds leading to defenses out of position to guard open 3s: 
The Bulls had 17 second-chance points on nine offensive rebounds. They weren't dominant on the glass, but maximizing your points that way makes up for the lack of opportunities. 
Chicago's defense was at its very best Monday, allowing just a 16-of-38 shooting performance inside the paint, according to NBA.com. It was a Tom Thibodeau masterpiece. Winning ugly, winning tough, winning despite challenges, and winning by limiting opportunities and executing at a high level once you get it down to that finite number of possessions. Boston, where Thibodeau was an assistant before taking the job in Chicago, has been phenomenal at it for years. 
This is the same strategy that carried Boston over LeBron's Cavaliers in 2010, the same that has given James trouble throughout his time. It's a tested approach. Can they win three more? Well, now they believe they can. They have the confidence and the first game out of the gate. Adjustments will be made, but at some point, the Bulls have made the process simple enough to control. Defend the rim, no easy buckets, maximize every possession. 
The numbers, the talent, all indications are that they shouldn't be able to. But then, those same things say they shouldn't even be here right now. 
And in Game 1, they had none of the talent, and all of the answers. 
The kid just about lost his mind after getting Durant's game-worn sneakers

The revamped Thunder lost on Monday night, dropping to 12-14 on the season

Two of the league's young, up-and-coming squads will square off on Tuesday in Minneapolis
Kawhi Leonard is set to make his season debut for the Spurs

Lonzo Ball will make his Madison Square Garden debut

Leonard, who hasn't played this season due to a quad injury, may return with more skills than...