Heat-Bulls Game 5 Preview: Closing time
Previewing Game 5 of the Heat and Bulls on Wednesday night in Miami.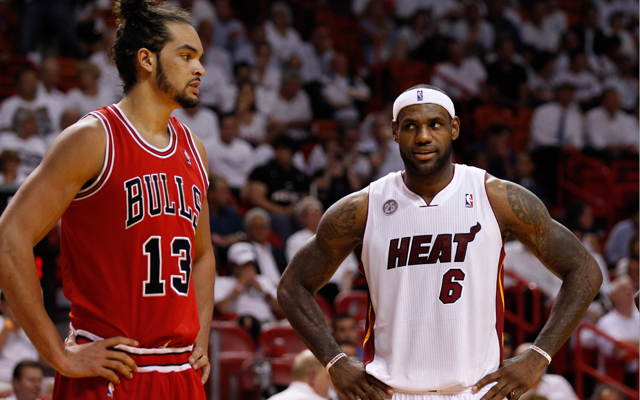 A preview of Wednesday night's Game 5 between the Chicago Bulls and Miami Heat.
1. Where We Are: It seems it's all just about over. In many ways, mercifully so. The Heat have stormed back to re-establish their dominance after falling inexplicably in Game 1. The Bulls played an awful Game 2, a solid Game 3 but didn't have enough and then got worked in Game 4 behind one of the worst offensive games that you'll ever see. The Heat are winning this series. It's all but over. The question is how hard the Bulls are going to make them work for it. 
2. The Big Number: 25.7. That's the number of offensive ineptitude. The Bulls shot 25.7 percent from the floor in Game 4. They made 19 baskets. They had 17 turnovers. It was one of the worst offensive performances that you'll ever see. As rough as it is for the Bulls right now, surely, SURELY, they won't shoot that poorly again. Right? It's a struggle for Chicago, but making only 19 of 74 shots in an NBA game is hard to do.  
3. Key Adjustment: Outside of miraculously getting healthy and Derrick Rose's intro music playing WWE style, what can the Bulls really do? They're overmatched and undermanned. The fatigue, the mental exhaustion -- it's all catching up to them. They're like a group of soldiers waiting for reinforcements as the enemy surrounds them, only the reinforcements are never coming. The Bulls had an extremely defeated look to them in Game 4, like a team that was accepting their fate. Knowing that Rose isn't walking through that door, and that Luol Deng and Kirk Hinrich are unlikely to help, the Bulls are just beaten down. What can they really adjust? The Heat are better, deeper and more talented. The Bulls' best weapon is their competitive spirit and toughness. They used those things for a perfect sneak attack in Game 1. But it looks like all that stuff is used up. The Bulls are spent. 
4. The Big Story: How will the toughest, most spirited, most prideful team in the postseason handle being pushed against elimination on the road against a team that is clearly better than them? The series has been extremely chippy and physical. Does Joakim Noah, Taj Gibson or Nazr Mohammed have a parting shot in store for LeBron, or will they go out quietly? Another angle: What to make of Dwyane Wade? With him battling a knee bruise, does he play, or do the Heat dare rest him knowing they likely have the series wrapped up? 
5. The Facts: 7 p.m. ET start time. Rose, Hinrich and Deng are all questionable. Wade is day to day with a bruised knee.
Warriors' forward doesn't understand the reasoning behind the all-too-common double technical...

Hardaway Jr. gave a 'safe' call like he was an umpire in baseball

Barnes hits the trey with less than a second left to lift Mavericks to dramatic 95-94 vict...
Kevin Durant was once again back in Oklahoma City

Gregg Popovich has never seen an injury lead to the issues that Kawhi Leonard has been fac...

Kobe Bryant, of course, had his 81-point game against Rose and the Raptors back in 2006