Heat-Bulls: When Heat are clicking, they're impervious to defense
After leading by 46 at one time in Game 2, the Miami Heat prove why their best is better than anybody else's.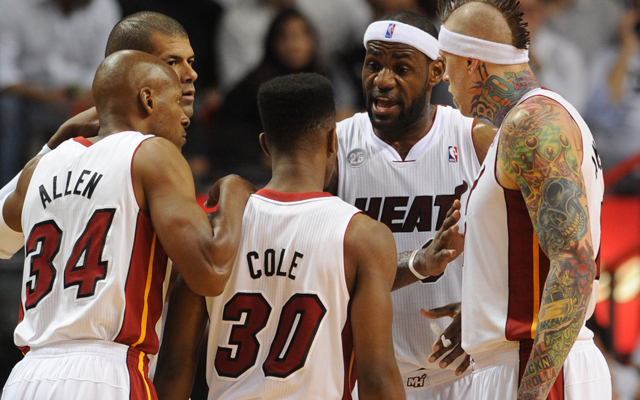 After looking vulnerable in a Game 1 home loss to the scrappy Chicago Bulls, the Miami Heat decided to remind everybody what their team looks like when they're firing on all cylinders. 
There was some reason to be concerned after the Bulls' seven-point victory to open up this second round series. Their defense stopped Dwyane Wade and Chris Bosh from being effective. And the 3-point shots simply didn't fall for the Miami shooters. LeBron James was great, but his production was matched by Nate Robinson in the first game. And the Heat never got enough offense going against the Bulls' defense.
More on Bulls-Heat
Related links
Down 0-1 and desperately needing to win Game 2 to avoid an 0-2 hole heading to Chicago, Miami decided to remind everybody why they have those championship rings and why they ended up with 66 wins this season. When the entire machine is working, there isn't a defense that can stifle what they do.
The Bulls tried to suck them into a chippy, grind it out game early on. For a short while, it was working. The Heat players were getting in the face of Bulls players and racking up technicals. But that only lasted for so long. LeBron James started scoring and the floodgates on outside shooting for the Heat opened up. The deluge of points became too much for the Bulls to handle and there wasn't any amount of scrapping or agitating that would work. 
The choice words were shrugged off. The slaps and elbows were appreciated as the Miami players asked for more. When the Heat had their defense shutting down the paint in the third quarter and LeBron James dominated without scoring a single point in those 12 minutes, it was well established that there wouldn't be any chance of an upset happening before they visited Chicago. More so, the message was sent that another upset might not be happening at all.
When Dwyane Wade is slashing to the hoop and Chris Bosh is getting shots around the rim and the 3-point shots are raining down, what are you supposed to do against Miami? When LeBron James doesn't have to score a single point in a quarter and can just dominate it with his defense and passing, the message becomes clear: your defensive efforts don't matter. That's not to say this will happen the entire series or for the rest of the playoffs. There will still be lulls because that's just the ebb and flow of professional sports.
However, let things click for a team like the Heat and being down 46 in a playoff game isn't entirely ridiculous. That's the scary thing about this team. If they get everybody on the same page for one evening, they're unstoppable. For a wounded Bulls team, it's almost unfair to subject them to opposing play like that. Even the Miami mistakes didn't hurt them in tonight's game. Before garbage time happened for nearly the entire fourth quarter, Miami had committed eight turnovers and given up zero points off of them.
Could a return of Luol Deng and/or Derrick Rose turn this series around? Only if the Miami Heat don't click. 
Mayo was suspended for two years last summer for violating the league's anti-drug program

The NBA broke its silence with a statement related to the Lakers-Paul George tampering cha...

The Clippers big man thinks LeBron will reunite with the banana boat crew at some point
Have the Clippers reportedly found their next GM?

The NBA stayed to the point in their response to the Greek basketball federation

The Pacers believe the Lakers tampered with Paul George before they traded him