Heat, Clippers and Celtics in play for Andrew Bynum?
If the Cavaliers and Andrew Bynum do part ways, where does he go from here?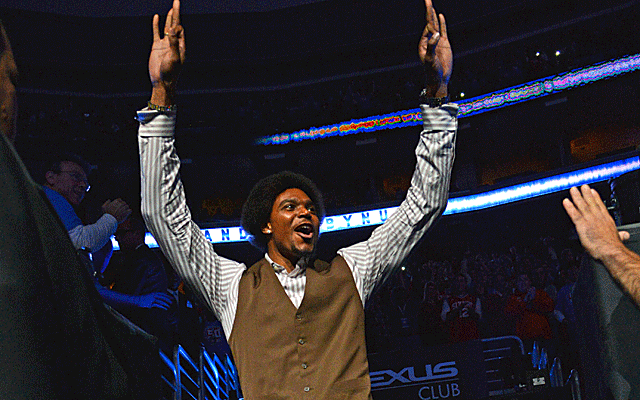 With the Cavaliers and Andrew Bynum on the verge of completely falling out, the question is, what now? Where does Bynum go next if the Cavs waive or trade him?
Obviously the Cavs will attempt to trade him but if there aren't any takers -- and at this point, why would there be? -- they may move to waive him before his contract becomes guaranteed on Jan. 7. And if that happens, who's in play?
According to USA Today, the Clippers would have interest in Bynum if he's released. The Clippers have major depth issues with their frontline, essentially only having DeAndre Jordan as their only capable center (unless you really want to count Ryan Hollins). It would give Bynum the chance to move back to Los Angeles and maybe rediscover a little of what made him so good with the Lakers.
Another team potentially interested according to Grantland.com would be the Miami Heat. Not really all that surprising because any time there's a talented cast-off available, the Heat are interested (see: Michael Beasley, Greg Oden).
And a third team that's come up is the Boston Celtics. They have assets and expiring contracts they could potentially unload, but the Celtics have a pretty specific plan in place that seems to be working, so adding Bynum could be risky, especially since he'd be heading to another rebuilding situation.
Bynum's damaged goods, though. He's appeared in 24 games for the Cavs this season and made 19 starts, but he's been far from his old self. And remember: He sat out all of last season in Philadelphia.
Whoever gets Bynum likely won't be adding the dominant seven-footer he once was, but he can be an excellent backup to have for 15-20 minutes a night. Imagine him backing up DeAndre Jordan in LA and playing alongside Blake Griffin and Chris Paul for stretches. Motivation and desire questions linger around Bynum, but that could rev him back up and at least bring out the good stuff he has left. 
And possibly make the Clippers an even more terrifying team.
We have all the latest news from around the NBA on Saturday

Curry could be back for the start of the playoffs

This is not what Danny Ainge envisioned when he signed Gordon Hayward and traded for Irvin...
Irving has not played since March 11, and it appears he will miss Boston's first-round playoff...

People all across the country marched on Saturday for stricter gun regulations

Pop says while everyone wants Kawhi back, the team needs to act as if he won't return