Heat coach Erik Spoelstra selects Chris Bosh to start All-Star Game
Chris Bosh will start the All-Star Game, Heat coach Erik Spoelstra says. It might not be the right decision, but it's the right decision for Spoelstra.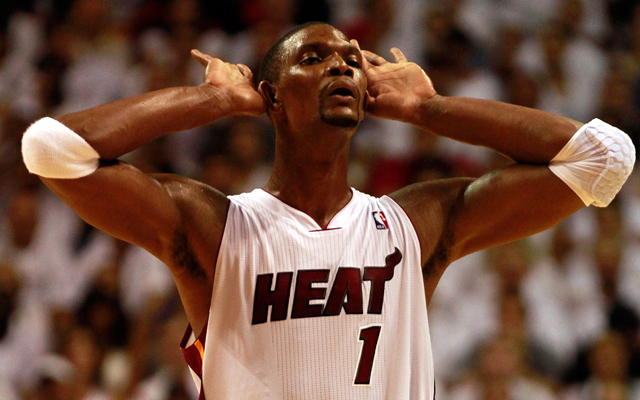 Bosh will start with his All-Star teammates.
(Getty Images)
You have to stand by your guys, and Erik Spoelstra apparently knows it. With Rajon Rondo out of Sunday's All-Star Game with an ACL injury, Spoelstra had to choose a replacement. For a traditional lineup, and honeslty, in terms of deserving to start, Kyrie Irving was the choice. 
More from All-Star Weekend
Related links
All Star Weekend 2013 updates
More NBA coverage
But with Chris Bosh on his bench, Spoelstra would have to snub his own player. So Spoelstra did the smart thing and kept Bosh, his third star and the George Harrison of the Heat, happy. Bosh will start the All-Star game, Spoelstra told ESPN.
It's no surprise. Bosh had hinted to the media weeks ago that he felt he would be the starter. Coaches like their own guys, and Irving is in only his second year. But Irving, or Jrue Holiday of the 76ers, would have been a better choice. Bosh's numbers are great, but he's benefiting the way we imagined he would after "The Decision." He's given opportunities in space as the defense tries to stop Dwyane Wade and LeBron James, and punishing. His rebounding has suffered playing center, but his defense has been superb. 
Bosh told NBATV that he didn't petition at all for the starting spot. 
Following the decision, the Heat will feature three players as starters on the Eastern Conference All-Star team. Just like they planned nearly three years ago. 
You can follow Eye on Basketball on Twitter @MattMooreCBS and like us on Facebook. 
Among the questionable decisions by Jackson was signing Noah to a long-term, lucrative dea...

This Akron store doesn't want their hometown hero to leave again

Milwaukee's star did not get cleared to play for his national team due to a painful knee i...
Ball, the second overall pick in the NBA Draft, is receiving even more hype

Rap mogul supports the vision the outspoken father has for his brand and sons

Deciding who to watch on League Pass can be difficult, but these rankings promise to help