Heat decide to reload, not rebuild, after LeBron James departure
The Cavaliers went one way when LeBron James left in 2011, and the Heat are going the other. Instead of bottoming out for a long rebuild, Pat Riley is keeping Miami competitive in the short term and poised for bigger moves in the long term.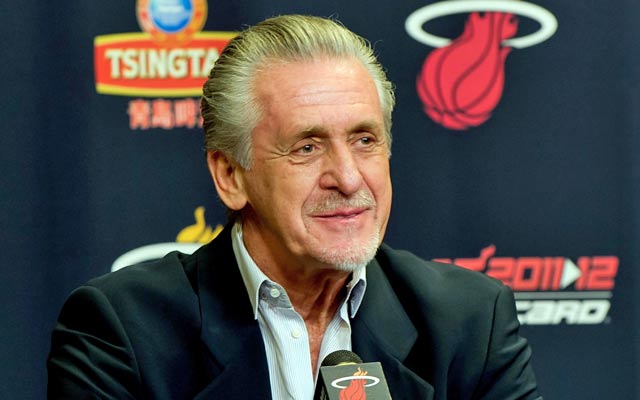 More on Heat: Wade announces return to Miami | Bosh stays for 5 years, $118M
When LeBron James left Cleveland for Miami in 2010, the Cavaliers had a couple of choices: bottom out and rebuild, or try to reload. For obvious reasons, given the unlikelihood they'd ever attract top-tier free agents without James, they went with option No. 1.
The result was four years of pain, during which the Cavs won 19, 21, 24 and 33 games. Over the years, they fired Mike Brown, hired Byron Scott, fired Byron Scott, hired Mike Brown, fired Mike Brown and hired David Blatt.
They could have used a $13.2 million trade exception they received in the uneven sign-and-trade arrangement that delivered James to Miami with his six-year max deal and max annual increases. But they let it expire, untouched. They were awarded for their patience and long view with the No. 1 pick in three of the next four drafts. It took a while, but all of this created a solid enough foundation to lure James back.
With his announcement last week that he was returning to Cleveland -- on a two-year deal that will maximize his earnings with the potential for the league to double its broadcast rights fees in 2016 -- James left another team reeling in his wake. In many ways, Heat president Pat Riley faced the same dilemma that the Cavs faced when he hijacked their franchise player in 2010: bottom out and rebuild slowly, or reload on the fly?
Riley had made two free-agent additions when James left, signing Josh McRoberts and Danny Granger on the assumption that the Heat would be over the cap and that they would retain James, Dwyane Wade and Chris Bosh. As is the case with many free-agent plans across the NBA, that vision didn't work out.
After Wade had opted out of two years and $42 million guaranteed to give the Heat flexibility to refresh the roster with the Big Three still intact, Riley owed it to Wade to re-sign him -- which Miami did on Tuesday. The ripple effect of James' departure was especially impactful in Houston, where the Rockets cleared the decks in anticipation of Bosh following James out of town. Bosh, however, quickly and surprisingly decided to re-up with the Heat on a five-year, $119 million deal.
There's a saying in the NBA that the only way to get really good is to get really bad first, but Riley and the Heat clearly do not ascribe to this theory. Instead of reacting severely to James' departure, Riley decided to be opportunistic -- using some of the cap room created to sign free agent Luol Deng to a two-year, $20 million deal. Riley also has brought back Mario Chalmers and Chris "Birdman" Andersen, with key free agent Ray Allen still mulling his future.
Udonis Haslem, who is represented by the same agent as Wade and opted out of $4.2 million for next season, also re-signed Tuesday on a two-year, $5.6 million deal.
So where does all of this leave the Heat? In the soft though improving East, it easily leaves them in contention for a playoff spot. Besides Bosh, all of their free agents retained and acquired signed short deals, so they'll be very much in the free-agent mix in 2016 -- if not sooner.
Was this the best approach? Could Riley have credibly pulled offers for Bosh and Wade once James left, let Deng settle in Phoenix or Dallas, and started the arduous process of collecting assets and cultivating cap space for the next opportunity?
There would've been some serious problems with that approach. First, there was the loyalty factor with Wade, who committed the cardinal sin of free-agenting when he opted out of his last big pay day -- and two years of it, to boot. Next, it was the Big Three, not the Big One -- and though Riley lost the most important member of that triumvirate, it didn't necessarily have to doom the Heat to life without the other two.
Also, the Heat weren't the Cavs before LeBron arrived, and they didn't need to become the Cavs after LeBron left. Miami had been to the playoffs in six of seven seasons before the Big Three formed, including a championship in 2006. That kind of track record, plus four consecutive Finals trips and two more titles during the Big Three era, would've made it a tough sell to tear the roster down to the studs and start over.
If Riley had gone the teardown route, he could've schemed (i.e. tanked) to avoid sending Cleveland his 2015 first-round pick, which is 1-10 protected in each of the next two seasons. (That pick, obviously, was included in the sign-and-trade arrangement that landed James in Miami.)  But there are no guarantees with draft picks, whereas I'm reasonably comfortable guaranteeing that the Heat are a playoff team next season with a new Big Three of Bosh, Wade and Deng.
The 2011 CBA, which has dictated so much during this bizarre free-agent period, is about windows opening and closing. The Heat's championship window may have closed when James' essay was published on SI.com last Friday, but reasonable management -- and a brief respite from paying the luxury tax -- will keep them relevant in the short term while positioning them to jump through the next window.
The alternative would've been akin to jumping out of one.
Greek Freak scores career-high 44 points and reaches scary level to finish the game

It was an ugly finish as the Warriors fell to 1-2 on the season -- both Curry and Kevin Durant...

Mirotic was hospitalized with facial fractures after an altercation with Portis during pra...
Irving had some choice words for a fan who heckled him in Philadelphia

Several teams were reportedly interested in Nelson after he was waived by the Nuggets

Cousins got into a heated exchange with a fan during the Pelicans' season opener