Heat F Chris Bosh will not start or play normal minutes in Game 6 vs. Celtics
Miami Heat coach Erik Spoelstra said during his pre-game comments on Thursday night that All-Star forward Chris Bosh is not yet ready for his normal playing time during Game 6 of the Eastern Conference finals against the Boston Celtics.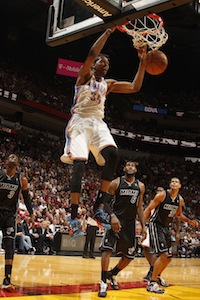 Durant  carries the Thunder into the Finals.

(Getty Images)
BOSTON -- Miami
Heat
forward Chris Bosh will play more in Game 6 of the Eastern Conference finals against the Boston
Celtics
. How much more remains the question.
Bosh played 14 minutes off of Miami's bench, scoring 9 points and grabbing 7 rebounds, but he sat out the entire fourth quarter of a Game 5 loss on Wednesday night. The Celtics lead the Heat in the series 3-2. 
The Heat announced shortly before tip off that they would not change their Game 5 starting lineup, which includes guards
Mario Chalmers
and
Dwyane Wade
plus forwards
LeBron James
,
Shane Battier
and
Udonis Haslem
.
During his pre-game comments on Thursday, Heat coach Erik Spoelstra reiterated that Bosh would see more playing time in Game 6 than he did in Game 5 but that he probably wouldn't see as many minutes as he would during a normal game.
Spoelstra said that he was "much more comfortable" playing Bosh heavier minutes on Thursday but said: "I don't think he'll be able to play his normal load."
During the 2011-2012 season, Bosh averaged 35.2 minutes per game. During the postseason, Bosh has averaged 28.1 minutes per game.
Spoelstra also said that he didn't expect to use Bosh in a "normal rotation" but instead planned to get him into the game in shorter bursts "2-3" times per half.
Bosh returned to play in Game 5 of the Eastern Conference finals after being sidelined for three weeks and missing nine games with an abdominal strain.
Asked to measure his health on Wednesday, Bosh smiled and placed himself at "99 [percent]," saying he could play on Thursday with "no limitations." He also noted that he was not dealing with any lingering pain.
"There's going to be some regular soreness after the game, which I'm used to," Bosh said. "It's nothing major.  Everybody feels it after every game.  So I consider myself a lucky guy, and I'll be ready for [Thursday]." 
A return to the starting lineup seemed like a no-brainer based on Bosh's self-diagnosis, but he opted for the politically correct answer when asked if he wanted to start.
"I just want to play," he said. "It doesn't matter to me.  I think we feel confident in whoever we put out there. And no matter what the rotation is and what the lineup, we're good enough to get the job done."  
Spoelstra has already used three different starting lineups during the Eastern Conference finals.
We've got all the scores, highlights and news for Friday night

George Hill, who is unhappy in Sacramento, could be a solution to Cleveland's backcourt si...

Shaquille O'Neal and Sir Charles cruise to an easy victory over some hot peppers
If Charlotte indeed moves its star guard, there's going to be more people impacted than just...

Trading Kemba Walker (and dumping salary in the process) may be harder than expected for C...

Our advanced computer model simulated Friday's Jazz-Knicks game 10,000 times