Heat F James Jones missed NBA Finals Game 1 with migraine
Miami Heat forward James Jones was not available for Game 1 of the 2012 NBA Finals against the Oklahoma City Thunder on Tuesday night due to a migraine headache.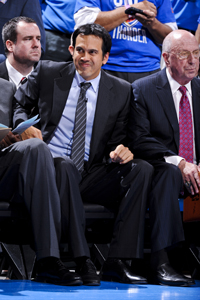 Erik Spoelstra said James Jones was not available in Game 1.
(Getty Images)
OKLAHOMA CITY -- The truth came out on the morning after.
On Wednesday, Miami Heat coach Erik Spoelstra clarified the status of his rotation after suggesting on Tuesday that his team was not fully available during a Game 1 loss to the Oklahoma City Thunder in the 2012
NBA
Finals at Chesapeake Energy Arena.
"[James Jones] had a migraine," Spoelstra said. "So he wasn't available right before the game." 
On Tuesday, Spoelstra cryptically said that his roster was not at full strength for the 105-94 Game 1 loss that saw him play just six players more than 10 minutes.
"Because of the circumstances, I had to shorten the rotation, but I'll probably make that change and find out who will be available in the next game," Spoelstra said during his post-game comments, when asked whether he would go deeper into his bench in Game 2.
"The next game I'll be able to go a little deeper," he added when asked what "circumstances" limited him. "Again, in this first game we were trying to keep [the rotation] tight. But I think we'll have a day of rest, guys will be ready to go on Thursday." 
Jones is averaging 2.7 points and 1.0 rebound per game in 9.2 minutes during the 2012 playoffs. He played 10+ minutes in each of the first five games in the Eastern Conference finals before seeing just three minutes of time in both Game 6 and Game 7.
On Wednesday, Spoelstra reiterated his plans to go deeper into his bench during Game 2 on Thursday night after playing MVP forward LeBron James 45 minutes, All-Star guard Dwyane Wade 42 minutes and forward Shane Battier 41 minutes.
"I'll probably go a little bit deeper into the rotation, try to get the guys a little more rest. But we're not making any excuses. [Oklahoma City's] two top guys played the same amount of minutes."
Thunder All-Star forward Kevin Durant played 45 minutes while All-Star guard Russell Westbrook played 42 minutes. Oklahoma City outscored Miami in the fourth quarter 31-21.
James said after Game 1 that the Heat would need to get more from their bench against a Thunder team that used a solid 8-man rotation.
"We know we have to have more [bench] production for sure," he said. "We're going to have to have more guys in there to give me and [Dwyane] Wade a rest. And Shane [Battier]. Shane played a lot of minutes. But [coach Erik Spoelstra] will figure that out. We'll be more conscious about it, just trying to get a minute or two here or there so we can finish strong."
Markieff Morris was already in line to miss the start of camp due to a pending assault cas...

The 76ers should hopefully get a lot of play out of their young guys this season

Okafor's been on and off the trade block for over a year and doesn't seem to be in Philly's...
Fisher is the fourth NBA player to compete for the Mirror Ball trophy on the show

Barkley commends the NBA, sarcastically, for extending the season and reducing back-to-back...

Enes Kanter isn't seeing much comedy in the Kevin Durant social media situation