Heat-Knicks Game 3 Preview: Injured, bloodied Knicks return home
Previewing Game 3 of an Eastern Conference first round playoff series between the Miami Heat and New York Knicks.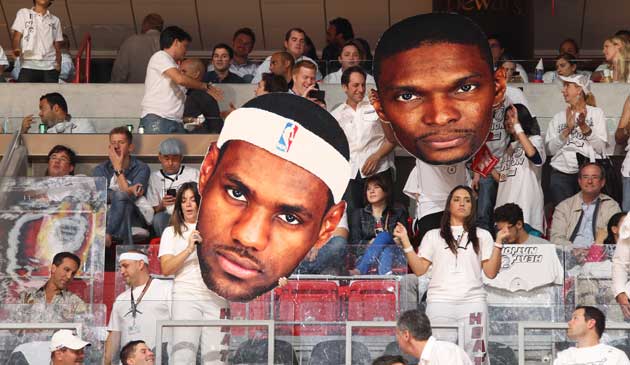 The Heat are dwarfing the Knicks so far in their first round series.
(Getty Images)
Previewing Game 3 between the Miami Heat and the New York Knicks.
1. Where We're At:
 The Knicks are on the verge of being embarrassingly swept out of the first round of the playoffs for the second straight season. As in 2011, injuries have taken a major toll. Last year, it was Chauncey Billups and
Amar'e Stoudemire
. This year, it's
Jeremy Lin
,
Iman Shumpert
and Stoudemire, again, after he foolishly compromised his availability for the rest of the season by punching a fire extinguisher's glass case following a Game 2 loss. The Heat, meanwhile, are in full bloodthirst, with
LeBron James
running rampant and their team defense making life miserable for New York. The Knicks need a miracle -- A
Carmelo Anthony
explosion or a team-wide 3-point fiesta -- to pull out a win in Game 3.
2. The Big Number:
14-5. The Knicks were 22-25 with Amar'e Stoudemire and 14-5 without him. The working hypothesis for many has been that New York's offense functions better when Carmelo Anthony can take full control. With a fully healthy Shumpert (who was lost to a season-ending knee injury in Game 1), and Lin (who is improving but not expected to play in Game 3), there would be a legit case that New York could handle Stoudemire's absence just fine. There are major issues on both sides of the ball with all three out but keeping up with the Heat offense is probably the biggest concern. 
3. Key Adjustment:
The Heat has put together two impressive offensive performances (100 points on 70 shots and 33 free throws in Game 1 plus 104 points on 73 shots and 27 free throws in Game 2). The Knicks were going to struggle to keep pace with Miami in terms of generating free throws if fully healthy and now it would take incredibly favorable whistles to keep it close (New York was -22 in free throw differential in Game 1 and -9 in Game 2). But they can definitely shoot it better from deep. So far New York is hitting just 33.3% of its threes, a figure that needs to inflate with some scorching streaks from Anthony,
Steve Novak
or
J.R. Smith
if the Knicks wants to keep pace with Miami.
4. The Big Story:
 Is there ever a bigger story in the
NBA
than LeBron James? The surefire 2012 NBA MVP has put on a two-way clinic in this series, tallying jaw-dropping statistics, guarding a number of positions and easily winning his positional match-up with Carmelo Anthony. Through two games, he's looked the most focused on handling his business in years. His mouthguard -- with the Roman numerals XVI, for 16 wins, the number it takes to win a title -- underscores the point. With a teetering opponent and all the attention that goes with a Thursday night game on national television, James at Madison Square Garden could be special.
5. The Facts:
Tipoff 7:30 p.m. EST. Heat lead 2-0. Everyone is good to go for Miami. New York will be without Amar'e Stoudemire (hand), Jeremy Lin (knee) and Iman Shumpert (knee).
Tyson Chandler
(illness) is expected to be back to 100 percent.
Oklahoma City has reportedly offered the MVP a five-year extension worth over $200 million

The big man was a big part of the Warriors' championship run last season

The Cavs jokes were out in full force after Golden State reportedly agreed to sign Antonius...
New York seems to be at the top of Irving's list of preferred destinations

Is it just a normal workout, or is LeBron continuing his recruiting efforts?

Chris Bosh answered on the spot about the LeBron James and Kyrie Irving situation