Heat owner Micky Arison says '100 percent' chance Big Three stay
Miami Heat owner Micky Arison says there is a "100 percent" chance the Big Three of LeBron James, Dwyane Wade, and Chris Bosh stay with the team.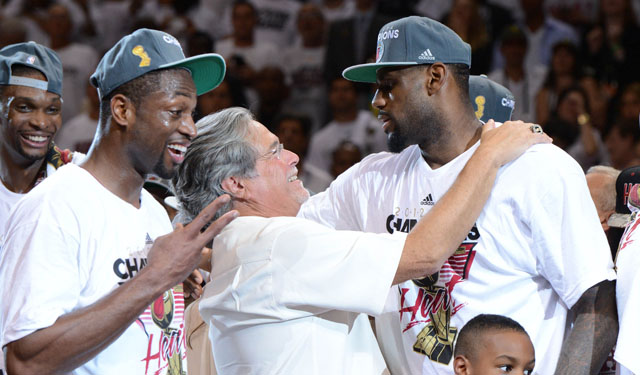 More postseason coverage: Playoff schedule, results | Latest news, notes
Whether or not the Miami Heat are able to win a third straight NBA championship this postseason, the Big Three who came together as teammates in 2010 will all have important decisions to make about their futures. LeBron James, Dwyane Wade and Chris Bosh all have the opportunity to opt out of their deals this summer and become unrestricted free agents. 
That doesn't worry Miami Heat owner Micky Arison right now though. According to the Palm Beach Post, Arison was recently on the radio in Miami and he said there was a "100 percent" likelihood of keeping James, Wade, and Bosh with the Heat. 
Based on everyone's comments throughout the season, everything points toward LeBron James, Dwyane Wade and Chris Bosh staying in Miami beyond this season. All three are on long-term deals with the freedom to opt out after this year.

The most recent indication that those three will stay, be it through not opting out or by opting out and signing longer contracts, is from owner Micky Arison. When asked Monday by 790 The Ticket to give a percentage chance of keeping them with the Heat, he responded, "100 percent." 
Not all three players have to opt out of their current deals this summer, although it's expected they will just to keep fitting in more years at big money in their careers. All three players are signed for just over $20 million next season, but have the opportunity to execute an early termination option this summer to become free agents. If they don't execute that option, they'll have a player option on the 2015-16 season for just over $22 million they could exercise. 
We could see some combination of James, Wade and Bosh opting out this summer or opting in for next season. It's expected that LeBron and Wade will opt out and try to grab even longer long-term security with another big deal. Bosh could do the same. The Heat have eight players with expiring contracts this season and will have the chance to reshape the supporting cast surrounding the Big Three, but they would need incoming players to take discounts. 
The Pistons put out a long list of details regarding their new uniforms

The Pacers traded the forward to OKC for two former lottery picks who have yet to reach their...

Gilbert said what was expected, but didn't necessarily sound all that confident
Altman addressed the media about Irving during his introductory news conference

Toronto's center has an uncertain future; can we still talk about this 25-year-old's poten...

Oakley was vague with his response on when he'd attend another Knicks home game