Heat-Pacers Game 1: Indiana contains the beast
Indiana kept the Heat at bay in a shootout by converting more efficient shots for Miami into tougher ones.
Game 1: Court Vision | LeBron, Bosh struggle | Doyel: Hibbert owns matchup
The Indiana offense was what won it Game 1 107-96, as the Pacers piled up a rate of 119.8 points per 100 possessions, shooting 52 percent from the field and drawing 37 free throws. But the reason that the Heat offense wasn't able to keep pace, despite having superior weapons, is that Indiana corralled Miami and kept the offense contained. 
The Heat kill you with corner 3s and transition attacks. Miami got the transition attacks, scoring 21 fast-break points to six for Indiana. But if you look at where the Heat shot, we see some interesting things.
I removed Dwyane Wade from this analysis both in playoff wins for Miami and in Game 1. Wade's a terrific mid-range player who struggles from 3. You want him taking mid-range shots if you're Miami, a great example of how the "mid-range 2s are inefficient" can't be taken as an absolute, despite its overall accuracy. 
First, let's look at distribution. This chart doesn't look at how many were made, this is just where Miami shot from. Focus on the percentages, not the raw numbers. 
You notice in the right hand side, how Indiana forced the Heat to take more mid-range shots (nearly 2 percent more) and fewer corner 3s. The gaps here aren't huge. But the movement from corner 3s to above-the-break 3s and mid-range shots lowers the overall efficiency. 
Now look at how the Heat actually shot in Game 1. 
The Heat shot nearly 8 percentage points lower from mid-range, and didn't hit a single corner 3 in Game 1. That, in comparison to getting a little more than 13 percent of all their makes from the corner. That's a huge difference in Game 1.
Indiana did this by using some of the tactics we've seen work against the Heat in recent years. They used a zone-man hybrid on some plays, ran through screens very effectively and, most importantly, ran off 3s. The Heat were constantly hesitating and passing on 3s because of how the Pacers closed them out.
This is a huge part of this series. Notice how the Heat got more shots in the restricted area than they have in playoff wins, and made a higher percentage. And they lost. Now, much of that can be ascribed to the Pacers' terrific offensive attack, as Miami still averaged 104 points per 100 possessions against Indiana, scoring 96 points. But if you're in a shootout, which is where the Heat surprisingly found themselves in Game 1, you have to adjust. An offensive up-and-down game should lean toward Miami. 
It didn't in Game 1 because they couldn't draw fouls because of Indiana's help defense at the elbows, and because of Indiana's close-outs on the perimeter.
For one game, at least, the Pacers contained the beast.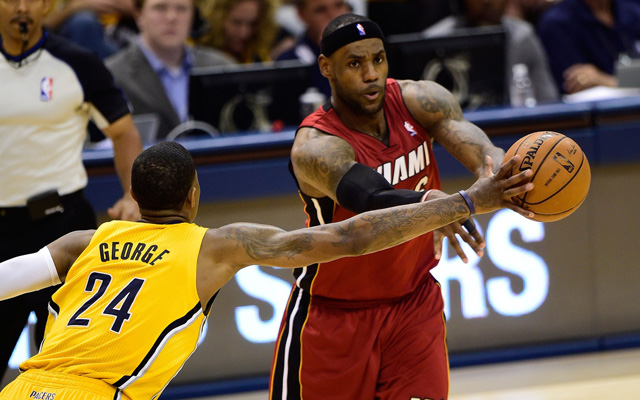 From Thunder Dan to Pistol Pete to Agent Zero, guards who would be better these days

Griffin said recently he thinks it's more likely that LeBron James goes to New York than L...

Mayo was suspended for two years last summer for violating the league's anti-drug program
The NBA broke its silence with a statement related to the Lakers-Paul George tampering cha...

The Clippers big man thinks LeBron will reunite with the banana boat crew at some point

Have the Clippers reportedly found their next GM?