Heat-Pacers Game 3 Preview: Who's in control?
A look at Game 3 of the Eastern Conference Finals between the Miami Heat and the Indiana Pacers with a look at the trap, David West, Paul George, and more.
More postseason coverage: Playoff schedule, results | Latest news, notes
Previewing Game 3 of the Heat-Pacers Eastern Conference Finals.
1. The Facts: 8:30 p.m. ET (ESPN). Follow the action here. Paul George is expected to play after clearing concussion protocol. 
2. Where We Are: 1-1 and there are two competing ideas about this series. The first is that Indiana, with a lead in the fourth quarter, blew its chance to take firm control of the series and if you don't take advantage of opportunities vs. Miami, you have no shot. There's a growing concern based on Indiana's struggles over the past three months that the Heat could be headed for a "Heat vs. Bulls"-like five-game dismissal of Indiana. After all, LeBron James and Dwyane Wade have just been too much for Indiana. 
The other idea, the one I subscribe to, is that this is exactly what we thought would happen. Last year in the ECF, Indiana had a chance to steal Game 1 in Miami, kept Roy Hibbert off the floor on the last possession, and LeBron James hit a layup for the win. But Indiana took Game 2. Then the Heat got the split in Indiana. The reality is that these two teams are evenly matched and still feeling one another out. A split in Miami is not only possible, I'd argue it's likely. Indiana may be kicking itself for letting Game 2 slip away, but it knows it can win in Miami. 
3. The Big Number: plus-43.1 per 100 possessions. That's the difference in the Pacers' offense per 100 possessions with David West on and off the floor. The other starters for Indiana similarly have huge numbers, but none more so than West offensively, who has been killer against Miami over the years. West struggled in Game 2, yet still the Pacers' offense was better with him on vs. off the floor. 
Likewise, the opposite is true of West's counterpart, Luis Scola. He has been dreadful at both ends, and the offense has scored a measly 83 points per 100 possessions with Scola on the floor. The Pacers need more balance, because they can't play West 48 minutes at this point in his career. It's not so much about what West's done well, it's about how bad things get when he's off the court. 
4. Key Adjustment: Battling with and against the trap. This one goes for both teams. In Game 1, Indiana stunned Miami with ball movement out of traps to find open looks at the basket. In Game 2's fourth quarter, the Heat defense swarmed ball handlers, deflected passes and turned them into transition points, which is death for the other team. 
Indiana has to maintain spacing on the perimeter to avoid perimeter traps, where Miami's most deadly, and has to exploit the Heat inside like it did in Game 1. Miami has to be more quick, emphatic and effective with them. This is most of the series. Indiana's halfcourt defense and Miami's halfcourt offense cancel each other out, and vice versa. It's plays like these that make the difference. 
5. The Big Story: Is Paul George OK? The Pacers forward was cleared by concussion protocol to play in Game 3, but his is a role that requires decision-making. Is he prepared to make those kinds of plays? Has the NBA's concussion protocol done enough to protect George? Will his shot be affected? If he has a lot of turnovers, people will assume it's the concussion, whether it was or not. 
There's really no getting around how much attention will be drawn to this facet of the game Saturday.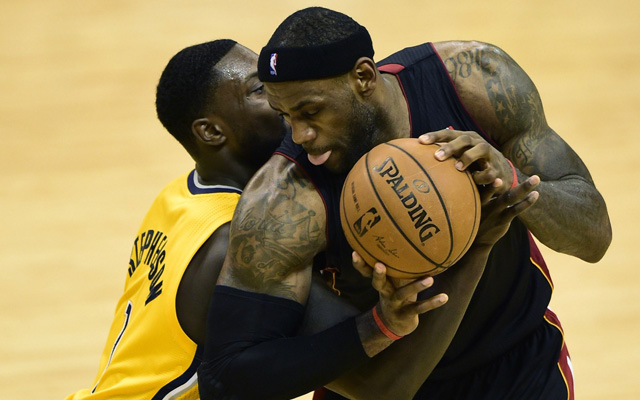 A dive into the NBA history books for every result from every NBA All-Star Game

The 76ers guard is in hot water after a controversial video surfaced showing him using a racial...

LeBron James earned his third career All-Star Game MVP award
With LeBron James and Stephen Curry as team captains, this was actually an entertaining basketball...

The old teammates worked their magic one more time

Here's how to watch Team Stephen vs. Team LeBron in the 2018 NBA All-Star Game