Heat-Pacers Game 4: Truth is out, Pacers just aren't good enough
Miami dominates in Game 4 and Indiana's lack of passion, focus, or awareness reveal that they're just not good enough this year.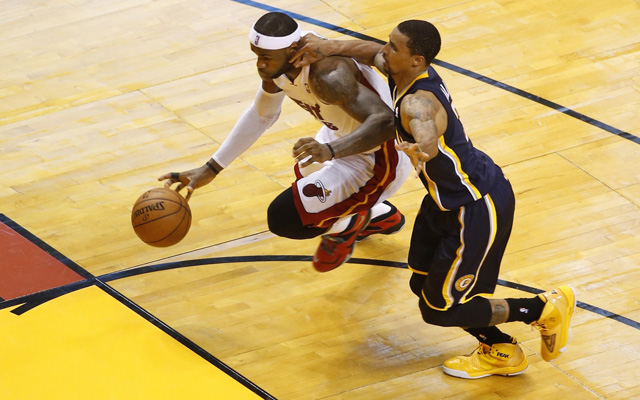 More Game 4: Bosh's big night | Court Vision | Stephenson: 'No regrets'
Through everything, the Pacers had held on to the rope. They had three horrible months but still secured the No. 1 seed. They struggled in the first round, looked horrible yet still advanced. They lost Game 1 to Washington and responded. They were blown out at home in Game 4. Still closed out the Wizards.
And down 2-1 there was every reason to think that against the Heat, even if they lost, they would respond. Show some semblance of the Pacer team that was so dominant for the first three months of the season instead of the wreck from the final three. If they were going down, they'd go down with a fight ... right?
Instead, Heat 102 Pacers 90, Miami takes a 3-1 series lead and the Eastern Conference Finals are effectively, if not literally, over.
And it didn't feel even remotely that close.
The Pacers rolled over in Game 4. Yes, Miami's aggressive defense caused havoc and they showed why they are two-time defending champs and one of the greatest teams of the post-Jordan era. But the Pacers did not fight. They did not execute. They were unprepared to do the simplest things like dribble and pass. Again, the Heat defense collapsed and swiped and constantly pressured them at angles and in ways that make the Pacers uncomfortable.
But 14 turnovers, many of which weren't some sort of high-energy deflection thing, just simply losing the ball. The Pacers couldn't get the ball in the post, again. They couldn't cut to the basket. Again. They couldn't make open shots or create quality looks. Again. They even missed those shots where it's a broken play and you wind up with an open look.
The Pacers roster has to do with some of this. They have no ball control point guard. George Hill would once again look like the weak link ... if Roy Hibbert hadn't crawled back into his turtle shell (and had foul trouble on top of it). Hill simply cannot physically handle against the Heat press. Paul George isn't that player, not yet. Lance Stehenson isn't that player, not yet. 
They don't have the personnel, which means that the personnel they do have better not make mistakes. And instead, they were sloppy, out of focus and unprepared. They tried physically. But mentally, this team was nowhere near prepared to play with the execution level necessary against Miami. 
They couldn't stop LeBron James, because on this night, no man or man-made object could. Future civilizations will build weapon technology based on the way LeBron James played Monday night. They couldn't stop Chris Bosh, but you kind of have to live with it when Bosh is punishing you from the perimeter.
But everything else? Everything else was a lack of mental focus for the Pacers. A team that built itself into a contender by subscribing to being mentally tough found itself looking like some bottom feeding team on a Tuesday in February. "Oh, well, we didn't have it, another game Wednesday." And there is another game Wednesday. But that could be it, because Indiana simply didn't bring itself to this game.
There were individual performances. Paul George scored 23 points and was aggressive, but didn't assert himself to take over the offense and had five turnovers. David West had 20 points, but his strong leadership couldn't lift his teammates. George Hill scored 15, which was great, but he also couldn't dribble or pass, which is problematic for your point guard.
Whether that's Frank Vogel or Paul George or Roy Hibbert, or whoever, this can't happen in a game of this magnitude. It shouldn't happen in a must-win game. To lose to a team this great? That's fine. Sometimes the other team is better, and the Heat have been better than every team but one over the past four years. But to lose because you weren't mentally prepared for this game, weren't focused enough to operate at this level? That's inexcusable for a team with this talent, this roster, these expectations.
So it's back to Indianapolis for Game 5, where the Pacers have been genuinely bad at times in these playoffs. We thought after Game 2 of the Wizards series, and especially after Game 1 of the Eastern Conference Finals, that the real Pacers were back. But seeing them lay down like this in such a huge moment, collectively, can only lead you to one conclusion.
The Pacers of the first three months were truly a mirage, and while this team may not be as bad as it was in the depths of their misery or in Game 5, it doesn't change the cold reality that's staring them in the face with playoff oblivion awaiting Wednesday.
They're simply not good enough.
The Suns firing Earl Watson three games into season is second-quickest firing in NBA histo...

Bledsoe tweeted, "I Dont wanna be here"

Giannis had his hand on McCollum's hip when he poked the ball away
Teodosic had to leave the Clippers' game Saturday night against the Suns

Irving said recently that he does not regret the profane outburst

Wade is having a rough start to his first season playing in Cleveland