Heat-Pacers Game 6 Preview: Pacers try to stay alive
LeBron James scored just seven points in Game 6, and the Heat squandered a golden opportunity to advance. Indiana will try to extend the series again on Friday.
• 2 min read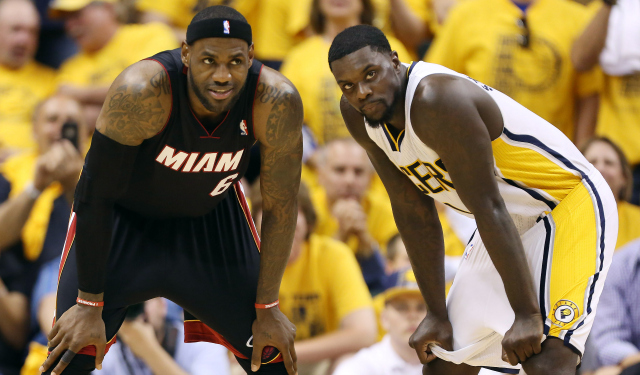 More postseason coverage: Playoff schedule, results | Latest news, notes
Previewing Game 6 of the Heat-Pacers Eastern Conference finals.
1. The Facts: 8:30 p.m. ET (ESPN). Follow the action here. Miami big man Chris Andersen missed shootaround and is a game-time decision because of a left thigh contusion.
2. Where We Are: Against all odds, the Pacers are alive. The series almost ended on Wednesday, when Indiana stunk up the Bankers Life Fieldhouse with an 11-point second quarter. Instead of a gentleman's sweep, the Heat now need to close Indiana out or risk a Game 7 in enemy territory.
Paul George played the hero in Game 5, erupting for 21 of his 37 points in the fourth quarter and saving the Pacers' season. He hit every kind of shot imaginable, and forced turnovers on the other end. It helped that LeBron James was guarded by Lance Stephenson or on the bench in foul trouble for much of the game, though George still had to contend with Dwyane Wade. James scored only seven points in the game, yet Indiana would have lost if not for George playing out of his mind. He will likely need more help this time.
3. The Big Number: 1. That's the number of times in James' career he has compiled more combined turnovers and fouls than points, via ESPN's Tom Haberstroh. It happened Wednesday, when the four-time MVP finished with a stat line of seven points on 2-for-10 shooting, two rebounds, four assists, one block, three turnovers and five fouls in 24 minutes. Want to bet on that happening again?
4. Key Adjustment: At this stage of the series, there aren't likely to be any big changes. Miami could stand to play Norris Cole more, though. He wasn't a big factor in Game 5, but he's been more effective than starting point guard Mario Chalmers throughout the series and his defense on Stephenson has been crucial since Game 2. Indiana simply needs to find a way to have a more balanced attack.
5. The Big Story: The two players who have dominated discussion for most of the series have been James and Stephenson, and that's no different now. Especially after this:
With James, it's all about how he responds after his least impactful game in recent memory. It's more his style to let the game come to him, but we've seen instances where he starts extra aggressive. It should be obvious early on if Friday will be one of those nights.
Chris Bosh: "I'm not talking about Lance Stephenson the rest of the playoffs. "

— Shandel Richardson (@ShandelRich) May 30, 2014
With Stephenson, the talk has been mostly about the extracurricular activities. First it was trash talk, then it was blowing in James' ear and eavesdropping on the Heat's huddle. He was phenomenal to start the series, but has been largely held in check since the fourth quarter of Game 2. 
Love left Saturday's game, which the Cavs lost 148-124, due to illness

Kidd was fired by the Bucks on Monday afternoon

We've got all the scores, highlights and news from an NBA Monday
Leonard was recently shut down again to rehab the nagging quad injury

Durant, who joined the Warriors, says that Capela, the league's most efficient player, has...

Jason Kidd's firing gets the celebratory balloon treatment on Milwaukee's Twitter page