Heat-Pacers: The Pacers' sloppy style is a gift and a curse
The Indiana Pacers want to make the game sloppy, but is there a limit to how sloppy the game gets before it begins to hurt them?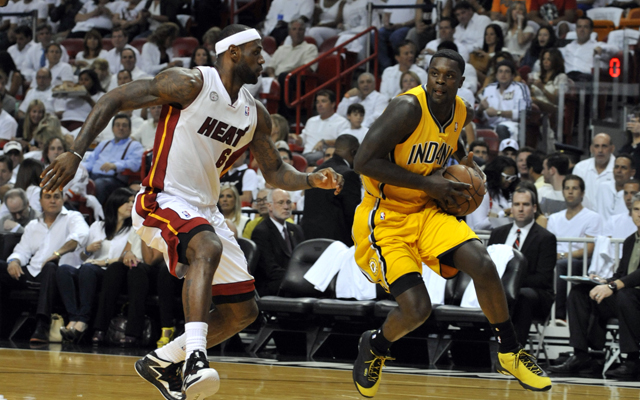 MIAMI -- The Indiana Pacers' best bet of winning the Eastern Conference finals is to make the game ugly. The Miami Heat like to get out in transition, knock down corner 3-pointers, and wreak a little havoc on the rim. But by being physical with the Heat, beating them up on the boards, and killing the flow of the game, the Pacers can dictate the pace and rhythm. It's how they won the majority of their games this season.
There's one little problem with that, though: there has to be a limit to how ugly they make the game. Through the first half of Game 1, there have been 25 combined turnovers from the two teams, with Miami turning it over 13 times to Indiana's 12. Getting the Heat to be sloppy with the ball is easier said than done. They finished with the eighth-lowest turnover rate in the NBA this season. If you can get them to be sloppy with the ball, that's almost always a good thing.
The one time it could be dangerous is if you, too, are being sloppy with the ball and allowing them opportunities in transition. The Pacers being careless with the ball isn't anything new; in fact, it's something we've come to expect. They have had a hard time keeping the ball from going to the other team without a shot going up this postseason and finished with the second-highest turnover rate in the league this season.
There has to be some middle ground to how sloppy the Pacers make the game. You can't control the pace of the game and keep it slow if you're just giving the ball right back to Miami. And you can't give Miami scoring opportunities in transition. They're just too good at capitalizing on them and eventually the levy will break from their increased opportunities on the fast break.
"Our emphasis is to get to our game," Heat coach Erik Spoelstra said before Game 1. "And that is a game of great pace, of great speed, of great spacing."
It's a lot easier to create "their game" off turnovers. They were third in the NBA in points off turnovers per game at 18.6. 
Nearly one-third of the Heat's points in the first half came from points off turnovers. They're struggling to score against the Pacers' defense when they're set. But let them push the ball and get into mismatches created by the chaos of getting back and finding the nearest opponent? That could quickly take away all of your good defensive efforts.
Known for his 'take that for data' rant, the Grizzlies coach touched on a number of important...

Wade's days with the Chicago Bulls appear to be numbered

Misty Suri will reportedly keep his job with the New Orleans Pelicans
The MVP has better things to do with his time, but the former NFL receiver isn't taking 'no'...

Randolph was arrested last week in Los Angeles on felony marijuana charges

Bagley wants to be in the 2018 NBA Draft and should be the No. 1 overall pick