Heat president Pat Riley issues statement on LeBron James
Pat Riley was classy in saying goodbye to the best player on the planet.
• 1 min read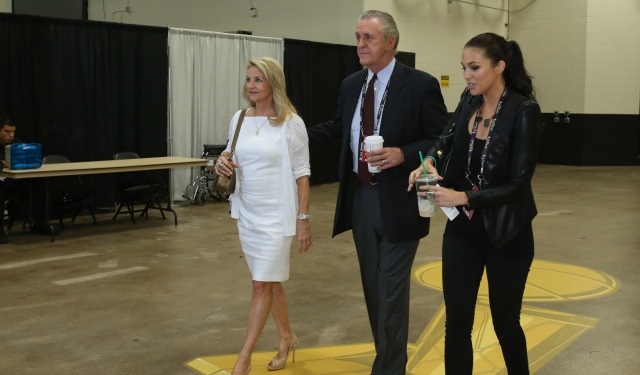 More on LeBron's return: James chooses Cleveland | Doyel: Welcome back to Ohio
Miami Heat president Pat Riley issued a statement on LeBron James' departure on Friday evening, via the team's website:
While I am disappointed by LeBron's decision to leave Miami, no one can fault another person for wanting to return home. The last four years have been an incredible run for South Florida, HEAT fans, our organization and for all of the players who were a part of it. LeBron is a fantastic leader, athlete, teammate and person, and we are all sorry to see him go.

Over the last 19yrs, since Micky and I teamed together, The Miami HEAT has always been a championship organization; we've won multiple championships and competed for many others. Micky, Erik and I remain committed to doing whatever it takes to win and compete for championships for many years to come. We've proven that we can do it and we'll do it again.
Now that's a classy way to say goodbye, and not something Riley is going to have to apologize for in a few years. It's a bit of a rallying cry and an expression of empathy for the fans, but it also shows Riley knows the Heat were fortunate to have the success they did with James. That's how to handle a superstar leaving.
Vince Carter is destined for a Raptors reunion; he doesn't know when it'll happen

Thomas has a target date for his return, and with the Cavaliers scorching, this could be h...

LeBron James once again is using his platform to be socially active
Not many games, but still plenty of action and intrigue Sunday in the Association

Kobe Bryant had a solid piece of advice for back in 2016 when he left OKC for Golden State

An old rivalry is reignited between LeBron James and the Cavaliers and John Wall and the W...