Heat rediscover their relentless, unforgiving defense against Pacers
The Miami Heat have been hoping to show that familiar defensive effort that makes them such a dangerous team.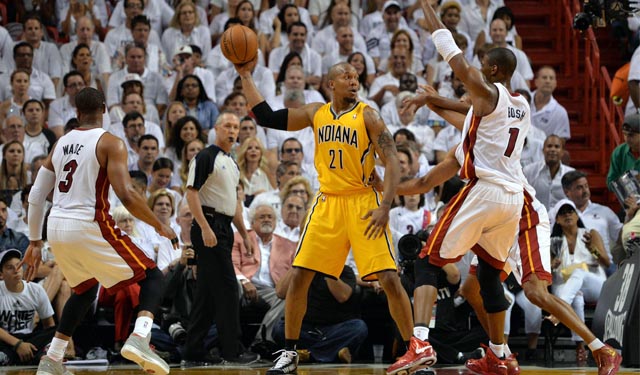 More postseason coverage: Playoff schedule, results | Latest news, notes
MIAMI -- Guys who hadn't been with the Miami Heat before this year didn't exactly recognize the team they play for when they demolished the Indiana Pacers in a Game 6 117-92 victory to close out the Eastern Conference Finals. This was an identity they had been hoping to turn to when they needed it in the playoffs, but something that required far more energy during their fourth straight campaign to the NBA Finals than their mileage would allow.
"It's funny talking to [Greg Oden] and Toney [Douglas], guys who haven't been around, they were like, 'Who are you guys? This is not the team I've seen all year!'" Heat forward Shane Battier said following the victory. "We said, 'Hey, stay around long enough; Stay around long enough and you'll see a different team. Trust me; we're not bad when we play hard.'
That really has been the story of our team. We were very determined. When we're determined and play with energy, it's usually a sign of good things."
There were a lot of good things for the Heat in a game that became a laugher quickly. With all of the distractions of the Lance Stephenson antics fueling the crowd to mock him every time he touched the ball and cheer louder every time the Heat beat his team on a possession, Miami was able to keep their focus and put the hammer down on the Pacers in an extremely convincing fashion.
"They've got that gear that continues to elude us in the moment," Pacers' power forward David West said as he sat at his locker following the loss. "We can beat them for the top seed but it's these moments. It's the Game 2 moments, this Game 6 moment. It just eludes us."
The moment hasn't eluded the Heat much over the past four years. Other than the Dallas Mavericks beating them in the 2011 NBA Finals, the Heat have found a way with this core and this game plan to rise to the occasion and reach their goals. They've managed to keep perspective on what they need to accomplish in order to get to their ultimate goal of competing for a championship. It's an organizational mindset from top to bottom that helps fuel their focus.
Through three quarters of an elimination game for the Pacers, the Heat were the executioners. They built a 33-point lead before beginning to rest their main players in the final quarter when the Pacers finally found a way to score in meaningless minutes. In the meaningful minutes of Game 6, the Heat's defense shined through and set up their offense to deliver the haymakers. They held the Pacers under 40.0 percent shooting in the first 36 minutes of the game. Paul George didn't hit a shot until the third quarter. The Heat allowed just 20 points in the paint in the first three quarters, despite scoring 40 of their own.
It was utter domination and something the Heat have made their calling card at times. They swarm the ball with a small lineup and quick decisions to rotate. They anticipate as well as they react, and their reactions allow them to properly chase passes, contest shots, and rebound as a team. It's not something that has been there all season, which has been a concern as they try to get back to being a championship caliber team. But during Game 6, they managed to find it.
"There's always doubt," Battier explained, "because defense is about habits and we made very poor habits for a long time. But we seemed to scuttle those in this series."
Since their initial championship run with this core in 2011-12, the defense has certainly gotten worse as they rack up more games played than any other team. They've known from the start that they're almost always guaranteed to get the best effort from the opposing team. They've managed to remain one of the better teams at defending the rim, despite their small lineup, and forcing turnovers to create easy transition opportunities for their stars.
The Pacers reminded them during the 2013 Eastern Conference finals to trust their instincts defensively when defending bigger teams and getting back to the hungry defensive unit that fueled them when they first came together.
"Well, we changed up our coverage a little bit," Chris Bosh answered when asked about the difference between defending Roy Hibbert this year versus last playoffs when the big man dominated them. "We felt that last year we kind of exposed ourselves and our defense to their size. Sometimes you just have to trust our instinct of playing great post line defense.
Coach gave us the freedom to really just go ahead and trust each other and play good defense and live with the results."
The results are a fourth straight trip to the Finals and a third straight series victory over the Pacers in the playoffs. They've been building toward this continued success their entire time together and it's something the Pacers recognize as what they can aspire to.
"It's just their pedigree," West said. "They've got the best player in the world and they rely on their experience. They play at a very calm pace. They don't beat themselves in these moments.
It's a big part of it. We're learning. We've got young guys who are going through this and are learning. Experience is the best teacher."
It's all part of the process the Heat believe in and one they unleashed on the Pacers, who may not have been able to do anything about the game with the way Miami played. Battier said it would have taken a "near perfect game" by the Pacers for the Heat to lose Game 6 with the focus Miami showed.
"They faced a very determined team tonight," Battier said with a confident smile. "We were very determined. It was going to take a near perfect game for them to beat us tonight. We were as focused as I've seen in a long time."
If that focus carries into the NBA Finals and the defensive switch has been flipped, the Heat will be in a perfect position to grab that 3-peat.
An ongoing investigation continues to reveal details about the Mavericks' workplace

Larry Hartstein has his finger on the pulse of Kings basketball and just released a play for...

One reported proposal has seeds 7-10 playing for the final two spots in each conference
The longtime Maverick says he's disappointed by all the negative news surrounding his beloved...

Larry Hartstein has nailed 17 of his last 22 NBA against the spread picks and locked in a play...

The NBA is reportedly entertaining the notion of a play-in tournament for the postseason