Heat show Rockets what playoff execution is in the clutch
Miami finishes off Rockets in tense late game behind flurry after some questionable calls.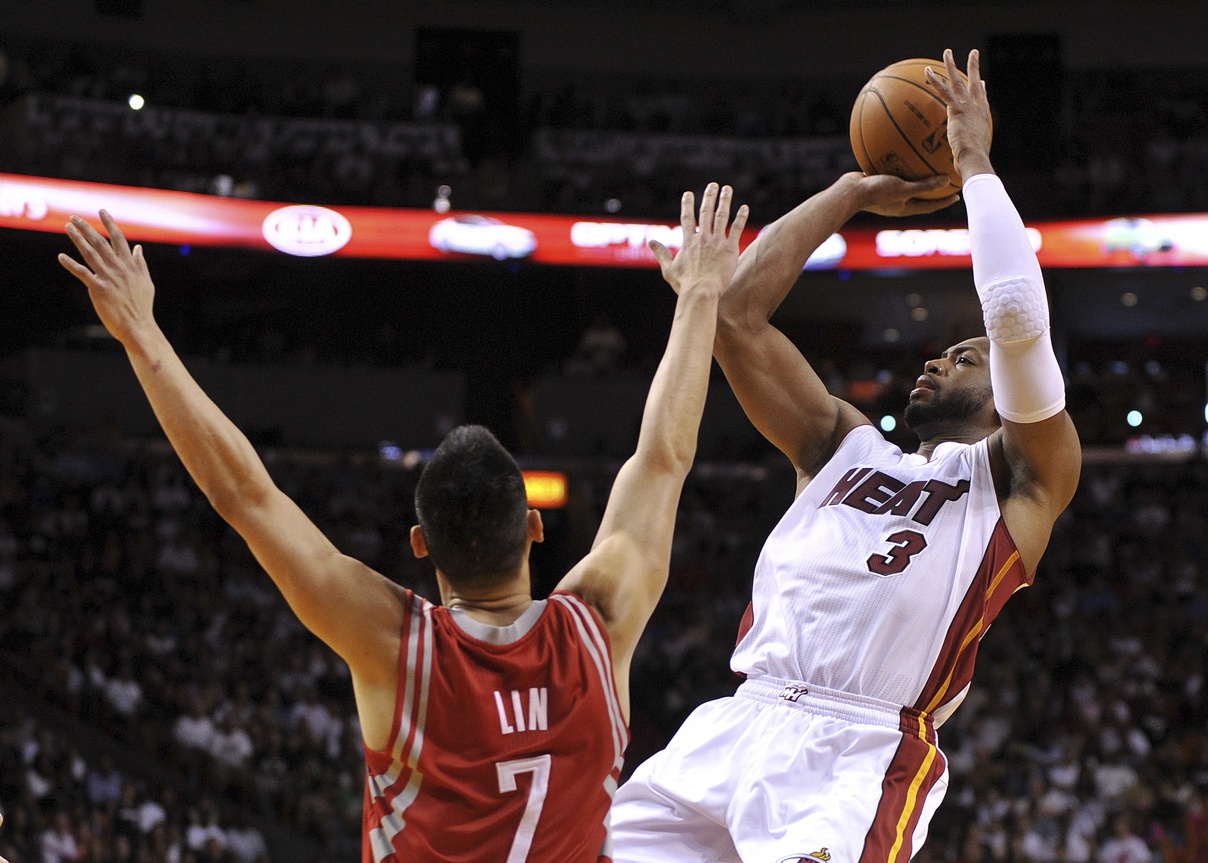 More NBA: Power Rankings | Expert Picks | Latest news, notes
The game was winding down and a Heat team that looked like it was done needed something, anything, to turn the game around vs. a Texas team. 
OK, so it wasn't the Spurs in the NBA Finals, and it wasn't six seconds left. 
But on Sunday, the Miami Heat regained a bit of their championship swagger by closing the game out in ferocious fashion vs. the Houston Rockets in a 113-104 win. Ray Allen, the hero of Game 6 last year, scored 14 points in the fourth quarter, including a pair of massive three-pointers (and a few technicals, to pull away). The Heat goaded the Rockets into a series of terrible decisions, something the Rockets seem to itch to do in late-game situations anyway. 
In the final four minutes, the Heat outscored Houston 12-2, and held the Rockets without a field goal. This is not the first time we've seen this from the Rockets. Houston is eighth in plus-minus in the last five minutes in a five-point game according to NBA.com, but are tenth in net points per possession and sixth in turnovers in games like that. They're tied for turnovers per minute when tied or trailing in a five-point game with five minutes left, and we've seen them fall apart enough to know their issues this year. 
They tend to turn to isolation basketball even more than your average team in an isolation-heavy league, and their spacing tends to get frenetic and out of sorts. In short, they're still learning to handle these games with cool confidence. 
Meanwhile, Miami, who entered the game 1-5 in its last six, closed things out in a ferocious manner behind strong defense that was missing for most of the day. It was a game capped by a phenomenal Dwyane Wade performance (24 points, seven assists) and which turned on a questionable call. 
With 4:26 left in the game, Patrick Beverley hit a massive three. Dwight Howard tapped the ball to the official. Tech, delay of game. Commence outrage! After all, Howard tapped the ball right to the ref. He was helping! 
Let's be clear on this. What's the one thing that everyone wants from officials? Consistency. They want it called the same way, every time. In block vs. charge, foul vs. no-call, travel vs. not, these are all areas where you have to have discretion and interpretation. What is not in question? Delay of game. They put in the new rules at the start of the year, gave the officials the points of emphasis, talked to the players about it, explained it in detail, provided video, the works. 
From an NBA.com Q&A earlier this season:
Q: Watching classic NBA games on NBA TV shows how quickly teams used to be able to inbound the ball after a made basket for a fast break. In today's game, this seems almost impossible due to the offensive team grabbing the ball after a made basket and throwing it to the official (which prevents quick inbounding). This seems to happen on almost every made basket. Isn't it illegal for the team that just made the basket to touch the ball? Why is it allowed when it slows the game down? Shouldn't this be a delay of game call? - submitted by Ricki W.

A: Hmmm. Is that you Commissioner?

Great observation. This season you will notice a change in how we enforce the delay of game penalty based on conversations with the Competition Committee. It's not a "no-touch" provision, but players will no longer be permitted to direct the ball after it clears the net. Going forward, an offensive player who catches the ball after a made basket and passes it to a referee will receive a delay of game warning (if team's first delay) or a delay of game penalty if it's their second.
via Ask Donnie: Q&A with NBA Director of Officials Don Vaden | NBA.com.
Now, let's say that the official wasn't expecting Howard to tap it to him. And the ball sails out of bounds. And then he goes to retrieve it. And then gives it to the Heat. For teams that like to speed the ball up out of made baskets, that's a serious limitation. Ironically, you know one of the teams that lobbied for this change the most? 
The Houston Rockets. 
What's especially stunning about the way that this is being used as some sort of unjust turning point in the game is that it's such a simple rule. Don't touch the ball. I applaud Howard for trying to be nice. But the rule is simple. Don't touch the ball. 
You can't ask the officials to be consistent and then be outraged when they provide it. 
But hey, let's say that was a miscarriage of justice. Let's say that the Rockets were royally screwed on that one point. 
They didn't score again. 
How about on the subsequent possession, which appeared to show LeBron James holding Jeremy Lin, allowing Ray Allen to sneak backdoor for an open lay-in? 
Again, the Rockets didn't score again. 
The Rockets' problem wasn't the three points Miami scored off of bad calls (if you think they were bad calls). Their problem was that they were unprepared to execute their offense on the road in a playoff environment. 
It wasn't all bad. Houston showed they could hang with Miami and not only traded body blows with the champs, but took the lead in the third quarter. This was a huge test for them, and in some ways, they passed it. But the biggest question was one they failed. Are the Rockets ready to execute at a playoff-level on the road vs. an elite team?
Not yet. There's time, and with as many young players as they have, they have to learn it. But they haven't, not yet. 
For Miami, it was a familiar scene. You might as well have rolled out the rope for the championship ceremony. The stakes were a million times less, the pressure a thousand degrees less, the moment so much less intense. But you saw the same thing from Miami we've come to expect from the champs, just when it seemed that they might be unraveling into serious danger zone territory. 
In the key moments, the Heat executed their offense, locked down on defense, and walked out with a win. Bad calls or good, that didn't account for the nine-point differential. This game wasn't about what the officials did. 
It was about what Miami did. 
Gregg Popovich has never seen an injury lead to the issues that Kawhi Leonard has been fac...

Kobe Bryant, of course, had his 81-point game against Rose and the Raptors back in 2006

Keep it right here for all your Wednesday NBA scores, updates and highlights
A season-ending injury kept the Celtics guard's time at Duke very brief before he jumped to...

Here's a look at what has brought fans the most joy so far this season

Kevin Mackey says he gave Manute Bol a birthday because they didn't know how old he was