Heat show their late-game superiority again over the Thunder
If that's what Game 6 would've looked like, then it would've been a good one. But it also means we would've ended with the same result we had in June: the Miami Heat as victors.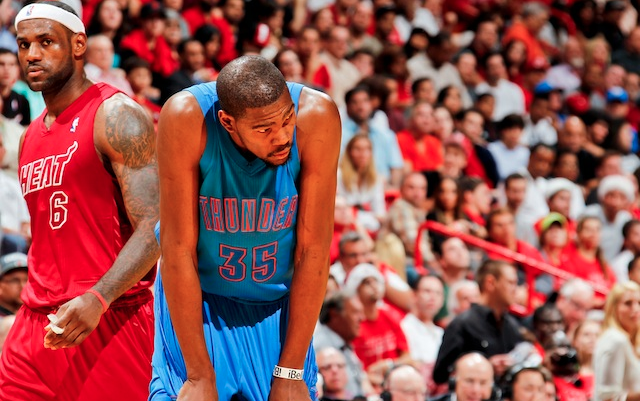 KD was spectacular, but LeBron got the best of him again.
(Getty Images)
If that's what Game 6 would have looked like, then it would have been a good one.
But it also means we would have ended with the same result we had in June: the Miami Heat as victors.
In a tight 103-97 Christmas Day win over the Thunder that featured a brilliant performance from Kevin Durant and a dominating effort from LeBron James -- just like in Games 1-4 in the Finals -- things came down to a series of plays the last four minutes.
In the end, the Heat made more, the most obvious being the flawless execution up by one point with 30 seconds left that resulted in an uncontested dunk by Chris Bosh. LeBron drew Oklahoma City's undivided attention and as he tends to do, he made the correct, smart play by dishing to a lonely Bosh in the paint for an easy two points.
More on Thunder-Heat
Related links
More NBA coverage
OKC quickly got it back to one as Durant plugged a jumper, but after two Ray Allen free throws, the Thunder hoisted two threes that went begging and left them without the revenge they so badly wanted.
Instead, they leave Miami feeling the same way they did six months ago: wondering what went wrong and trying to figure out why they lost.
What remains unchanged from the Finals are two big things:
1) The Thunder have a much slimmer margin for error than the Heat do. OKC needs to knock down open looks, take advantage of transition opportunities, make free throws and control tempo. The Thunder have to play their game and not conform to the Heat's bruising style. Miami consistently figures out to get complementary help from unexpected sources, while the Thunder end up relying almost exclusively on Westbrook and Durant to manufacture good offense.
2) The Heat make the Thunder play differently. The Thunder don't look like themselves when they play Miami. In the Finals, that was mostly about James Harden's no-show, but Tuesday night, it was the stagnant isolation, horrible spacing and lack of movement. The Thunder had only 14 assists, with Westbrook doing little creating (three assists). There wasn't that natural, easy flow to OKC's offense, which has been the best in the league so far this season. Everything was a struggle, and that's obviously a credit to Miami.
Oh, and a third thing: Scott Brooks still likes to play Kendrick Perkins. And Mario Chalmers still kills OKC.
It's just a December game, and things change between now and June. But if the Thunder are planning on dethroning the Heat in a Finals rematch, they're going to have to do something different. It's pretty clear that just "playing your game" isn't really getting it done. Like last June, Scott Brooks again stubbornly stuck with Perkins in key situations, refusing to match Miami's small-ball lineup. It's a curious, head-scratching decision that almost everyone universally agrees on, except Brooks.
But that's an easy scapegoat as to why the Heat made a few more critical plays and topped the Thunder again. Point at Perkins, point at a few questionable calls -- or no-calls -- point at good fortune in unexpected role players stepping up.
Maybe it's a much simpler, clearer reality: The Heat still are just better.
Fergie: 'I'm a risk taker artistically, but clearly this rendition didn't strike the intended...

Victor Oladipo had a successful R&B album over the offseason and Jamie Foxx is a fan

Klay Thompson makes sure he stands out during All-Star Weekend
There's no shortage of moments to choose from

The Trail Blazers almost traded for Charles Barkley, but when they didn't, it put them in debt...

The self-proclaimed ASG snub Williams may be bitter about Butler requesting to sit out Sun...