Heat show they don't care about New York, sit stars vs. Knicks
Miami will sit LeBron James and Dwyane Wade vs. New York on Tuesday night.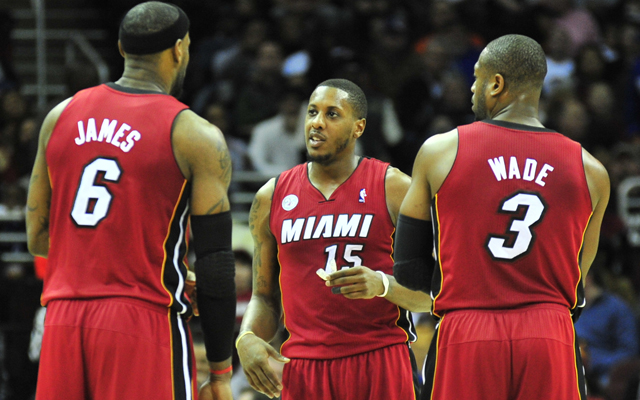 The Heat don't care. 
Tuesday night's matchup between New York and Miami could be viewed as an opportunity to make a statement against the Knicks. The Knicks blasted the Heat in their first two meetings and were up 16 in the second half of their third matchup. But what happened in the second half of that game is apparently what matters to Miami. They went on a huge run, and eventually won the game with a little bit of room to spare. 
Miami won 27 games in a row and clinched the No. 1 seed in the Eastern Conference. If the Heat and Knicks meet in the playoffs, Miami will have homecourt regardless. So...
Erik Spoelstra declared LeBron James (hamstring), Dwyane Wade (ankle, knee) and Mario Chalmers (ankle) all out for Tuesday night's game against the Knicks, all with what the team is terming minor injuries.

"They're making progress," Spoelstra said.

He said they would be re-evaluated day to day, but none participated in shootaround Tuesday morning.

"We had the busiest month in franchise history," Spoelstra said. "We want to make sure these guys are healthy."
via Miami Heat reports, analysis, notes, NBA news, trade talk -- Heat Zone, a PalmBeachPost.com blog.
This in itself sends a signal. The Heat feel they have no reason to play all-out vs. the Knicks now that they don't have to worry about their seeding. There's no message they feel they need to send. There's no rivalry these guys want to be a part of. The big dogs outside of Bosh will rest. 
That's not to say the Heat have no shot here. They just beat the Spurs on a Chris Bosh three (though the Spurs were missing guys of their own). It's just that for all the talk out of the East Coast about the Knicks being contenders, Miami has made a pretty clear statement about it. 
They don't care about the Knicks. They have bigger fish to fry. 
Mirotic and Portis combined for 49 points as the Bulls won their fifth straight game, beating...

Gobert, who missed 11 games earlier this season with a knee injury, will have an MRI

Get all the latest scores, news and highlights from Friday's NBA games
Porzingis is questionable for Carmelo Anthony's return to MSG on Saturday

The Spurs and Rockets will renew their in-state rivalry on Friday night

Anthony will play at Madison Square Garden on Saturday for the first time since being trad...