Heat-Spurs and the low volume of trash talk between elite teams
The Heat say the Spurs talk the least trash of any team in the league. Will that hold up in what's set to be an emotional series?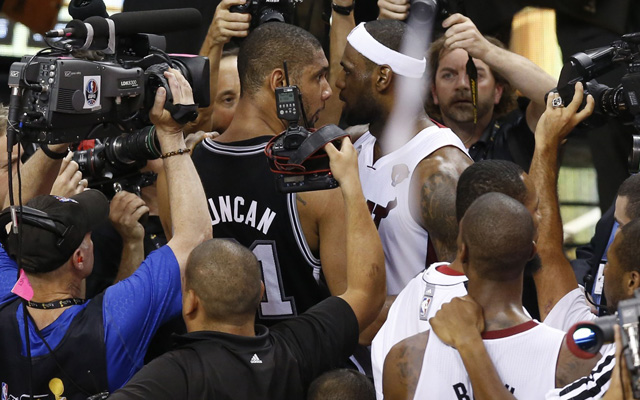 NBA Finals: Interactive Preview | Playoff Assist: LeBron | Wade vs. Ginobili key 
Miami is coming off a real chirper of the series as the Heat enter the NBA Finals. The Indiana Pacers tried their best not to wake the beast in the Eastern Conference Finals, but Lance Stephenson was lobbing trash talk like there was no tomorrow. The Heat have faced two teams in these playoffs, the Pacers and the Nets, that talk a lot of trash. It's part of their identities. The Heat have had to deal with constant questions about extra-curriclar discussion for the better part of the last month.
But now?
It's radio silence.
As the Heat get set to face the Spurs, they find a team that doesn't talk trash, ever. From their monotone, quiet leader Tim Duncan, to their pleasant French point guard, Tony Parker, to their monk-like hyper-athlete in Kawhi Leonard, no one on San Antonio makes a sound. Shane Battier has a pretty good explanation for why that is.
"They don't need to," Battier said with a laugh Wednesday. "Usually when you're really good you don't need to talk trash. And there's the inverse. When you're not very good, you talk more trash."
Heat guard Mario Chalmers has always been confident. He's famous for feeling and acting like he's as big a deal as the Big 3 in Miami. I asked Chalmers if there's a team in the league that talks less trash than the Spurs.
"No," Chalmers said. "I don't think so. They don't say anything. That's something we tried to take in our game vs. Indiana. We'll see if it works out this time."
It'll be interesting if things remain reserved on-court as the two teams have exchanged some discussion in the past few days about whether the Spurs "like" the Heat and if Tim Duncan's comments about wanting Miami are disrespectful.
"I don't know what I said that was so bad," Duncan said Wednesday. "I said I wanted to win the Finals. We're back here now and I want to win. If they need to find fuel in that, so be it."
The reality is that this is set to be a more emotional series than last year. Too much is on the line, the Spurs too emotionally raw after last year's disappointment, the Heat too angered by the fact that despite two titles, they're the underdog in this series. You put two teams of professional athletes in this kind of sustained environment, with these stakes, and the emotions are going to run high. For two years, the Heat have tried to stay above the fray vs. teams, learning their lessons from the 2011 Dallas series where they talked the talk more than they walked the walk. San Antonio has defined themselves as being a team that doesn't get involved in nonsense.
But it's not nonsense here. It's the inevitable clash of professional pride, desperation, and continued, close-quarter conflict. Or to put it another way:
"Between two groups of people who want to make inconsistent kinds of worlds, I see no remedy but force." - Oliver Wendell Holmes.
We'll see if that translates to some mouthing off as well. Game 1 is Thursday at 9 p.m. ET.
Deciding who to watch on League Pass can be difficult, but these rankings promise to help

Veteran forward signed a one-year deal with the Knicks in offseason

Knicks forward had his truck stolen out of his driveway
The Celtics will send No. 34 to the rafters in Boston when they take on his old rival

It's never too early to look at June's NBA Draft

Cousins uses some colorful language to get his point across