Heat-Spurs Shootaround Game 1: Bosh likes Miami being the underdog
Chris Bosh says the Heat play better when they're the underdog, and talks about rebounding, mental toughness and more at shootaround before Game 1.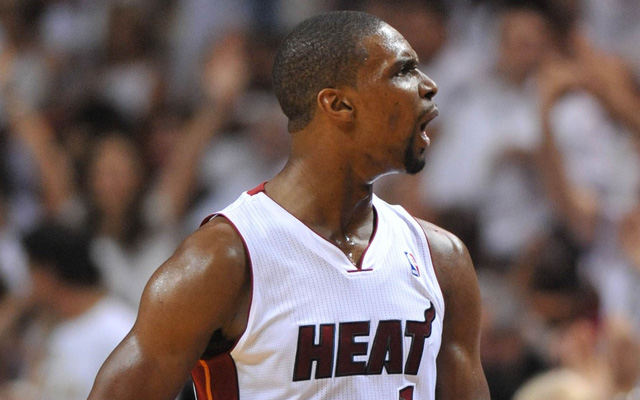 NBA Finals: Series Preview | Playoff Assist: LeBron | Wade vs. Ginobili key 
SAN ANTONIO -- At shootaround before Game 1 of the NBA Finals between the Heat and the Spurs, there was a much more relaxed atmosphere than we've seen from the Heat in the past. At a remote gym in the Texas hill country, the mood was boisterous and casual. If the pre-game sessions have been more intense away form the prying eyes of the media, the tone definitely shifted once shootaround concluded with just hours before tip. 
Coach Erik Spoelstra declined comment on lineup decisions, as he will continue to do right up until he's forced by NBA mandate to release them just prior to tip. Spoelstra has been down the road enough times that this is automatic for him. You can chase good knowledge out of Spoelstra in the right setting, on what makes the Heat good at what they do or what creates special challenges against certain teams. But the stock television questions about information about gameplan or how the players are feeling won't go anywhere. The SpoBot 9000 is ready to disappoint you, cameramen. 
Meanwhile Dwyane Wade and LeBron James exited early, electing to speak pre-game. Wade wore a "Heatles" shirt, which the team has worn since Shane Battier's "Battioke" event. James affectionately mocked a team doctor for his poor jumper, drained a mid-range shot himself, and took off laughing. 
Shane Battier held court with reporters hours before the tip of the last Game 1 he'll ever play. 
And Chris Bosh? Well, he was his usual, insightful self. 
Bosh talked about how compared to most years, his "butterflies" are considerably down, and that he's just ready to play. Bosh spoke a lot about being nervous before Games 6 and 7 last year, but said Thursday it's different this year. 
"I'm a little bit calm now," Bosh said. "The butterflies are a little more of a pre-game thing. This is what we'lve all been waiting on, another crack at it. I'm a lot more calm because I can do something about it, I can take action."
Bosh questioned why LeBron James is getting asked so many questions about his legacy (such questions dominated the media availability for the former MVP Wednesday) at age 29. 
"Nobody else probably talks about their legacy at age 29. Most 29 year olds don't even know what they want to do. Legacy is what they talk about after you're done. We still have a lot of basketball left to play. No matter what happens in this series there's a lot that has to happen."
He also spoke on how he prefers being the underdog in this series (Miami is a +130 underdog at most books). 
"I like being the underdog," Bosh said. "I think the only time they expected us to win, we lost it.  (Ed. Note: This is not true at all in any way; the Heat were favored the last two years in the Finals.) So we're right in our wheelhouse. I like having our backs against the wall, I know what these guys are made of. We don't need that support."
The Spurs can create extra possessions because so many of their shots are from distance. Long shots lead to long caroms which lead to offensive boards. Bosh said that's why it's important the Heat have worked all year on tracking down long rebounds using their guards. 
"We've been working on that all season. You really have to rely on your guards to help dig out the long rebounds. Sometimes your bigs are boxing out, but if you're boxing out five feet and in, and the ball goes eight feet, it's a little tougher.

"I think we have the best rebounding backcourt, one of the best backcourt in rebounding in the league. We have guys who can really help out the bigs on the boards. It's going to be a team effort. "
After last year, the Heat learned that getting a break from the physical style of the Pacers with San Antonio isn't a break at all. The exhaustion turns to mental, and Bosh spoke Thursday on how the Spurs can frustrate you by hitting shots despite good defense. 
"It's going to take its toll no matter what. It's the playoffs, it's high intensity. The Spurs are going to have some possessions when they make a couple of threes in your face; it's going to be good defense and it's going to be better offense. It happens like that some times.
"It can be a little mroe mentally exhausting, because you have to stick with what you do and trust in the defense, because they get you when you start second-guessing and hesitating after they make a couple of threes in your face. So the next time you hug your man and they get a layup.
"They test your will and the trust you've put in your defense. It's going to be a test but we're looking forward to it."
At least it's a test that Miami knows it passed last year. The question is, are they ready for what looks like a series of harder questions from an improved San Antonio team? And are they really as good, as sharp, as deep, as mentally tough as they were last year? The first chance to answer those questions is Thursday night as Game 1 tips at 9 p.m. ET. 
How the addition of IT changes the Cavs and where they go this summer depending on LeBron's...

Ainge said that he expects the start of Thomas' season to be delayed, but he'll be 'fine'...

The NBA MVP odds have shifted quite a bit following the blockbuster Kyrie Irving - Isaiah Thomas...
It's debatable whether Boston gets better right away with Irving, but the future is definitely...

Kyrie Irving was set to grace the cover of this year's video game in a Cavs jersey -- whoo...

The Cavs were up against a wall and came out with assets now and for the future