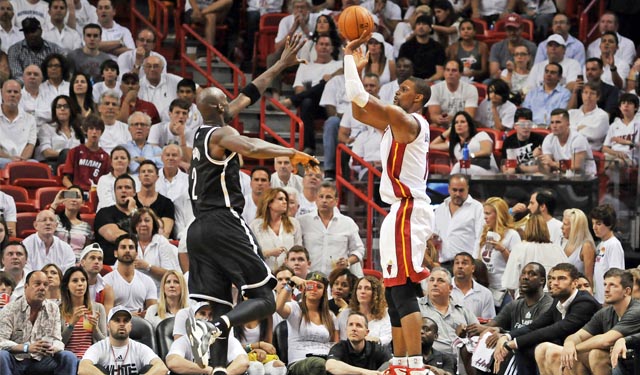 More postseason coverage: Playoff schedule, results | Latest news, notes
Miami Heat big man Chris Bosh doesn't go into the post nearly as much as he used to. In fact, it's pretty rare that you see the Heat running post-up plays for Bosh. Much more of his attempts come from pick-and-roll plays or spot-up jumpers, despite him being the biggest guy on the team. There's a reason Bosh no longer posts up all that much too; it's to conserve energy for other parts of the game.
Bosh told the media after Saturday's shootaround that he doesn't "bang anymore," because he has to conserve energy and it's not a strength of his. From the Sun-Sentinel: 
The only way Heat center Chris Bosh will see himself playing in the post again is by watching old highlight videos.

Bosh made it even clearer Saturday his days of living on the block are gone.

As in R.I.P to his post game.

"I don't bang anybody anymore," Bosh said. "It's a tired thing for me. It's not my strength and I understand that."
Only 7.5 percent of the possessions that have ended with a Bosh shot, free throw or turnover this season have come in the post, down from 14.1 percent last season. His first two seasons with the Heat, he posted up 23.5 percent and 23.6 percent of the time, respectively. In his final season with the Toronto Raptors when he was a go-to scorer, he posted up 35 percent of the time.
This decline for Bosh is part of the ever-evolving role of today's big man. The Heat value spacing the floor to give LeBron James and Dwyane Wade room to operate, and putting Bosh and sometimes a second big man around the basket takes away that space. Bosh has accepted his role perfectly and focused much more on extending the range on his jumper and playing stellar defense while demanding the ball much less.
His responsibilities in other parts of the game make it an easy choice for him to abandon wanting the ball in the post so much.
It doesn't help Bosh is playing at a heavier weight than when he entered the league in 2003.

"Just playing at an elite level, you play better defenders," Bosh said. "It gets tiring. What they ask us to do, to blitz the screen and roll, every single one, close out and get back. I wasn't this same weight. I was already 20-30 pounds lighter than anybody else. All that stuff just takes my energy."
He's been the anchor of the Heat's defense during the last two championships and has sacrificed personal stats for the greater good of the team. When he has the matchup, the Heat have no problem looking for him in the post. As for right now, they have other duties for him to perform.