Heat's Mario Chalmers injures right knee during Monday's game
Miami Heat guard Mario Chalmers injured his right knee during the first quarter of Monday's game against the Portland Trail Blazers.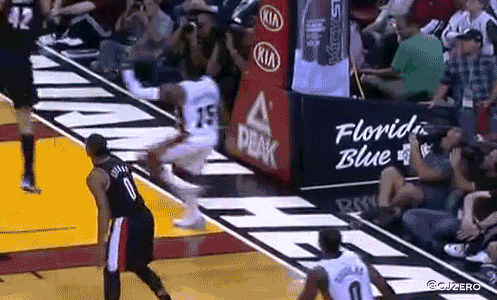 In an awkward looking bend of the knee, Miami Heat point guard Mario Chalmers fell to the ground after making a layup Monday night against the Portland Trail Blazers. Chalmers seemed to have his right knee buckle as he gathered himself on the baseline and immediately dropped to the floor in pain.
Chalmers left the game at the next dead ball. The Heat announced Chalmers tweaked the right knee but he's expected to return to the game. We'll see if he has any lingering effects from the awkward fall and tweak.
(H/T - @cjzero)
Kris Dunn somehow took a chunk of the Bulls court out with his teeth, but didn't lose any in...

The fallout from the Rockets-Clippers tussle continues; no Clippers were disciplined

DH12 is picked for free throws after a teammate gets ejected. He makes both, and lets Scott...
Bell was injured defending a Robin Lopez dunk and had to be taken off the floor in a wheel...

Trevor Ariza and Gerald Green are reportedly both suspended two games

We've got all the scores, highlights and news from Wednesday night