Hiring Brad Stevens is a slick, smart move by the Celtics
The Boston Celtics went bold by dipping into the college ranks to hire their next head coach. And it's a terrific, clever move by Danny Ainge to take a chance on a rising coaching star.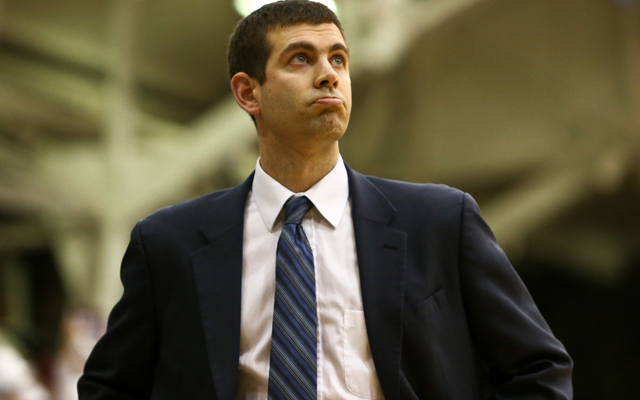 Completely out of left, right, center and all the other fields in between Indiana and Massachusetts, the Boston Celtics named 36-year-old Brad Stevens as their next head coach on Wednesday. 
It's a fantastic hire. And here's why: It's all about risk vs. reward. 
The Celtics are transitioning and, within that, they need a new vision, a new energy and a new mind-set. Danny Ainge is accomplishing something very specific by hiring Stevens: If his new coach crashes and burns, the team stinks, they just strategically tank, get better draft picks and then go hire a proven NBA coach once the cupboard gets restocked with talent and assets. 
If he succeeds -- which I think he will -- then Ainge has one of the brightest young coaching talents to lead and develop his revamped roster for the long term. And, best of all, Ainge looks like a smarty pants in the meantime.
Instead of recycling a has-been coach who's bounced around different teams the past decade, Ainge is going bold and taking a shot. It's an outside-the-box move but one that's appropriate for an organization that's leaving one era behind and looking to begin anew. 
Gone is Doc Rivers, and shortly after him followed Kevin Garnett, Paul Pierce and any shred of hope or belief the Celtics could contend another season. They're well on their way to a full-on rebuild and, with that, have to adjust and amend their focus and goals. 
Enter Stevens, one of the most successful, respected collegiate coaches over the past five years. He has spent his time at Butler, a mid-major program that's developed into a major factor in the world of college basketall. Two national title appearances and inches away from claiming a championship on a banked-in halfcourt shot. 
The Celtics don't have a great recent history of hiring from the college ranks (Rick Pitino, 1997), but Brad Stevens is to Rick Pitino what the Beatles are to Metallica. Assuming Stevens will fail just because of the Pitino disaster is like swearing off donuts because you got sick eating one out of a trash can one time. 
College coaches often don't translate well to the NBA. They want too much control of the locker room, they want too much command of the huddle, they want too much power over the team. Being an NBA coach is as much about working personalities and chemistry as it is coaching them to be better basketball players.
In college, the coach often becomes the star, the focus of everything. Players come and go every four years (or every one year, in a lot of cases), and the coaches become the face of the program and grow into the identifying factor with the team. Especially the great ones. When you think of Duke, you think of Coach K. When you think of Carolina, you think of Roy Williams. When you think of Alabama, you think of Nick Saban (I'm just assuming he coaches the basketball team, too).
So many college coaches -- cough, Rick Pitino, John Calipari, Lon Kruger, cough -- wanted to take the college approach to the pro locker room with a message of no one player is bigger than the team, we're all the same here, stars don't matter. Well, stars do matter in the NBA. Some players are, in fact, bigger than the team. And some players need to be treated as such. 
But all of that above is exactly how Stevens ran his Butler program. He made it a point to emphasize the positives, to resist yelling at officials, to remain as calm as possible, to keep his nose out of the smallest, most tedious details of the game. He coaches, but he doesn't overcoach. Stevens has always thought that a calm, focused coach leads to calm, focused players. He intently coached his players with optimism and encourgement while finding that very challenging balance to also command their unwavering respect. That stuff is true coaching talent. 
And Stevens will immediately have his work cut out for him in that regard. His mercurial point guard is an enigma who needs coddling, attention and special treatment. Stevens will have to cultivate his relationship with Rajon Rondo, build trust and understand what both want to get out of this. Rondo is a tough player to coach but, again, Stevens isn't going to point a finger in his face and tell him what to do. Stevens' unique coaching style is more about working with a player, hearing them out and them making a decision together. Seems to me like that might just be the perfect approach for a player like Rondo. 
Stevens takes an analytical approach to the game, using advanced metrics to influence decisions. That type of mind-set has steadily been gaining steam in the NBA game the past few years, and Stevens understands the balance between old school and new school. Let the numbers confirm what your eyes are telling you. He coaches with constructive criticism and positive reinforcement instead of just yelling. He wants his players to be confident and without fear that they might get benched for taking a dumb shot or throwing a silly pass. In other words, he's pretty perfect to coach a roster that's about to be made up of young, brash, dumb and immature players. 
The Celtics have taken some serious blows over the past couple of weeks and have had to re-evaluate who they are and what their future is going to be. But they've taken a very clever and a very positive step forward by bringing in Stevens. Win or lose, the Celtics are big winners. 
Durant labeled the Cavs' situation as a regular problem in the NBA

James takes to Instagram for a better look at the Cavs' new Nike-made uniforms

Kevin Durant says he doesn't agree with what President Donald Trump agrees with
Evaluating where the future Hall of Famer might land up if he is freed from Chicago's rebuilding...

Adam Silver said his piece with the schedule out; we address that and what the slate looks...

The Hawks and Sharecare reportedly agreed to terms on a five-year deal