Horace Grant: 'The Heat wouldn't have a chance' against his Bulls
Former Chicago Bulls' power forward Horace Grant says today's Miami Heat wouldn't have a chance against his old Bulls' teams.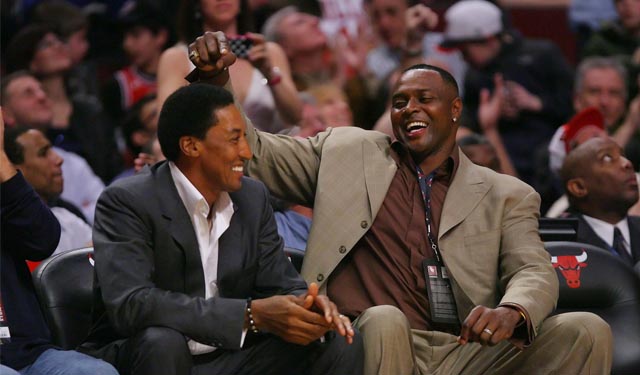 More postseason coverage: Playoff schedule, results | Latest news, notes
As the Miami Heat prepare for their showdown with the San Antonio Spurs in the NBA Finals for the second straight year, Horace Grant is preparing a war of words with LeBron James' team. In a radio interview with WSCR-AM in Chicago, Grant was asked about whether or not the Chicago Bulls teams Grant used to play on could beat the Heat of today. Shockingly, Grant, who has been retired for a decade, thinks the team he didn't play for wouldn't have a chance.
With today's rules, Grant thinks the Bulls would have locked down the Heat and Michael Jordan would have a field day with the way the game is played now. From ESPN Chicago:
With four more wins, the Miami Heat will match one of Michael Jordan's greatest feats -- three straight NBA championships -- but former Bull Horace Grant says that doesn't mean LeBron James' team could have beaten those Chicago teams.

"The Heat wouldn't have had a chance," Grant said Tuesday on WSCR-AM in Chicago. "We would have locked them up. We would have locked them up. Especially with the rules today, Michael would have had a field day."
Let's say we develop a time machine in which this is possible. Should we use it to right the wrongs of the tragedies of the past or should we use it to start pitting together all-time sports match-ups we want to see the most? There's a lot of wrong in what Grant is saying, but it has nothing to do with who he thinks would win.
It's fine for him to think the Bulls would win. That's the competitor in him and older retired guys are as likely to think they would win as the current players of today who are in their primes. That's just how bravado goes. But considering the Bulls wouldn't be allowed to use hand-checking in defense with the rules of today, I'm not sure how he believes they'd lock them down. It doesn't mean they wouldn't beat the Heat and having Scottie Pippen and Michael Jordan patrolling the perimeter is certainly a big deal defensively. But the game has changed quite a bit and it doesn't always translate to the players and schemes of the past.
Also, considering the Bulls weren't built for 3-point shooting (93 Bulls took 669 attempts from the 3-point line while this year's Heat made 665), that would also be a huge change in the game from a stylistic and game planning standpoint. We should invent that time machine though.
Is this rock bottom for the Cavaliers because it sure feels like it is

Wade, as he's done so many times in his career, threw it up to LeBron for the thunderous f...

The Warriors coach added there should be no shame in being picked last since everyone's an...
We've got all the scores, highlights and news from all of Saturday's games

The two teams have reportedly not had any substantial discussions to this point

Oladipo may be getting most of the shine, but this second-year big man has been phenomenal...