Hornets close to acquiring Robin Lopez in three-team trade?
The Hornets are close to acquiring Robin Lopez in a three-team sign-and-trade deal. The deal, which could be completed soon, would send Hakim Warrick along with Lopez to the Hornets, with Minnesota sending former top five pick Wesley Johnson and a first round pick to the Suns.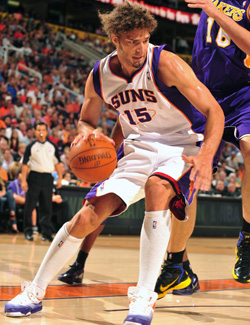 The Brow, meet The Mop.
According to Yahoo Sports, Hornets
The Timberwolves would be receiving Brad Miller's contract (he's retired), Jerome Dyson and some draft picks. They're obviously interested in some financial flexibility and future assets at this point.
The Hornets are looking for extra bigs, especially after losing Chris Kaman in free agency. Anthony Davis appears to be more of a power forward than a center, so adding Lopez next to him gives the Hornets a lot of quality size inside. And then you have Ryan Anderson and Warrick to provide extra versatility inside. A lot of options there for Monty Williams.
It's a really sensible deal for the Suns too. Johnson was the No. 4 pick in 2010 and clearly has ability, but has never found any kind of place with the Wolves. In Phoenix, he could see a more stable role and more minutes. Plus an extra pick is extremely helpful for a rebuilding team.
Losing Lopez isn't all that bad either as the Suns lean much heavier on Marcin Gortat.
The deal isn't completed and obviously could unravel. But if it goes through, it's a pretty good deal for all involved. Assuming the Wolves utilize what they're getting. Because giving up on the No. 4 overall pick after two years is kind of a shame, especially when all you're getting back is a retired guy, a D-Leaguer and some future picks. 
We've got all the scores, highlights and news from all of Sunday's games

The Rockets beat the Warriors 116-108 on Saturday night

The Cavaliers gave up 148 points in their loss Saturday afternoon to the Thunder
Blatt made the comment before coaching in the All-Star Game in Turkey

Is this rock bottom for the Cavaliers because it sure feels like it is

Wade, as he's done so many times in his career, threw it up to LeBron for the thunderous f...