Hornets sign GM Dell Demps to multiyear extension
The New Orleans Hornets sign general manager Dell Demps to multiyear extension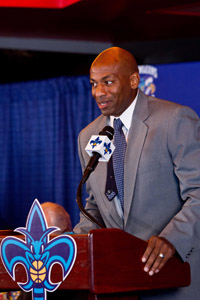 Demps will be with the Hornets long-term.
(US Presswire)
From a Hornets press release: 
The New Orleans Hornets announced today that they have signed general manager Dell Demps to a new multiyear contract extension. Per team policy, terms of the contract were not released. 

"Dell has a bright future ahead as the GM of our team and Mr. Benson and I couldn't be more impressed with the track this team is on and are excited about the future," said Hornets Executive Vice President Mickey Loomis. "He has helped shape this organization with the current team of young, talented players and we look forward to seeing the growth of the franchise during this exciting time for the franchise." D

"I would like to thank Mr. Benson, his family and Mickey Loomis for their faith and confidence in me with this great commitment," said Demps. "I love the city of New Orleans and am fortunate enough to be surrounded by great people that make us a great organization. I look forward to working with Coach Monty Williams and producing a team to make the people of New Orleans proud to call their own."
Pretty stunning turnaround for Demps. He managed to survive the insanity of the Chris Paul trade, a terrible rebuilding year and walk out on the other side with a young, versatile roster and a coach who provides a great defensive system. 
It's also interesting, given the choice to match the Suns' max offer sheet for Eric Gordon, considering Gordon's current uncomfortable situation with the team regarding his injury. But Demps has done a fantastic job managing the Hornets' assets and rebuilding a team. Sometimes it takes two years to tear down a team to push it into a position to start moving forward, but Demps has managed to do it in just one year. 
While the Hornets are a long way from contention or even the playoffs despite their hot start, Demps has this team in the right direction. It's good to see Tom Benson, the new owner, rewarding patience and consideration and being willing to invest in talent. Stability is what New Orleans needs to succeed as a small market. 
An ongoing investigation continues to reveal details about the Mavericks' workplace

Larry Hartstein has his finger on the pulse of Kings basketball and just released a play for...

One reported proposal has seeds 7-10 playing for the final two spots in each conference
The longtime Maverick says he's disappointed by all the negative news surrounding his beloved...

Larry Hartstein has nailed 17 of his last 22 NBA against the spread picks and locked in a play...

The NBA is reportedly entertaining the notion of a play-in tournament for the postseason