Houston Rockets waive Marcus Camby (torn plantar fascia)
The Houston Rockets waive backup center Marcus Camby due to him having a torn plantar fascia that has him out indefinitely.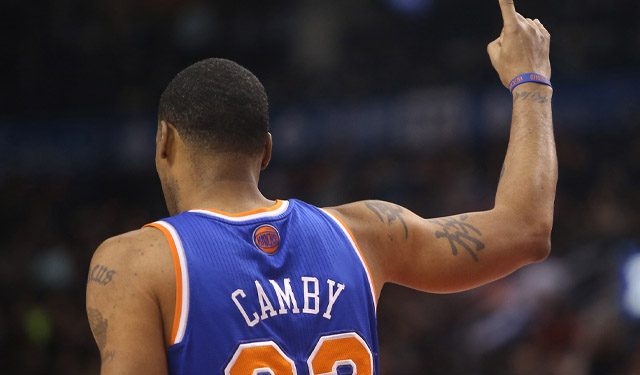 Update 3:03 p.m.: The Rockets officially waived Camby Monday.
Original post: On the verge of turning 40 years old in March of next year, Marcus Camby still playing basketball is pretty impressive. The former Defensive Player of the Year has been around for 18 years in the NBA and was signed to the Houston Rockets this offseason to provide some depth and insurance for a team that signed Dwight Howard and Omer Asik the last two offseasons. However, it looks like Camby won't make it to the start of the regular season with the Rockets.
According to Jonathan Feigen of the Houston Chronicle, the Rockets will waive Camby due to a torn plantar fascia injury that is likely to require surgery. Considering Camby wasn't looking to play a prominent role with the team this season, it makes sense to free up the roster spot and check in with Camby later in the season before they have to finalize playoff eligibility on March 1.
Rockets will waive center Marcus Camby on Monday, source said. Camby has been unable to come back so far from torn plantar fascia tissue.

— Jonathan Feigen (@Jonathan_Feigen) October 27, 2013
Camby likely to have surgery, source said; is considering working with players. "Wouldn't be surprised to see him stick around," source said

— Jonathan Feigen (@Jonathan_Feigen) October 27, 2013
As Royce Young mentioned on October 9 when we found out about the torn plantar fascia, this kind of injury could potentially impact the idea of trading away Omer Asik this season. Asik hasn't been crazy about the idea of backing up Dwight Howard and there are logistical concerns with playing the two of them together on offense. However, the Rockets are unlikely in any rush to deal Asik if the value coming back in the deal isn't optimal.
Leonard's relationship with Spurs also reportedly strained because of how injury has been...

San Antonio hasn't missed the playoffs in 20 years, but the road is rocky this season

Last year's MVP finalist has missed all but nine games this season
The design for the patch is still being worked on

The explosive forward and upcoming free agent is having a career year

Cuban said on Dr. J's podcast that losing is Dallas' 'best option'