How do the Heatles bring the band back together better than ever?
A look at what the Heat are looking at based on reports the Big 3 will re-sign with paycuts and how to make the superteam better this time around.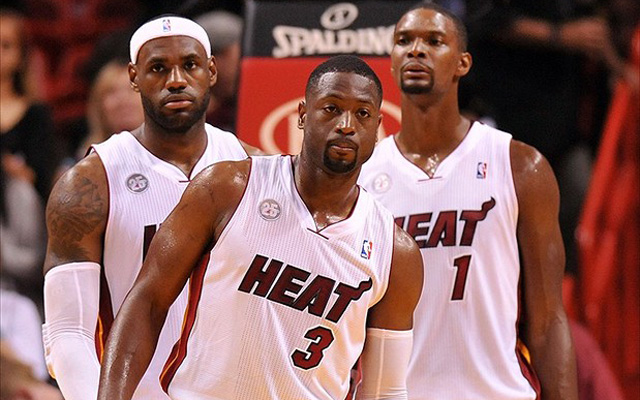 More Offseason Analysis: Coaching changes, news | Free Agency | Draft | Rumors
LeBron James has opted out of the final year of his deal with the Miami Heat. Dwyane Wade followed suit Saturday. Chris Bosh decided to do so Sunday, according to multiple reports. So what exactly does this mean?
It means, in short, that every indication is that the Big 3 are bringing the Heatles band back together for another tour in South Beach, and that they're willing to cut salary to get it done. There are reports the Triad are already discussing with each other who will get what. The question is, who will, and how? But we'll come back from that.
The ramifications of this weekend's events are pretty widespread. Bear in mind that with the free agency moratorium, in which teams can contact players but no deals can be signed, starting Tuesday, everything was going to be caught up on the Big 3 plus the Knicks' Carmelo Anthony. That's how this stuff always plays out. There's always one deal, one trade, one situation that has to be resolved before the rest of the pieces fall into place. With the Big 3 giving strong indications that they're going to make quick work of The Decision 2.0, it could speed up the process for other teams. It could also increase the demand for Carmelo Anthony.
Teams like the Bulls, Rockets, Lakers, Knicks and Hawks have hope for bringing one of James and Bosh to town, and if he's already off the board by the time free agency starts, it could mean whichever team gets out ahead of that realization and switches gears gets an advantage in figuring out a superior Plan B, whether it's Melo or someone else.
But for the Heat, there are the most questions. Reports Saturday indicated two things: 1. LeBron James intends to ask for the max from the Heat, despite how that limits what they can do. If that's the case, the Heat are tying up roughly $26 million in cap space (along with Norris Cole's $2 million) right off the bat. Other early reports indicate that Chris Bosh is willing to take a paycut, but only to between $15 and $16 million, according to an ESPN report. So James, Bosh and Cole set them at a combined $43 million at least, out of a total cap of $63 million. Throw in the hold for first-round pick Shabazz Napier, and that's $44 million, roughly.
But that's if James' salary were aggregate over the span of the contract. The first year of his deal, according to cap expert Larry Coon, would only be $20.66 million. 
Probably about $20.66 million. RT @mynewhate what would Lebron's starting salary be in max deal with Miami?

— Larry Coon (@LarryCoon) June 29, 2014
So scrape that number back down to roughly $21 million, plus Bosh's $16 mission, plus Cole's $2 million, plus another million for Shabazz Napier, and you wind up at $41 million. 
So where does that lead Wade? Wade's willing to sacrifice for Miami. If he wasn't, he wouldn't have opted out. But how much? He was owed $42 million over the next two seasons if he hadn't opted out. Would he take a four-year deal that pays him the same money over more years, at $10.5 million? Then you're at $51.5 million with $11.5 million and the room exception ($2.6 million) left to find a quality roster. We're talking another seven players in that kind of space.
So it still gets a little tight.
Now, if James were to take less, say, $18 million giving him a minor pay-bump and Bosh were to drop to say $13 million, then you've got another $6 million to $7 million to play with. Basically, every dollar the Heat shed off each deal clears more space.
But let's start with the idea they'll have $11.5 million in cap space plus the veteran minimum and room exceptions to fill in the remaining seven players to get to the league-minimum 12 players on roster. The room exception is the only non-minimimum exception they'll have access to if the Big 3 re-sign and leave any cap room remaining.
But the key to remember is the minimum player exception. This is how Miami has filled out its roster with at-least-capable guys during the Big 3 era. Under the CBA, you can offer players the league minimum (which varies according to how many years a player has been in the league) even if you are over the cap. Even if Miami winds up with just the $11.5 million in space after the Big 3, theoretically it could up the $11.5 million plus the $2 million in the room exception. So that would be $13 million to fill maybe two-to-four players. After that, they can fill it out with minimum player exceptions at around $1.2 million (for eight-year veterans).
That's how you rebuild the superteam. But the superteam failed last year, and the Big 3 know it. They also know, whether they'll admit it or not, that Wade isn't the player he used to be. So if the Heat want to take a step forward, they're going to need to find someone or someones using that $11 million of space to make a legit impact. That's the challenge they're facing. The Heat offer a legit and very real chance to win a title every year for the course of however long the Big 3 are together, just by virtue of James being on board.
One potential plan? Sign Rodney Stuckey, the Detroit combo guard whose best years may be ahead of him, to roughly $4 million per year, giving them another creator and athletic guard off the bench. Bring back Ray Allen for $3 million, add Josh McRoberts for $4 million and add a veteran like Steve Blake for the room exception. Do that, and you've now got:
LeBron James, Dwyane Wade, Chris Bosh, Shabazz Napier, Norris Cole, Steve Blake, Rodney Stuckey, Ray Allen and Josh McRoberts. That's nine players with three-to-four more to sign to minimum deals. Udonis Haslem presumably comes back for the minimum; that's 10. Fill in two more veterans like Al Harrington and Elton Brand on veteran minimum deals, and there you go.
Things that can derail this plan:
Everything.
If James isn't impressed with the plan to upgrade the roster, he's gone.
If Bosh decides he wants more than $16 million, they're pretty much sunk.
If they can't get the types of players they're targeting for that kind of money, they're going to be looking at a similar situation as last season -- a great team that's not good enough because of its depth.
One of the bigger wrenches is Haslem, who's expected to sign for something close to $10 million over three years according to reports. Tying up $3 million for a player who didn't even get off the bench in the Finals isn't a great plan, but they may do it out of loyalty. And that will pretty much take up their chances at getting an impact guy right there. 
Everything hinges on how much of a paycut the Big 3 are willing to take. And everything in the NBA, outside of San Antonio, hinges on that as well.
Thanks to Jared Dubin of Bloomberg Sports for help with this article. Salary info courtesy of ShamSports.com. CBA info courtesy of the CBA FAQ.
Not many games, but still plenty of action and intrigue Sunday in the Association

Kobe Bryant had a solid piece of advice for back in 2016 when he left OKC for Golden State

An old rivalry is reignited between LeBron James and the Cavaliers and John Wall and the W...
SportsLine's Mike McClure, a DFS pro with more than $1M in winnings, gives optimal lineup...

LeBron had 29 points, 11 rebounds, and 10 assists in the Cavs' 109-100 win over the Jazz

The montage showed Carmelo's best Knicks moments before playing the Thunder game