How do the Indiana Pacers replace Lance Stephenson?
The Indiana Pacers lost a key member of their rotation/attack with Lance Stephenson signing with the Charlotte Hornets. How do they replace that?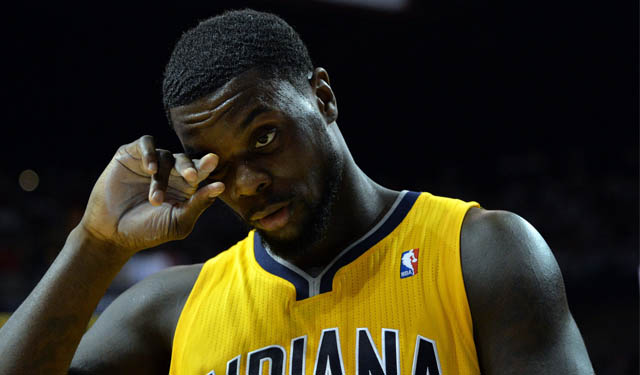 More Offseason Analysis: Coaching changes, news | Free Agency | Draft
While the Indiana Pacers were overall better than most fans and pundits will remember for the 2013-14 season, they weren't a versatile team at all. That was the reason they struggled so much when things were going poorly for them; they didn't have a fallback option in place. They were going to defensively destroy your team and grind through inside-out offensive sets that were begging for creativity and long distance shooting. The only time the offense could break away from that was when Lance Stephenson had the ball in his hands.
Stephenson forced plenty of action in a very detrimental way, but it was an attempt to breakthrough the malady of their offense. They didn't have a dribble penetrator outside of Lance. George Hill can score coming off a screen or spotting up, but he's not going to break down his defender and create a play for someone else on most occasions. Paul George has that ability, but his dribbling is suspect at times and he's usually hunting for his own shot. Stephenson, on the other hand, has an incredible skill set when it comes to creating plays.
His playmaking wasn't just the ability to handle the ball like he's trying to dazzle the crowd at a summer pro-am. It's also not just huge hands that allow him to control any passing situation, or the quick first step or the vision it takes to anticipate the defensive positioning to find the passing lanes. It was all of those elements working in a symbiotic way to be the only safety valve for the Pacers that involves making a play for others instead of just hoisting a shot.
That's gone now with the departure of Stephenson signing with the Charlotte Hornets. So where do the Pacers go from here?
The absence of Stephenson could actually force the Pacers to get more creative on offense and not abandon the post presence they have. Without Stephenson on the roster, David West is the team's best passer, and he shined passing out of the low post and high post during the playoffs this season. The team has added C.J. Miles to the roster, which will help them stretch the floor. That was a problem for the Pacers last season, ranking only 17th in 3-point accuracy. While he isn't the playmaker that Stephenson is out there, he's still capable of running a quick pick-and-roll and giving the Pacers a good scoring option.
The Pacers are also considering adding Rodney Stuckey to the roster, a scorer off the bench that would give the league's 22nd best offense more options to score off the dribble. But you don't have a traditional playmaker for a bad offense. Re-signing Evan Turner would probably be more of a disaster than trading for him was, and that ended horrendously when he was on the floor. It's possible their first-round pick from 2013 Solomon Hill can provide some playmaking, but he was never a huge playmaker in college. He averaged 2.2 assists in 29.4 minutes for his career in four seasons at Arizona.
It's up to Frank Vogel to find a better, more motion-based offense to start to implement.
The LeBron James signing with the Cavs has left the East wide-open for the Pacers and everybody else. If the Cavaliers acquire Kevin Love, they'll likely be the hands down favorites to win the conference. But if not, they're competing with a Bulls team (assuming Derrick Rose is healthy) that is very good and evolving into a better offensive team, two up-and-coming pests in the Wizards and Raptors, and a Heat team that can still be extremely competitive. If Indiana was ever going to have the window for them increased for getting to the Finals, it's right now before this Cavs team evolves into an unstoppable force.
But losing Stephenson starts closing that window. The Pacers won't really have roster flexibility next summer either. Roy Hibbert and West have player options that will likely eliminate any cap space possibilities. They'll have their mid-level exception to spend but have to be careful with how they add to the team to avoid the luxury tax. They'll have their first round pick next year, but in terms of adding playmaking to the roster right now, there aren't any options outside of a trade.
They don't have many pot sweeteners to go after Rajon Rondo, unless they want to offer multiple future first round picks to take George Hill's deal and hope the Boston Celtics are feeling charitable.
The Pacers have to hope George evolves as a playmaker in a similar way to how we saw Kevin Durant make it a part of his game little by little every year. They need West to still get passing opportunities and Hill being more of a point guard than a spot-up scorer is necessary. It will take a team effort and the new design of the coaching staff. The Pacers can't afford to be locked in to one style of play. They need to be versatile and free-flowing so they can adapt to the situation before them. It's great to dictate the flow of a game, but they don't have that breakaway player anymore who can take over the moment for playmaking.
This could end up being a blessing in disguise for the Pacers, but only if they are willing to think outside of themselves and their identity to pounce on the open layout of this year's Eastern Conference.
Cavs star chose to be very secretive when talking to Lakers rookie after Thursday's game

New York announced Porzingis would not return shortly after star forward left game

Teletovic missed the final three months of 2014-15 season with Nets recovering from same i...
Keep it right here for all of the news, notes, scores and highlights from around the leagu...

The NBA's City edition Nike jerseys are bold and very different

The Wolves may be smoke and mirrors, but the Pacers have the look of a team that can hang in...