How Kentucky's Julius Randle battles through
Julius Randle has short arms. So why is he still so good offensively?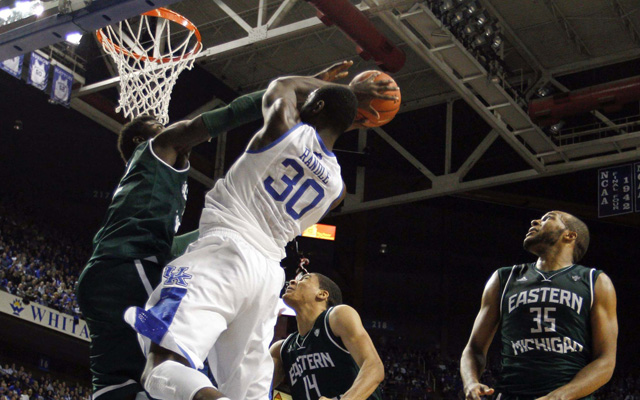 Julius Randle is a 6-foot-9, 250-pound power forward from Kentucky. He's averaging 16.7 points and 10.6 rebounds per game, a double-double, on 55 percent shooting ... as a freshman. 
That seemed pretty good early on when Randle leaped to the top three picks in most mock drafts and big boards. But since then, the buzz has cooled on Kentucky's beast inside. The criticisms are varied, but the reasons are predictable. 
1. It's the middle of the season and many great players go through slumps at this point of the conference season. 
2. This class is being hyper-analyzed to a degree that no matter how good the players are, flaws will be found, extrapolated, and magnified.
3. He's not perfect. Like any player he has strengths and weaknesses. 
4. The Internet. 
5. He's a freshman. 
One of the best pieces of sustained criticisms of Randle has been Jonathan Tjarks' takedown of his NBA prospects due to his short wingspan. 
Randle is built like a Tyrannosaurus Rex: all torso and no arms. He has a 6-11 wingspan, per Draft Express, which is enormous in most contexts, but not the super-sized world of the NBA paint. When matched up against the best power forwards in the world, hes going to have a significant length disadvantage, a problem that could impact his game on both sides of the ball.
via Wingspan: The big problem with Julius Randles NBA upside -- SBNation.com.
I encourage you to go ahead and read Tjarks' analysis, if only to provide a balance. The typical extension of the thought process goes like this: Since Randle is physically limited (think about how crazy that sounds) then he has to overcome it with basketball skill and ability. Players with comparable wingspans include Blake Griffin and Kevin Love, but he's not as athletic as Blake, so he has to try and be Kevin Love.
Which is, of course, difficult. 
The other comparison is Zach Randolph, but not only does Tjarks note that Randolph actually had substantal wingspan, but what makes Randolph so good is precisely what makes him difficult to emulate: he's a natural at finding ways to score. 
But that doesn't mean Randle can't in fact emulate the All-Star forward. 
I'm skeptical of players' ability to translate to the athleticism of the NBA. The gap between college and the pros is so wide, you have to have a special talent set to compensate. Except that by all accounts, Rande has that. Something I always want to keep an eye on is how a guy finishes in traffic. Gone are the days of one-on-one coverage in the post. The rule changes have made help defense the core of most good defense. So if you're going to score down there, you need to be able to finish through help.
Watch here as the entire defense collapses on Randle. Thanks to deft footwork and great touch, however, he still finds a way to not only score but find a quality shot. He's not just bullying in and tossing it over, he works to out-clever the defenders. 
This is an example of how optimistic I am about his shakey handle. In the post, he knows how to control the ball and keep it away from the helping defender. Protecting it from swiping hands is something a lot of players struggle with, and Randle shows a lot of promise here. 
Let's talk about that handle. There are a lot of concerns, but he does have some ability on the drive, mostly due to his long-strides and quickness being able to make up for various issues. The crossover here is nice, even if he does get caught in his other huge offensive weakness, finishing with the left too often. 
NBA defenders are going to force him right, into the help coming weakside, but it does show what he's capable of. And his ability to create separation with his shoulder is goin to make up for a lot of those wingspan problems. You're going to see that stride on this next drive. He gets past two defenders, mostly by being able to flip through them once he picks up his dribble. If he develops into a three at the NBA level, watch for him to build up his Euro-step. 
He's also got a lot of grace in the open court. For a fast-paced team, he could do some real damage. 
Now, let's take a look at that wingspan issue. Kentucky's loss to Arkansas was a great example of how he can get in trouble in that area. Watch this and imagine it vs. DeAndre Jordan or Andre Drummond.
He's not going to just rise up and throw it down over guys and will struggle with long defenders. However, almost every player who projects at his skill type have the same problem, short or long wingspan. David West, Tim Duncan, Markieff Morris, Kevin Love all of these guys have issues with super-long shotblockers. This is why you pair them with a long, athletic center to force the matchup you need. This is less of an outstanding weakness for Randle (offensively) than it is a pretty common element in basketball. Everyone's got a matchup problem somewhere. 
How does he compensate for that? Well, his incredible touch is going to help. Watch the way he gets driven away from the basket on this floater and still finishes. 
And if he needs to adjust his body and lean, he maintains control. This shot gets all messed up and he still gets it to drop. 
Here's a shot that with that wingspan problem he'll need, the fadeaway. And he's got it in his repertoire, despite not being a great jump shooter. 
Oh, and on that long-defender issue? Be aware that you'd better have some muscle behind those arms. Because if your core isn't a rock, he's going to move you with that shoulder. 
Here's an example of both a strength and weakness for Randle. Watch him slice through three defenders to get to the rim and the touch to score here. He puts this sucker on the rim and lets gravity do the work. 
He's able to represent the pass to get the separation, then leap through to get to the point of attack. In the NBA he's likely to find a far superior shot blocker coming to challenge, but 
Now, he's also leaving two guys on the wings who can hit threes and ignoring them. It's definitely true that Randle has the potential to be a black hole. He gets the ball and his objective is to score. Whether you can teach this out of him is a question for each individual team to answer, but it's something he's going to need to work on. Here again, watch as he goes into multiple defenders. 
I mean, come on. 
So yeah, there's some work to be done. 
Now, we've only really covered his offense in this installment, the defensive issues are way bigger. But if Randle is able to take his considerable skill set and ability (which is taking skills and implementing them in a competitive setting, regardless of athletic talent) and translate them, he should be able to mitigate those parts of his game on the offensive end. And nearly every scoring four in the NBA struggles with defense. This isn't to excuse it, but there's also a lot of hope he can improve as a positional defender with his basketball IQ in the right system. 
Finally, it should be noted that despite his issues, Randle is shooting 63 percent on offensive rebound opportunities according to Synergy Sports. He may have T-Rex arms, but when he gets the ball, he's still one of the fiercest beasts in the jungle. 
It's fair that Randle has dropped behind Jabari Parker and Joel Embiid by a significant margin, and Andrew Wiggins by a less sizeable gap. But he still should be considered the fourth best prospect in this year's draft at this point. In closing: 
The NBA broke its silence with a statement related to the Lakers-Paul George tampering cha...

The Clippers big man thinks LeBron will reunite with the banana boat crew at some point

Have the Clippers reportedly found their next GM?
The NBA stayed to the point in their response to the Greek basketball federation

The Pacers believe the Lakers tampered with Paul George before they traded him

Among the questionable decisions by Jackson was signing Noah to a long-term, lucrative dea...