How Kevin Durant beat out Carmelo Anthony for best pure scorer
For years, there has been somewhat of a debate of who is the league's top pure scorer between Carmelo Anthony and Kevin Durant. Here's how Durant ended the debate.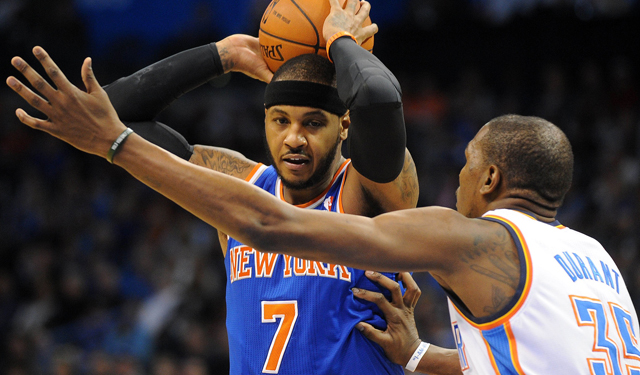 Who is the best pure scorer in the game? Actually, let's hold off on that question for a second.
What is a pure scorer?
I would imagine the best definition of a pure scorer is somewhere along the lines of a basketball player who scores a high volume of points with the capability of scoring them in virtually any situation. Bring that player off of a screen. Put that player on the low block. Have them scoring as the pick-and-roll initiator or run them out in transition or spotting up on the perimeter. Throw that guy into an isolation play to create a bucket for himself. Those are all things a pure scorer needs to be able to do, do at any time, and do well.
The low post and isolation criteria are probably the most recognized of the scoring abilities. Put a defender on an island against these pure scorers and they should be at the mercy of the players they're trying to stop. 
While players like Kobe Bryant, LeBron James, and Dwyane Wade have been some of the top scorers we've seen over the past four seasons, there has been this debate of whether Carmelo Anthony or Kevin Durant is the best pure scorer in the NBA. Why those two? Because their effortless scoring binges seemed to fit in line with the idea that they can score in a variety of ways. Durant was one of the top players at getting to the free throw line and converting those chances. Anthony was the bruiser inside that balanced out any shortcomings you may fault him with on jab-step jumpers.
When the Oklahoma City Thunder beat the New York Knicks Sunday 112-100, Durant dominated his counterpart. This has been a regular occurrence for years now with Durant often coming out on top in his matchups with other elite forwards. But this one was even more exacerbated by the story line that Anthony's Knicks are no longer respectable and Durant's historic play over the last month has elevated him to another stratosphere. 
Anthony struggled with 15 points on 5-of-19 shooting with seven rebounds and five assists while Durant shined in victory. Durant had a video game-esque line of 41 points on 12-of-22 shooting to go with 10 points and nine assists. Maybe this game was the final nail in the coffin for anybody holding onto the idea that Anthony can still hang in the conversation with Durant for purest scorer. 
There was a time in which Anthony could stake claim to this odd title in the basketball world. But that was roughly four seasons ago before Durant had ironed out all of the kinks in his game. He hadn't developed that post game yet. He wasn't the dominant isolation scorer that left zero room for second guessing his ability. He was a great scorer but others could rival his bucket-making ability. 
That's not the case anymore. For four seasons now, Melo has remained one of the top scoring options in the NBA with steady efficiency in the way he scores. While he's maintained or moderately improved parts of his game (mainly 3-point shooting), Durant has surged ahead as hands-down the top scorer in the NBA. He's the purest scorer we've seen in decades and it's not even close at this point. 
How did he get there?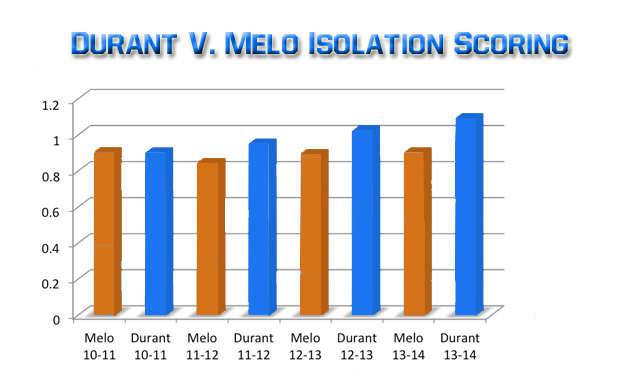 Isolation ball has long been Anthony's bread and butter on the court. It's been his biggest criticism in the sense of being accused of stilting offenses because of his isolation heavy attack. This season, it accounts for about a quarter of his offensive game but prior to this season, he'd have some seasons in which it made up 35 to 37 percent of his attack. Even as the volume of isolation ball has gone down for Anthony, his points per possession on isolation plays has stayed around 0.90 while shooting between 37 and 40 percent. 
Durant has gone from a player in 2010-11 using nearly a quarter of his possessions in isolation to his current rate of 16.7 percent of the time. As his volume of iso sets has decreased, he's seen his efficiency skyrocket. He has seen a steady increase in his production every season and now pours in 1.09 points per isolation possession (seventh best in the NBA). He's gone from being a 37.2 percent shooter from the field and 24.2 percent from downtown to 45.5 percent from the field and an absurd 51.1 percent from three.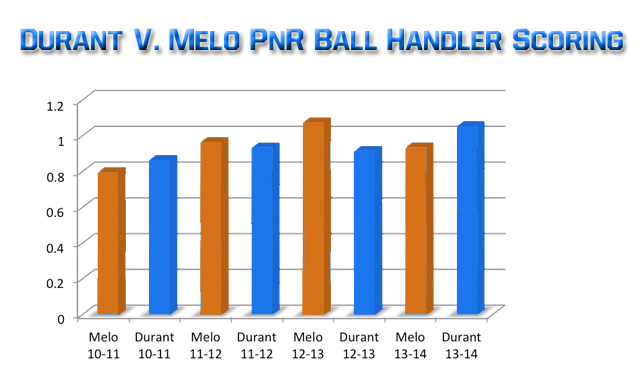 Part of the reason Durant's isolation plays have decreased in frequency is he's now doing a lot more pick-and-roll initiating in the offense. In 2010-11, it was the fifth most used play type he'd use to score, making up 7.7 percent of his offense. He was good too, scoring 0.86 points per possession, shooting 41.6 percent from the field and 31.3 percent from deep. This season, he scores out of pick-and-roll initiation at a clip 1.05 points per possession, fourth best in the NBA. He makes 53.3 percent of his shots and 47.8 percent of his threes. It's also the thing he does the most in the offense, getting scoring opportunities for himself 20.4 percent of the time.
Anthony also saw an uptick in this type of play from his split season with Denver and New York to the breakthrough season in 2012-13 when he initiated the pick-and-roll 10.6 percent of the time. He was the third best scorer in those situations last season (1.07 PPP), but with the decrease in spacing and competency in New York this season, he's dropped. He's down to 0.93 PPP, which is still elite but it's not close to what Durant is doing in these situations, especially when you see that Durant is doing it over twice as often as Anthony (8.5 percent of the time).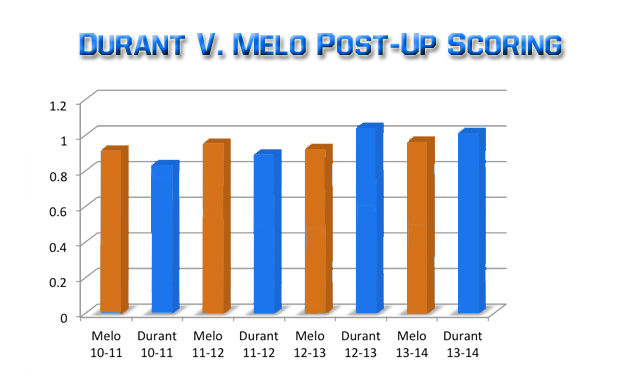 The big place for Durant to catch up to Melo was in the post. It's something Anthony does quite often every season. He goes down on the block and uses his incredible strength to bully his way to the rim, often taking his defender's lunch money in the process. He's been ranked in the top 30 for post scoring efficiency the last three seasons but has seen the gap between Durant and himself destroyed during that time. Four seasons ago, Durant was outside the top 100 in post scorers but he improved to seventh last season (1.04 PPP) and is still 15th this season (1.01 PPP). 
Anthony is still great on the low block with a 0.96 PPP. He also spends a lot more time there (22.2 percent) compared to Durant (9.9 percent), but he can't match the pure scoring efficiency Durant has managed to develop. Durant is now comfortable on the low and mid blocks, never getting pushed off his spot to the point of being in an uncomfortable scoring situation. He's taken the one place that Anthony had the distinct upper hand in this conversation and turned it into an advantage for himself.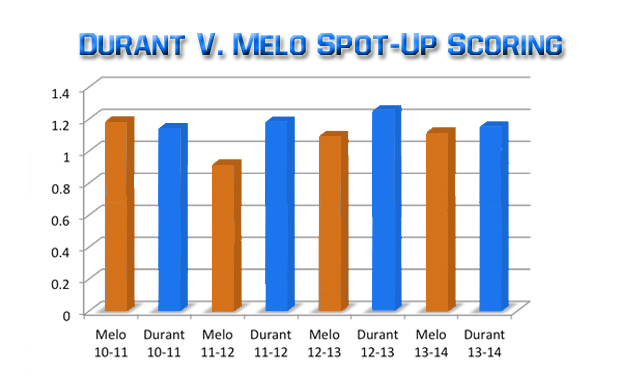 It still seems unconscionable that these guys get left open by opposing defenses but it does happen on pick-and-roll action thanks to a scrambling defense that is a beat behind. Anthony has seen a steady increase in his scoring efficiency since his time in Denver, mostly due to the fact that he's a much better 3-point shooter than he used to be. He shot a career-high 37.9 percent from downtown last season that has been blown away by the 41.9 percent he's shooting this season. 
However, it still can't get him over the purity Durant has shown us for years. He's above 41 percent from 3-point range for the second straight season and his spot-up shooting still better than Anthony's. The biggest difference is Durant's lanky jumper is harder to block, which makes defenders try harder to affect it when contesting. This leads to Durant heading to the free throw line in these situations (5.4 percent) more than twice as often as Anthony goes (2.4 percent). The more free throws in these situations, the higher the efficiency is.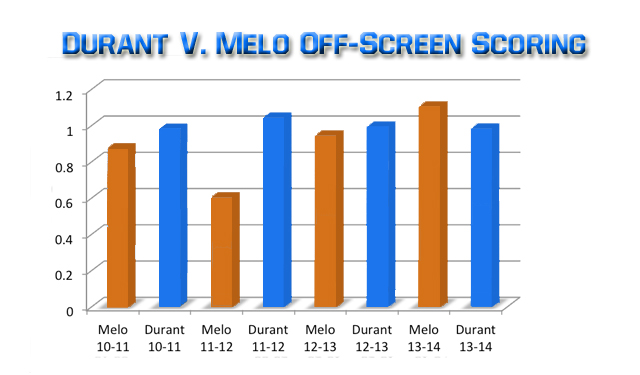 This is the one area in which Melo has managed to close the gap on Durant. He's shot well ahead of the 0.98 PPP Durant is putting up this season -- his lowest efficiency coming off screens in the past three seasons. Meanwhile, Anthony is scoring off screens at the best rate of his career, an impressive 1.10 PPP. The only fault you may find in saying Anthony is better at coming off screens than Durant is it happens just 4.9 percent of the time for Melo as opposed to 12.5 percent of the time for Durant. 
Is this enough to say Durant still has the edge in this department? If you're going to say that, then you probably have to be fair and say Melo's frequency in the post outweighs Durant's efficiency there. But either way, one guy is not getting both of these categories.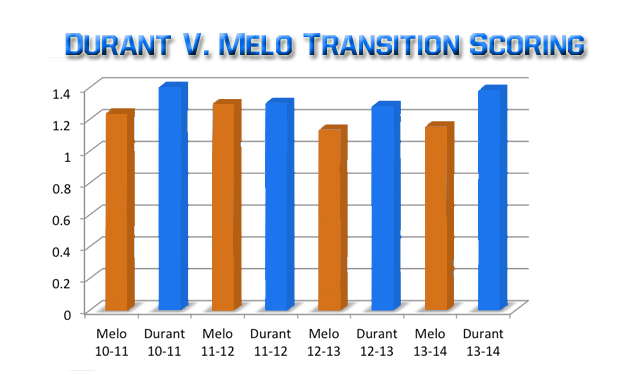 The final category is transition opportunities, which is an easy way to rack up points. If you're trying to call a guy the purest scorer, easy point opportunities is kind of an important aspect of the debate. Durant has often held the edge in this category, with 2011-12 the only season in which they were comparable. Since then, Durant has given himself healthy separation in this department while doubling the frequency (15.4 percent) in which he gets out in transition in comparison to Melo (7.5 percent). 
Especially with the season Durant has put together, it would take a very incredulous Anthony supporter to still argue that his guy is a better scorer than Durant. Durant has a higher scoring average, a much higher true shooting percentage, a much higher effective field goal percentage, and a higher free throw rate. It's more about seeing the progression of Durant and how he's improved his game as Anthony is settling into his prime (which is a very good prime).
Anthony just isn't the pure scorer that Durant and maybe hasn't been for sometime. The Knicks' star is still incredible in many ways, but Durant is borderline historic at this point. He may even get us talking about him as the best pure scorer of all-time as he continues to approach his basketball prime.
The Blazers guard was a guest on the Sirius XM radio show 'Sway in the Morning'

L.A. reached a three-year jersey ad patch deal with Wish, a San Francisco-based e-commerce...

John Paxson doesn't intend to buy Wade out without some sort of compromise from the 3-time...
Lonzo's signature shoes have a sleek, all-black design and will be available in November

Durant recently apologized for tweets criticizing the Thunder and Billy Donovan

Jackson says he has 'no respect' for Durant after KD created fake Twitter pages