How Mercer's upset could affect Duke prospects Parker and Hood
A look at Duke's upset loss to Mercer and how being benched by coach Mike Krzyzewski could affect Jabari Parker's draft stock.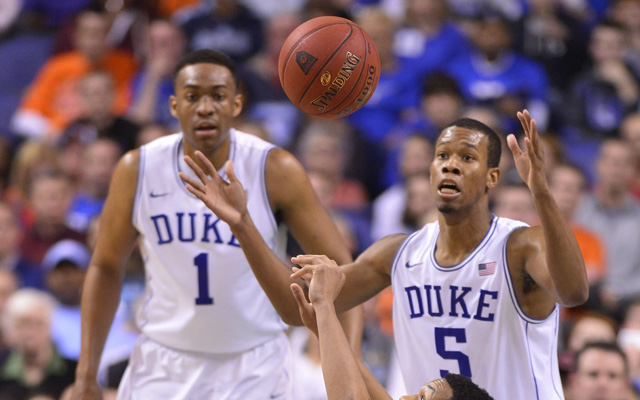 More draft: Thursday Prospects | Tournament Scores | Latest NBA news, notes
Jabari Parker, F, Duke: 14 points on 14 shots, 4-of-10 shooting, 0-for-3 from the arc, no assists, seven rebounds, four turnovers, played just 28 minutes, benched in the second half of the game due to Coach K's concern over defense.
In the epic history of bad final impressions, it's pretty much this one, Richard Nixon, and Lindsey Lohan. It was not a good day for Parker, who spent much of the year battling for the No.1 spot. But it's going to take an otherworldly performance in workouts for him to overcome what happened Friday.
And that's kind of ridiculous.
Parker struggled the entire year defensively. He doesn't have great foot speed, he lacks lateral quickness. He's not quite big enough to be a big body down low, not fast enough to lock down guys on the perimeter. He also drifts. All of this is correctable, but if you want to know why Coach K benched him, it was probably for stuff like this:
First off, watch how far behind his man he is after he gets screened. He stops to think about helping someone else, then kind of meanders over in his guy's general direction, while his assignment cuts hard, catches and scores.
On this next one... I don't even know. I can't even describe what Parker's thought process was on this possession other than something about birds.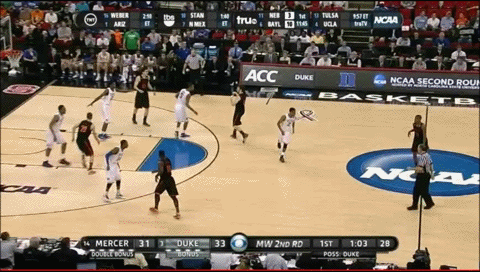 That's just awful awareness. And if you're not sure where you should be, that's OK, he's 18. But you had better move harder than that.
Now, does that mean that Coach K should have benched him late? You can argue the basketball merits, you can argue the ethics of whether his primary obligation is to win or protect his player, about whether having your best player on the floor could supercede defensive issues, all of that. Coach K's a pretty phenomenal coach, he's earned the benefit of the doubt, but that doesn't mean we can't recognize the impact of his decision on Parker's draft stock.
Let me put this way. If Parker finishes the loss to Mercer, and he's bad, and they still lose, he goes down with something pretty close to his 14-7-3 line. Let's give him two points, and a board, say, to be generous. So 16-8-3. Having a bad game and getting torched on the other end in a loss is actually better for his stock than not having been a part of the final few minutes regardless. At least then he isn't viewed as a player so bad defensively "You can't live with him."
The reaction was mixed, obviously. Some reporters chimed in with scouts and GMs going wild on Parker. One scout I spoke with downplayed it. "Nothing new with (Parker) on the defensive end. I don't know why it would affect his stock that much."
But instead, that's the perception. Despite his brilliant college season, despite him being the most "pro-ready" top prospect, despite his versatility, he's going to take a hit because his coach decided to pull him in a half in which his team was out-scored 44-36. If plus-minus were available for college games, I'd love to know what the overall plus-minus for Parker was in that game. Plus-minus is noisy and messy, especially in game-by-game sample. But when we're talking about whether or not Parker was actually so much of a liability he shouldn't have been on the floor, it would be nice to know how much Mercer did or did not outscore Duke by.
"But he wasn't good on offense, either!" is the refrain of course, on an afternoon he went 4-of-14. You expect inefficiency in college but if he's going to do stuff like the above issues, you can't also struggle from the field.
One problem: he got great looks. Parker missed two open-to-relatively open threes that are going to fall for him. He missed on this reverse, but watch what happens afterward: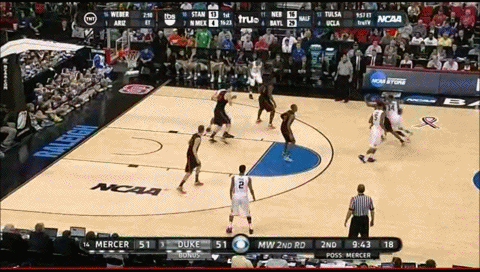 All this, and Parker continued to play out of position. Duke has used him as a five for much of the season, which is just bonkers to begin with considering his skillset. He struggles underneath on the baseline in the post, like on this play he misses badly.
And yet, he knocked down shots like this one.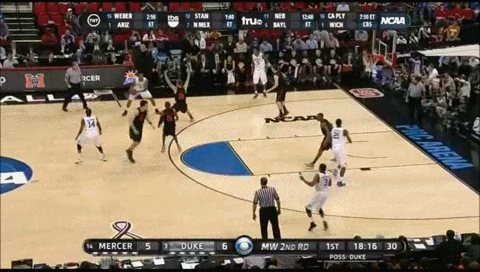 That's not great shot selction in the NBA, but for a college player, it's a pretty special ability to hit that.
Again, Krzyzewski has forgotten more about basketball today than I will in my entire life, and scouts and GMs are way above my analytical potential. But to look at Duke's trainwreck of an upset loss vs. Mercer and conclude that this should significantly affect Parker's draft stock is nuts. If you don't like his defense year-round, that's a legit concern. But no one game should affect a player's stock, even if it's the last one, and especially not one in which he wasn't given the opportunity to let his skills shine.
Parker could fall behind Dante Exum and maybe Julius Randle in a nightmare scenario. He's likely still a top-three pick, but based on immediate reaction, Parker could be out of contention for a top-two pick based entirely on time he didn't spend on the floor. 
Rodney Hood: Hood also had a really tough end to his college career. Hood projects as an athletic wing who can score, pass, and defend. But he was just a step slow vs. Mercer. A few examples: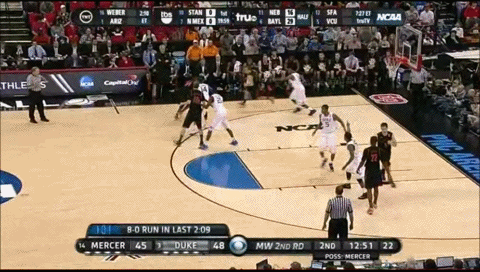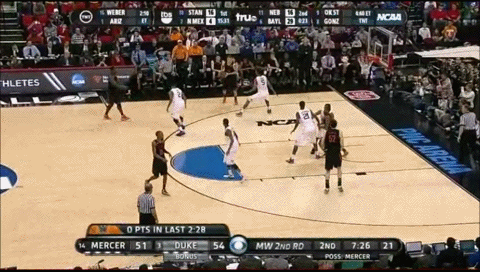 That's just less than ideal positioning and effort. Hood did have five assists and had good patience with finding shooters when defenders would sink as he went into triple-threat position. He was 2-10 from the field, but also had six rebounds to go with the dimes.
Hood has been drifting between No. 8 and No. 20 on most mocks. It's possible this could dip him behind some other guys, but he won't take the biggest chunk of blame for the upset. That will fall on Parker. 
Veteran forward signed a one-year deal with the Knicks in offseason

Knicks forward had his truck stolen out of his driveway

The Celtics will send No. 34 to the rafters in Boston when they take on his old rival
It's never too early to look at June's NBA Draft

Cousins uses some colorful language to get his point across

The awards are voted on by peers in the NBA and adds to Russ' league MVP award he won this...