How much better does Ricky Rubio need to shoot?
Ricky Rubio needs to improve his shooting, Flip Saunders says, but how much is enough for the brilliant passing clang artist?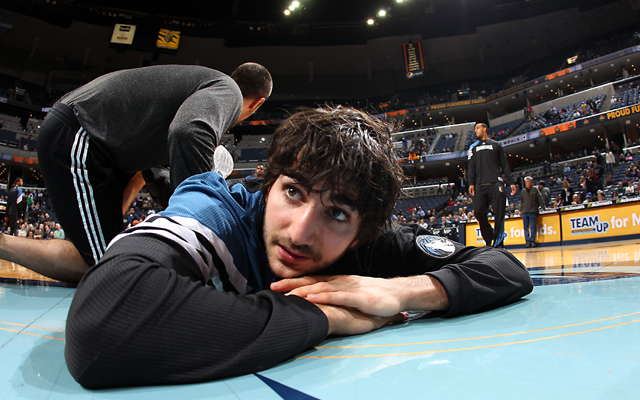 Timberwolves president Flip Saunders said this week that Ricky Rubio needs to score more and shoot better. 
Breaking news!
All players need to play better for their teams. That's kind of the standard thing to want. With Rubio, it's a little more important, since the magician dime disher averaged shooting splits of 36-29-80 last year with a True Shooting percentage (factoring 3's and free throws) of 48 percent, or in layman's terms, [VOMIT]. But in general, that idea isn't anything revolutionary. But how much better? Steve McPherson at A Wolf Among Wolves delved in. 
A smart comparison is the early career of Jason Kidd, who was a naturally dazzling passer, but had to fight to kick the "Ason Kidd - No J" moniker. McPherson notes that a stellar improvement isn't necessary. Just baby steps. 
So yes: Rubio needs to make more shots (especially at the rim). But he doesn't need to completely overhaul his own idea of how to play the game or become something substantially different from what he is. Rather than hoping he becomes another Curry, it would be better to think about incremental improvement: If he can get over those benchmarks of 40% shooting, 50% true shooting, and tip that net rating positive (it's currently a -4 for his career), there's a good chance that will be enough to keep the defense honest, opening up the floor enough so he can make more of those glittery passes that make him such a fan favorite.
via Yes, Ricky Rubio Needs To Be a Better Shooter and Scorer But How Much Better? | A Wolf Among Wolves.
Those sound like crazy low bars, but it's relatively similar to other players. It's just about keeping the defense honest to a degree to create space on the floor. Coming off a pick and roll, you need defenders stepping up to guard you to clear gaps and cutting lanes. But even if that's not an option, usuing his speed and quickness and just finishing better at the rim will at least force an adjusment from the defense.
Improving shooting isn't something you can make big leaps at, but it's also not something you have or you don't, like athleticism. The package is ther for Rubio, he just needs to be decent enough to let him be brilliant on the pass. 
But right now, decent would be a big leap. 
Kris Dunn somehow took a chunk of the Bulls court out with his teeth, but didn't lose any in...

The fallout from the Rockets-Clippers tussle continues; no Clippers were disciplined

DH12 is picked for free throws after a teammate gets ejected. He makes both, and lets Scott...
Bell was injured defending a Robin Lopez dunk and had to be taken off the floor in a wheel...

Trevor Ariza and Gerald Green are reportedly both suspended two games

We've got all the scores, highlights and news from Wednesday night