How much less is Melo willing to take to leave New York?
Carmelo Anthony's future in New York looks bleak. But is it so bleak that he'd be willing to leave $45 million on the table to sign with the Bulls? History says no way.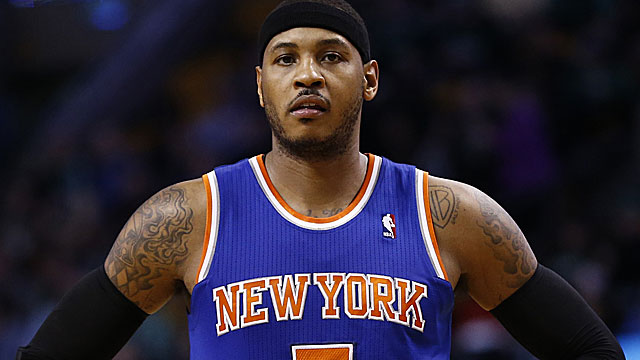 The idea of Carmelo Anthony joining Derrick Rose and Joakim Noah in Chicago is fun. It would involve the rare example of a superstar free agent voluntarily taking less money to go from one team to another.
This hardly ever happens, even when the difference in money is minimal or the star in question is young enough to get another max contract. Dwight Howard did it this past summer, taking a four-year, $88 million deal with the Rockets when he could've stayed with the Lakers on a five-year, $118 million deal. Howard, of course, is only 28 and likely will get another max contract, so he'll have a chance to make up for the shortfall. 
There's a common misperception that LeBron James, Dwyane Wade and Chris Bosh signed on for the minimum wage when they teamed up in Miami in 2010. In order to fit under the cap, all three did agree to start their six-year deals -- with maximum percentage increases, mind you -- at a lower number than they could've otherwise received.
James and Bosh started at $14.5 million, and Wade $14.2 million when the max was $16.6 million at that time. Through the compounding effect, James and Bosh will have made $9.6 million less through the end of this season by taking a South Beach haircut than they would have made to this point on a true max deal. Wade gave up a little more. Some of that shortfall is mitigated by Florida's lack of a state income tax, and the rest could be recouped if any of the players opts out this summer or next.
Either way, $9 million is nothing to sneeze at -- until you get a load of what Anthony would have to give up if, in fact, he wants to chase a championship with Rose and Noah in Chicago. The plan, if there is one, is fraught with pitfalls.
If the Bulls amnesty Carlos Boozer, the starting point for the cap room they could offer Anthony, according to league salary sheets, is $13.8 million. To even get there, they would have to renounce free agent Kirk Hinrich (and lose his Bird rights) and trade their first-round pick and the pick they are getting from Charlotte (which together would amount to another $2.7 million on Chicago's books).
Further, if the Bulls are under the cap, they'd only have their $2.7 million room exception to bring 2011 pick Nikola Mirotic over from Spain. League sources say Mirotic would be looking for a deal in the $3 million-$4 million range. (He's no longer governed by the rookie scale, and the Bulls have planned for needing the bulk of their non-taxpayer mid-level exception of $5.3 million on him, sources say.)
But let's play along, shall we? Let's say the Bulls renounced Hinrich ($5.2 million cap hold gone), kept their picks, and traded Taj Gibson ($8 million) and Mike Dunleavy ($3.3 million) while bringing back no salary in the process. They would be able to start Anthony at about $20 million in the first year of a four-year, $85.4 million deal -- give or take, depending on how much they need to sign Mirotic.
That would leave the Bulls with a lineup of Anthony, Rose coming off a second straight season lost to injury, Jimmy Butler, Noah and a giant hole at the other forward spot. Their bench would be Tony Snell, Mirotic and their two first-round picks. When all was said and done, they'd be able to offer minimum deals to other free agents and they'd have their room exception of $2.7 million available.
But before we get too far ahead of ourselves, let's back up to where Anthony's four-year deal with Chicago would start: $20 million. That's $1.7 million less than Anthony is making this season and $3.3 million less than he'd make in the first season of a five-year, $130.9 million deal he could get from the Knicks. The compounding effect of Anthony's initial sacrifice, plus forgoing the fifth year the Knicks could offer at $30.3 million, would mean that Anthony would be leaving $45 million on the table to sign with the Bulls.
Does anybody really think that's going to happen? I can safely say that Anthony's agent, Leon Rose, hopes that it doesn't. The Bulls apparently don't think it will, either, since I'm told they haven't gotten as far as we have here in crunching these numbers. Even if the Bulls could somehow clear enough room to offer Anthony the true max for four years, that's never been how they've operated -- not for a soon-to-be 30-year-old free agent, anyway.
But the whole discussion introduces an interesting possibility into Anthony's free-agent equation. What if he decided to opt in for the 2014-15 season with the Knicks at $23.3 million and waited to see if A) a new coach, and B) another max free agent in the summer of 2015 could bring the Knicks back to contention? If Anthony then decided to re-up with the Knicks in 2015, the five-year max deal he'd get then, plus his max salary in 2014-15, would maximize his earnings over a six-year period more than any other option currently fathomable. The question, of course, is whether Anthony and his agents would want to incur the injury risk that would come along with that decision. 
It's difficult to predict what Anthony ultimately will do, other than to say he's not leaving $45 million on the table. Beyond that, you can only go by his past behavior. In 2011, under the old CBA rules, he made sure that he got traded to the team of his choice AND got every dollar available to him at the time (three years, $65 million in an extend-and-trade, a provision that no longer exists). 
On this go-round, Anthony will have to sacrifice something. If his behavior or that of any of his free-agent contemporaries means anything, a massive amount of money won't be it.
The Cavaliers are reportedly very close to acquiring the 10-year veteran point guard

Kobe Bryant is now an Oscar nominee. Here's how you can watch his short

Players such as Metta World Peace, Baron Davis and Nate Robinson have signed on
The guard is doing everything he can to make a name for himself (and making Cavs fans sweat...

Bryant is getting recognition for his off-the-court exploits in retirement

Our advanced computer model simulated Tuesday's Spurs vs. Cavs game 10,000 times